For Kelly Kelleher, deciding to organize a "farm network" was simply a way to support local farmers and ensure that her town of Point Lookout, in Long Island's Nassau County, would have access to plenty of fresh food. She hoped to encourage people to distance themselves from what she calls the "1970s mentality": heading to the grocery store once a week to stock up on processed, prepackaged food.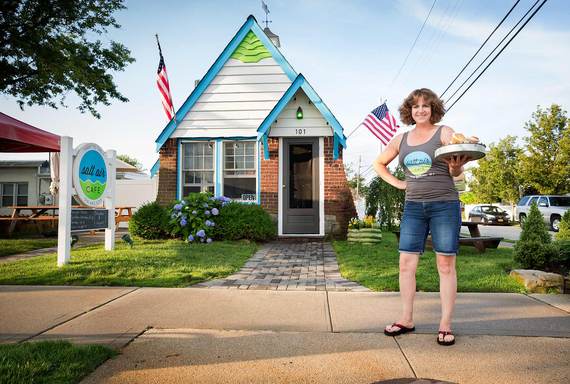 Kelly Kelleher, owner of farm-to-table restaurant Salt Air. Photographed in Point Lookout, NY © Ian Spanier Photography 2016
Their interest piqued, her friends soon got in on the action; at first Kelleher sourced and delivered the food to them herself. In 2013 as word spread, she needed to scale up, and did so via Farmigo, an online farmers' market that connects to consumers to local providers -- in most cases delivering to the farmer four times the revenue that a large grocery chain would.
Having grown up in a family of restaurateurs, Kelleher, a former film and television producer, had long dreamed of running an eatery of her own. When a space became available just down the street from her home, she snapped it up in 2014 and opened Salt Air Cafe, which espouses the same farm-to-table sensibility. Its highly regarded menu of "wholesome, soulful food" includes local eggs, veggie and rice bowls, an array of hearty sandwiches and much more.
Salt Air isn't just about dollars and cents, Kelleher is quick to point out. She's trying to promote the "old way" of sourcing food -- and if more people end up doing just that, she says, that will ultimately matter far more.
Related
Popular in the Community