Where there's a will, there's a way -- even when the situation at hand involves circumventing top-level national secrecy. When the British government some years ago enlisted aircraft design engineer Michael Axon to assess various locations (and design new ones) overseas where the military's planes could be securely built, he did his usual: took detailed notes and precise laser measurements.
There was just one problem: Once he was done, military officers wouldn't allow him to remove his notes and readings from the site to enter them into AutoCAD (an architectural design program) back at his hotel.
So Axon came up with a solution, developing technology with which digital measurements would, in real time, feed into AutoCAD or a similar program called Revit File. The resulting company he founded, Lazercad, now also produces low- and high-resolution 360-degree photography of both existing and prospective buildings, which his clients can view via their own computer or mobile device anywhere on earth.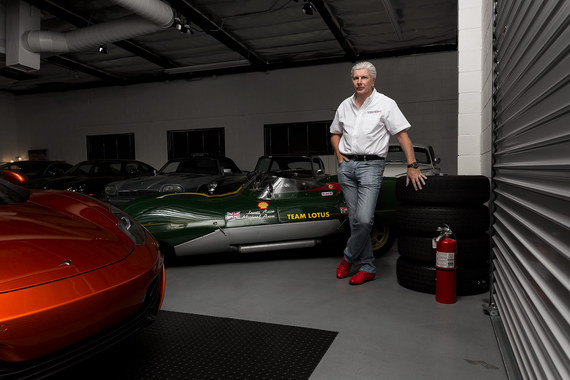 Michael Axon, photographed in his English Car Company garage amongst his army of vintage classics and present day automobiles. Axon hosts "drive-in" movies and showings of Formula One Racing for homeless children. (C) Ian Spanier Photography 2016.
A few years after that initial eureka moment, an American banking concern sought bids for a company to measure, to exacting standards, some 3,000 of its branches. The first few companies told bank executives it would take anywhere from five to eight years to complete such an expansive project. Axon, although not widely known, took a gamble and wagered that if they awarded him the fee he sought, he could do it within a year. Just under 10 months later, he was done -- and Lazercad's global renown grew apace. His client roster now runs the gamut: banks including Chase and Citibank; department stores including Nordstrom; even McDonald's.
Axon grew up in a blue-collar household in England in which his father's "pride and joy," he remembers, was his Vauxhall VX490. As a boy, Axon dreamed of owning such a stylish vehicle -- and now Lazercad's success had made that a possibility. At a charity event one day, a bright orange MGB Roadster caught his eye -- and then some. "It screamed out, 'Buy me!' " Axon recalls. He drove it home that day as the first item in a vintage-car collection now worth some $3 million.
He shares his passion with his 13-year-old son, bringing full-circle the Axon family's interest in these beautiful old machines. Wanting to share his remarkable collection with like-minded enthusiasts everywhere, he founded The English Car Company (theenglishcar.com), at which auto geeks can take a virtual ride in any of the restored cars in his garage.
Spot the 53-year-old Axon cruising by in, say, his 1956 Lotus 11, and you might dismiss him as simply another midlife crisis on wheels. Not so: The English Car Company is involved in a number of charities and regularly hosts children from needy families at at-risk communities to give them what he got as a boy: a ride that offers an aspirational glimpse of a better future. Axon lives, he says, according to his grandfather's most exalted credo: "You're born and you die. What you do in between, and what you leave behind, is what's important."
Related
Popular in the Community