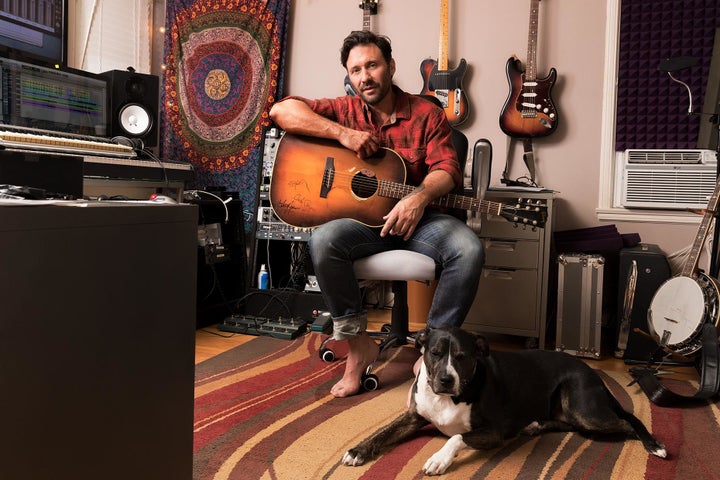 Travis Howard didn't exactly grow up in the big city. Chalybeate Springs, Georgia, his pinprick hometown some 80 miles south of Atlanta, offered little more than a cotton mill and a brassiere factory. Howard knew from a young age that he didn't want to follow in his family's footsteps, however, whether they'd one day lead him through the doors of the mill or those of the strict Pentecostal church in town.
When Howard was 13, he wrote his first song, a ballad about a grade-school crush. Neither the song nor the romance went anywhere, but his blossoming passion for music made him realize he wanted out of his confining little town as soon as possible — so the moment he graduated high school, he hit the open road, eschewing college to get a degree in real life: singing in a country band, traveling the world, learning how to perform in front of an audience. He earned little but honed his skills.
The things in which he'd been marinated while growing up in the deep South — the cultural expectations, the religious fervor, the Friday-night-lights sports mania — weren't for him. Eventually the open road led to Hollywood, and for perhaps the first time, Howard felt at home. "It felt like it's a town full of misfits," he says, recalling his prevailing thought at the time: "I can get this. I feel like a misfit."
A serendipitous encounter in a coffeehouse — Howard was performing when two TV producers popped in — landed him on USA Network's reality show Nashville Star in 2003. He was reluctant to participate, wary of being pigeonholed, but it paid off: One of his fellow contestants was future country superstar Miranda Lambert, who was just 19 at the time. The two forged a strong bond and a songwriting partnership that would produce the hits "Heart Like Mine," "Crazy Ex-Girlfriend" and "Famous in a Small Town."
His circle widened further when Cameron Crowe cast him as an electrician in the 2005 movie Elizabethtown. He had just one line — "will do, slow and soulful," which led to years of ribbing from Lambert's band — but the acting bug had bit. (Laughing, Howard likens himself to Kris Kristofferson: "I'm a mediocre singer, a really good writer and an OK actor," he says. "Maybe not as good-looking.") He continued writing songs, collaborating with big artists including Keith Urban, Dierks Bentley and Emily West; his work also appeared on the soundtrack of the 2016 thriller The Girl on the Train.
Now 47 (the Internet Movie Database wrongly lists him as 43, and he's not complaining), Howard has had an undeniably successful career — albeit one accomplished mostly behind the scenes, a topic about which he's philosophical. "Everybody wants to be a star," he says. "You start out at 13 wanting to be Brad Pitt or Brad Paisley. Then you get older, and the possibilities on the table — well, the table gets smaller." Staying out of the spotlight, he observes, offers him greater perspective.
Up next: Ghost Town Troubadours, a documentary he's making with several other songwriters about what a peripatetic journey theirs can be — and, for Howard at least, why that's vastly more satisfying than soul-killing megastardom. "I'll make records the rest of my life, and whatever they do, they do. If you're just out there for commercial purposes, something inside of you dies — I believe that. I'm not famous, and I'm not a millionaire," he muses. "But I can't stop doing this."
Related
Popular in the Community