By Susanna Blankley, Director, Community Action for Safe Apartments and
Andrew Scherer, Policy Director, Impact Center for Public Interest Law, New York Law School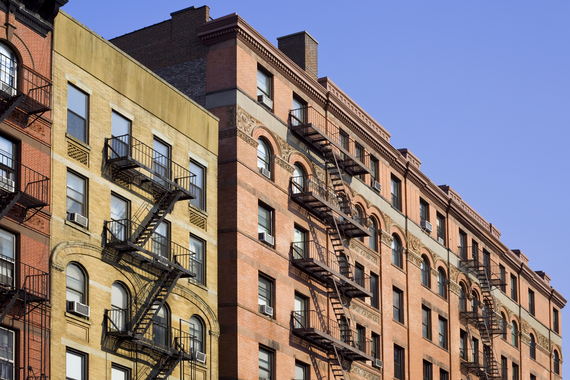 A new report, which finds that New York City would save hundreds of millions of dollars a year by providing a right to counsel for tenants facing eviction, has added new urgency and optimism to a campaign to pass a bill that would establish such a right.
The bill, introduced in March of 2014 by New York City Council Members Mark Levine and Vanessa Gibson, would require the city to provide attorneys to low-income tenants and homeowners who face eviction and foreclosure. The bill would benefit New Yorkers whose income is 200% of the federal poverty line or below, meaning households earning less than $50,000 a year for a family of four. If signed into law, nearly 130,000 tenants could qualify for the right to counsel.
While 40 of the City Council's 51 members have signed on to support the bill, it has not yet had a hearing, in large part because of concerns about the high cost of funding a right to counsel. But the report, undertaken for the New York City Bar Association (NYCBA) and conducted pro bono by Stout Risius Ross, Inc., a global financial advisory firm, concludes that, in addition to keeping 5,200 families out of the city's costly shelter system, a citywide right to counsel would not only offset the cost of counsel, it would save New York City an additional $320 million each year.
The study estimates that providing counsel to eligible New Yorkers would cost $191 million annually. Savings would come from reducing shelters costs ($251 million) and preserving regulated, affordable apartments that would otherwise convert to higher cost, market rate rentals following evictions ($250 million). An additional $9 million would be saved by eliminating city services that are often tapped because of evictions, such as emergency room care and law enforcement.
The report also points to other less quantifiable savings that flow to society when its most vulnerable citizens keep a roof over their heads, including savings in public education, juvenile justice services, public assistance benefits - such as unemployment insurance when the loss of a home results in the loss of a job - and reductions in the public cost of enforcing rent laws and housing codes.
Evictions have decreased significantly in the last year thanks to the unprecedented commitment made by Mayor de Blasio, Speaker Mark-Viverito and the City Council to increase funding for civil legal services to prevent evictions, protect tenants from landlord harassment and help safeguard and secure the rights of the poor and disenfranchised. The progress they have made is extraordinary. But funding can easily be eliminated by a future administration, while a law on the books would be far more difficult to take away. The NYCBA report gives us a compelling new reason to codify the right to counsel and send a bold message that in New York City the lives, the homes and the families of our most vulnerable residents matter.
Guaranteeing a right to counsel for tenants who face eviction would foster equality, prevent homelessness and give a fighting chance to low-income New Yorkers who increasingly face displacement from their homes and communities. The NYCBA report now demonstrates definitively that it would also be cost-effective for the city's bottom line. New York City has led the nation by significantly increasing funding for legal help for tenants facing eviction. The city should now take the next logical step and pass this trailblazing bill.
Related
Popular in the Community