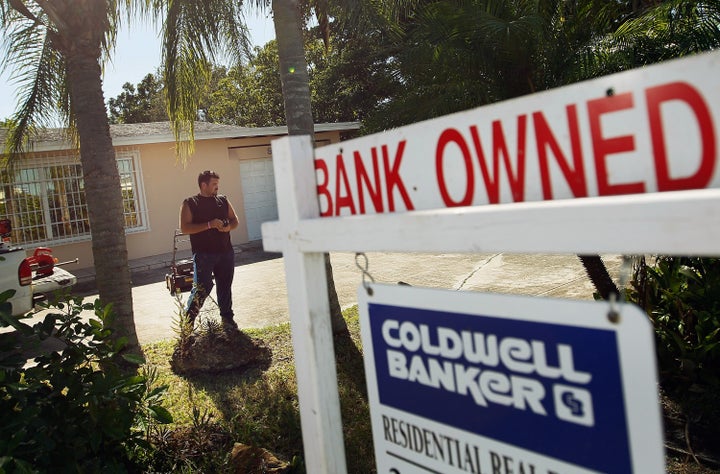 Brad Meyer occupies the real estate equivalent of the twilight zone. He lives in Milwaukee with his wife and children in the three-bedroom ranch house they purchased a decade ago. Except today, they rent it through American Homeowner Preservation, a small, Ohio-based company that purchases distressed properties and leases them back to the previous homeowner.
The rental program -- the brainchild of Dean Baker, co-director of the Center for Economic and Policy Research -- is part of a broader effort to identify alternatives to traditional foreclosure. Instead of having to give up their homes, delinquent borrowers are able to remain under their roofs, albeit as tenants.
"It's weird," Meyer said. "You have to remind yourself that it's not really your house anymore, at least for the time being. But you still have to maintain it as if it's your own, so there's some internal conflict there. We'd like to redo the kitchen, but it's not really our kitchen right now."
Five years into the national housing crisis, policymakers and mortgage industry officials are increasingly engaged in the pursuit of pragmatic alternatives to foreclosure, which has displaced millions of families and left properties vacant. Programs that allow homeowners to continue to rent the same properties they used to own have emerged as one potential fix.
Economists generally agree that a glut of foreclosed properties sitting on the market must be turned into productive homes for ordinary people. Vacant homes blight communities and devalue neighboring properties. Excess real estate inventory presses down on home prices in many communities, adding to the drag on the broader economy. Turning delinquent borrowers into rent-paying tenants presents one way to address these challenges.
"It's a reasonably good idea to try to move people headed down the foreclosure path to rental," said Mark Zandi, chief economist at Moody's Analytics.
But the details are both complex and controversial, confronting the same question that has dogged seemingly every effort to slow the foreclosure juggernaut: Who absorbs the financial loss when a homeowner who can no longer make payments is given relief -- the lender, the taxpayer or someone else?
In the plan Baker proposed in 2007, the former homeowner of a foreclosed property could remain in the house as a renter indefinitely, paying fair market rent as determined by an independent appraiser. Baker aimed to create an explicit homeowners' right to rent.
"After the foreclosure, the mortgage holder would now own the house and be free to sell it to another person," Baker wrote in Talking Points Memo. "But the former homeowner would still have the right to remain as a renter, regardless of who owned the house."
Though Baker's idea has been endorsed by a political hodgepodge, including Andrew Samwick, former chief economist on George W. Bush's Council of Economic Advisors; Simon Johnson, former chief economist of the IMF and Senators Dick Durbin (D-Ill.) and Chuck Shumer (D-N.Y.), the proposal remains controversial, because it would fundamentally change the foreclosure process while challenging the sanctity of contracts.
"If you're going to change the rules of the game for the current mortgage holders, that becomes a problem," Zandi said. "I feel uncomfortable about changing the law on someone who made investments or made decisions based on another set of laws. That's a very slippery slope and, I think, a very dangerous one."
Three years ago, Rep. Raul Grijalva (D-Ariz.) introduced the Saving Family Homes Act, a modified version of Baker's plan. It was designed to exclude speculators by limiting eligibility to homeowners who have been in their properties at least two years, and who only own one home. The proposed legislation never made it out of the House Committee on Financial Services.
"We had good support from conservative economists, from cities, towns, community banks and credit unions," Grijalva said. "But the bill endured serious opposition from large banking institutions and mortgage companies."
The primary objection from mortgage companies was that the plan would devalue homes that they acquired via foreclosure by forcing them to rent at distressed market rates, Grijalva said. But he dismisses that objection, asserting that the market itself has devalued the homes, not his bill.
Representatives at Bank of America, J.P. Morgan Chase and Wells Fargo -- three of the nation's largest mortgage companies -- either declined to comment or did not respond.
Last year, Grijalva and his co-sponsor Rep. Marcy Kaptur (D-Ohio) reintroduced the legislation as the Right to Rent Act. It is currently stuck in a Congressional no-man's-land, awaiting a hearing.
"All the housing programs, if you look at what's been going on the last three years, basically have been trying to negotiate with the banks," Kaptur said. "That hasn't been working very well. We need an approach that helps us transition from the large numbers of foreclosures to reoccupying them and stopping the damage that's being done across the country to communities and housing valuation itself."
The Obama Administration has signaled support for some type of rental program. In August, the Federal Housing Finance Agency, the Treasury Department and the Department of Housing and Urban Development jointly issued a request for ideas on how best to convert the 250,000 properties owned by Fannie Mae, Freddie Mac and the Federal Housing Administration into rental properties, either managed externally or sold in bulk to investors.
A senior administration official, who spoke on the condition that he not be named, said the approach gaining favor targets houses that have already completed the foreclosure process and are vacant. By contrast, Baker's proposal would give delinquent homeowners a right to rent even before the lender completes foreclosure proceedings.
For now, borrowers like Meyer who want to rent back their foreclosed homes are reliant on the willingness of individual mortgage-holders.
American Homeowner Preservation, the company that now owns Meyer's home, was founded in 2008. A profit-making venture, the firm negotiates with mortgage companies to purchase distressed homes, and then rents them back to their previous owners.
The company has completed roughly 400 transactions to date. That is both a testament to its growth, and a minute fraction of the roughly half-a-million foreclosed properties awaiting resale, with hundreds of thousands more yet to hit the market.
In Meyer's case, the company negotiated a so-called short sale -- a purchase for less than the value of the outstanding mortgage -- with his lender, Ocwen Financial Corporation. The deal went through only hours before Ocwen was to sign papers authorizing a sheriff's sale, the final step in the foreclosure process.
Once the owner of multiple restaurants, Meyer landed in bankruptcy in 2005. He was allowed to keep the home, but was prohibited from making mortgage payments during the seven-month restructuring process.
After he cleared bankruptcy and resumed payments, Ocwen raised his monthly payment from $1,100 to $1,900, citing delinquency fees. For four years, the Meyers made the higher payments, while also pursuing a loan modification that they hoped would lower their payments.
In 2009, Ocwen denied the Meyers' request for relief, citing the fact that their household income was nearly $100,000. Prepared to cut their losses and lose their home -- by then worth less than half of the $124,000 they had paid a decade earlier -- the Meyers stopped making payments. They still owed $150,000 on their mortgage.
A year later, Meyer began renting back the house for $1,150 a month. Though the rental payments do not count towards a down payment on the home, Meyer has five years to buy the house for a predetermined price of $85,000, which he hopes to do.
In the meantime, he is just happy to be able to stay in the home.
"We have three little girls," he says, "and they got to keep their rooms, which was refreshing. We didn't have to explain why mommy and daddy are moving."

Calling all HuffPost superfans!
Sign up for membership to become a founding member and help shape HuffPost's next chapter
BEFORE YOU GO