 Calling it a measure to protect "freedom in the workplace," Gov. Rick Snyder (R) finally voiced his support for controversial right-to-work legislation in Michigan. If it passes, the bill would prevent any Michigan company from signing labor agreements requiring mandatory dues payment by employees in union workplaces.
Michigan legislators are expected to introduce a new bill today, tentatively being called a "Workplace Equity And Fairness Act," that would cover all public and private workers except for police and fire departments.
"Today is the day its time to step up and make some decisions," Snyder said on Thursday morning, flanked by Michigan Senate Majority Leader Randy Richardville and House Speaker Jase Bolger. He also noted that the "issue is on the table whether I want it to be there or not."
His pledge to sign right-to-work into law follows a surprising announcement Tuesday, where the governor reversed his long-time stance of discouraging Republican lawmakers from moving forward with the legislation. It also comes just about a month after Michigan voters declined to pass Proposal 2, which would have enshrined collective bargaining rights in the state constitution. Snyder had actively campaigned against passing the measure.
Gov. Snyder told a packed room during a media roundtable discussion that right-to-work laws only affect the 17.5 percent of Michigan workers who are still unionized, and would not affect union workers' ability to collectively bargain with employers. He said that he had not felt it was appropriate to include police and fire union members in the legislation at this time, as arbitration rights for police and fire departments are already guaranteed under PA 312.
"It's a unique circumstance because of the dangerous nature of their work," Snyder said.
House Speaker Bolger added that he felt the new legislation is not partisan in nature. "This is not about Republican vs. Democrat, this is not management vs. labor, this does not change collective bargaining, this is not anti-union," he said. "It is pro-worker. This is about Michigan's hard workers. Michigan has the greatest workforce in the country."
He also reiterated that right-to-work laws guaranteed freedom of choice, rather than limiting the power of unions. "They deserve the freedoms to make decisions for themselves and their families," he said of Michigan's workers. "Unions will be free to make their case -- and workers will be free to make their choice."
"It's a proven fact that in right-to-work states the economy is worse," he said.
Michigan Senate Majority Leader Randy Richardville also portrayed the legislation as a way to offer unionized Michigan workers more personal freedom, adding that he had also voted against measures that mandated helmets for motorcyclists, wearing seatbelts and banning smoking in restaurants and bars.
"If I were you, I'd join that union," Richardville said, "But I think it would be wrong to not have a choice to join that union."
The prospect of state Republicans taking the issue up for an immediate vote sent House Democrats running to the barricades. On Wednesday, they pledged to do whatever it takes to stop potential legislation from passing.
"We're considering all possible options that are within the bounds of the law," Rep. Tim Greimel of Auburn Hills told MLive.
They later followed through on their threats, derailing a major transit authority bill Wednesday by withholding their votes during a dramatic legislative session where hundreds of union supporters flooded the rotunda in a clamorous protest against the push for right-to-work legislation.
Republicans hold majorities in both chambers of the state's legislature. Senate Majority Leader Richardville and House Speaker Bolger both said during the conference they believe they have the numbers to pass the legislation. According to the Detroit Free Press, Michigan GOP members will introduce a substitute for a House bill already submitted for review, which will allow them to quickly call for a vote on the legislation. Bolger added that Michigan's House has session dates for Friday, Saturday, Sunday and Monday, if necessary.
"We're going to take this issue very seriously," he said.
Right-to-work legislation is also under discussion in Wisconsin. The laws are now in place in 23 states, including Indiana, which became the first Rust Belt state to adopt the policy in February.
Dave Tankray, who spoke alongside the governor at Thursday's address, is a unionized Chrysler employee who has worked for the auto company for the last 13 years. He said right-to-work legislation would create competition and make union employees work harder for their members.
"I don't think this issue is anti-union at all," Tankray said. "I plan to continue being a union member. I think what it will do is strengthen the union members' position in the union."
Before You Go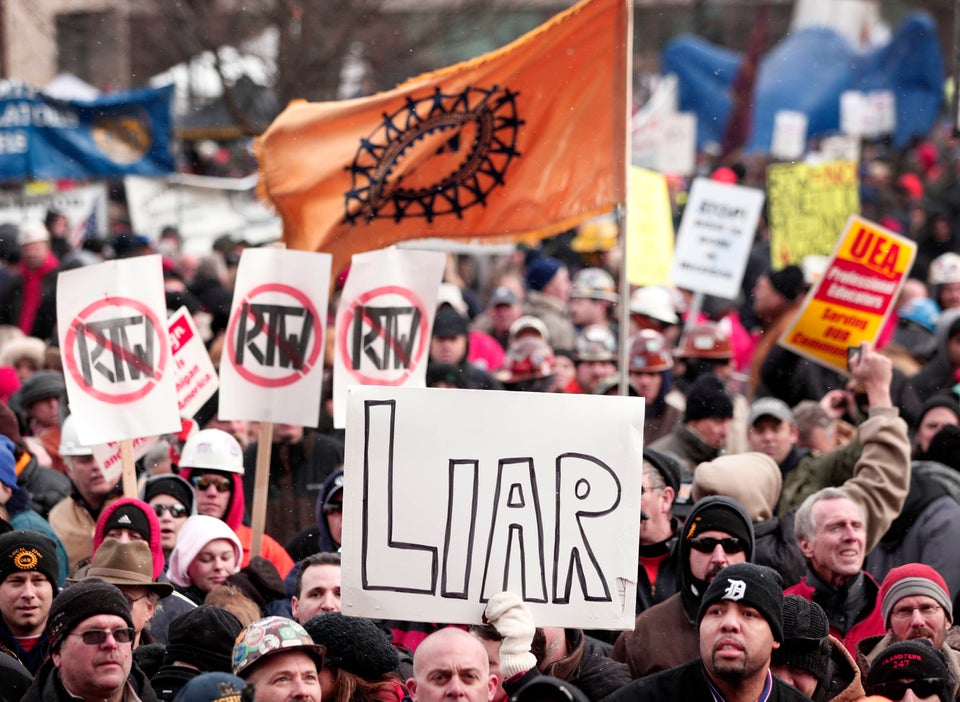 Michigan Protests Right To Work
Popular in the Community