 UPDATE: 4:48 p.m. -- Police have arrested eight demonstrators for obstructing and resisting while attempting to move past two state troopers stationed at the doors of the Michigan Senate, the Associated Press reports. State Police Inspector Gene Adamczyk, who estimated the number of visitors to the state Capitol at 2,500 people, told the news agency Thursday afternoon that the building was closed due to safety concerns. He was uncertain as to when it would be reopened.
Earlier: Michigan State Police put the state Capitol building on lockdown Thursday afternoon in response to rambunctious protests against proposed right-to-work legislation.
Gov. Rick Snyder told attendees of the press conference that right-to-work was necessary to protect "freedom in the workplace."
According to the newspaper, the state's Democrats are taking legal action to end the lockdown.
"House Democrats are disappointed in the tactics that the House Republicans are employing at this time with access to the floor," Michigan House Democrats said in a joint statement released to The Huffington Post.
"The House Dems are standing firm when it comes to protecting the middle class families in Michigan. Governor Snyder and Legislative Republicans would rather cave into special interests and institute Washington DC style politics by pushing the toxic and divisive partisan wish list of the extremists within their own party than create jobs or fight for fair wages and benefits for ALL residents."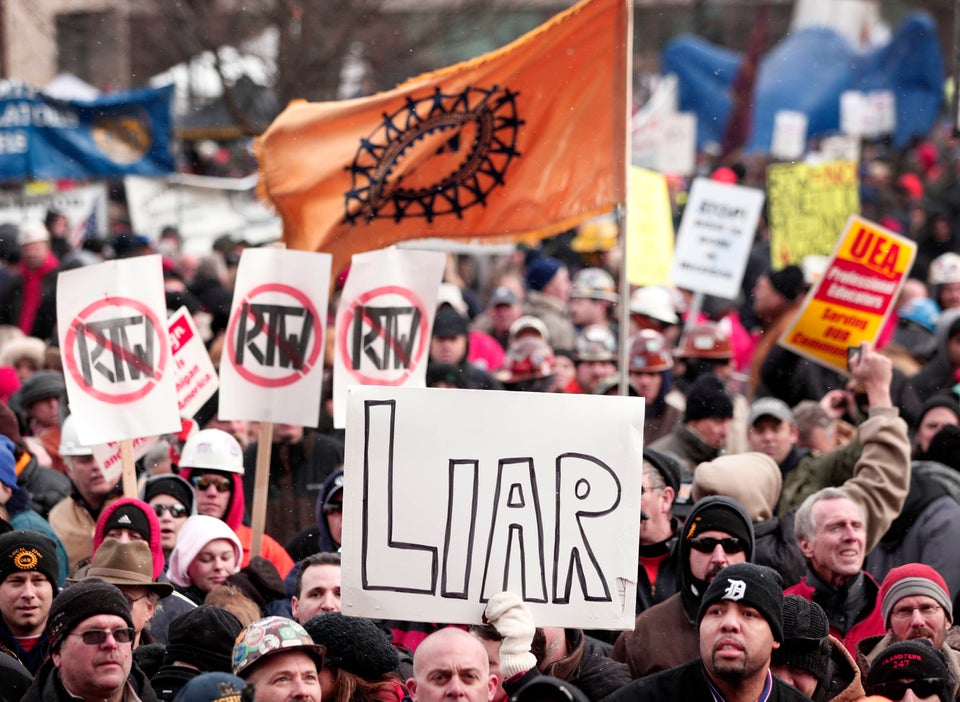 Michigan Protests Right To Work
Popular in the Community