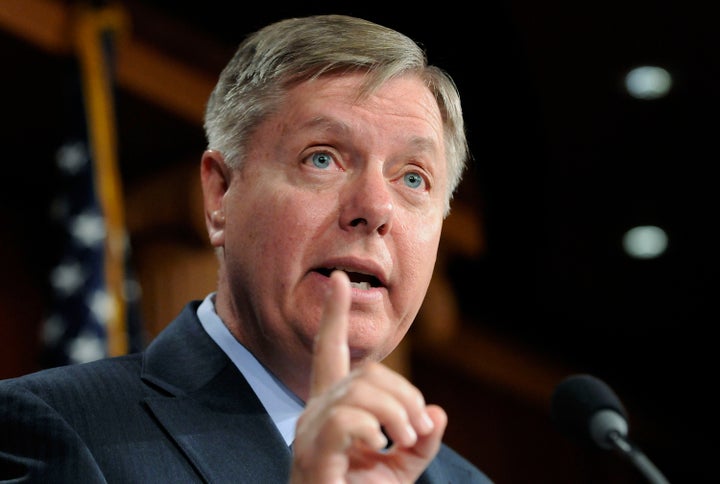 WASHINGTON -- Senate Republicans introduced legislation Tuesday aimed at strengthening "right-to-work" laws in the wake of a complaint filed by the National Labor Relations Board against Boeing. Sen. Lindsey Graham (R-S.C.) also took a number of shots at the board, claiming that under the Obama administration it has adopted a pro-union, anti-business "agenda."
"I'm afraid the NLRB has an agenda that is not healthy for the country," Graham told reporters.
The federal Right to Work Protection Act, which is being sponsored by Sen. Lamar Alexander (R-Tenn.), would clarify a state's ability to enact right-to-work laws. Those laws prohibit agreements between unions and companies that make union membership a requirement of employment. A spokesman for Alexander said the bill will be introduced as stand-alone legislation Wednesday and was filed Tuesday morning as an amendment to an existing.
Right-to-work laws are generally favored by Republicans and business interests, while labor advocates argue that they weaken unions and pull down wages. There are currently 22 states that have them on the books, primarily in the West and South.
Republicans are probably hoping the proposal will send a message to the Democrat-controlled labor board, which signaled a strong shift from the management-friendly Bush years with its complaint against Boeing.
In 2009, the aerospace manufacturer decided to move a production line for its 787 Dreamliner from its unionized plant in Washington state to South Carolina. In its complaint filed last month, the board said Boeing's move broke the law because it was retaliation against the International Association of Machinists and Aerospace Workers, who had gone on strike in the past. In company documents and news interviews, Boeing executives had explicitly cited the strikes as a reason for moving the production line. The NLRB complaint requests a court order that would return the assembly line to Washington.
The complaint has thrown the company's North Charleston, S.C., plant's future into limbo and will likely set off a long and costly legal battle. While labor groups have hailed the NLRB decision as a win for workers, Republicans -- particularly Graham and his South Carolina colleague Sen. Jim DeMint (R) -- have bashed it as federal meddling in corporate decisions and a gift to unions.
Graham said Tuesday that he intends to introduce another piece of legislation next week that would "defund" the complaint against Boeing. Asked exactly how that would work, Graham would only say that the move would be "a shot across [the NLRB's] bow."
"It's clear to me that this complaint is frivolous," Graham said. "There are assumptions being made here that would be dangerous if not checked." Speaking of the NLRB, Alexander said, "Every action they take throws a big wet blanket over job creation. It's no wonder we have 9 percent unemployment."
A spokesperson for the NLRB declined to comment on Graham's remarks. But speaking with The New York Times recently, Lafe Solomon, the NLRB's general counsel, said the board had no choice but to file the complaint given how flagrantly Boeing executives had flouted the law protecting workers' right to strike.
"They had a consistent message that they were doing this to punish their employees for having struck and having the power to strike in the future," Solomon said. "I can't not issue a complaint in the face of such evidence."
Popular in the Community