Sam Dorman is an intern for the right-wing news site CNSNews.com, operated by the right-wing Media Research Center. Last week, his assignment was to hit up various members of Congress with a gotcha question: "Is an unborn baby with a human heart and a human liver a human being?"
Now, that's obviously an ideologically driven question from a representative of an ideologically driven organization with an anti-abortion agenda. Given that Dorman targeted mostly Democratic members of Congress with his question, and that it appears he only asked the one question, it certainly looked like he was engaging in a form of protest.
When Dorman hurled that question at House Minority Leader Nancy Pelosi, she dismissed it by pointing out that as the mother of five, she knew more about the subject than Dorman, adding that the question had nothing to do with the subject of Planned Parenthood, to which Dorman was ostensibly linking it.
In tossing that gotcha question at Pelosi, Dorman was clearly acting as a partisan activist in the guise of a journalist. Dorman had so blurred the line that an actual journalist, the Washington Post's Kelsey Snell, was also at the press briefing, and she wrote an article on the incident calling Dorman an "anti-abortion protester." Snell didn't identify Dorman by name, noting that "It was unclear who the questioner was and for which news organization they worked."
This got Dorman's employers all in a huff. At the MRC's NewsBusters blog, the writers mocked Snell's "sloppy journalism," not mentioning that Dorman had not identified himself or his employer before asking his gotcha question, and insisted that Dorman is a "journalist" and a "reporter."
The blog also asserted: "Dorman tweeted at Snell early Thursday afternoon. 'I am not an anti abortion 'protestor,' he said. 'I am a credentialed member of the press. Please correct your story.'" But Dorman's Twitter account nor his tweet to Snell lists his real name or who he works for, so Snell could not possibly have known who exactly was demanding a correction from her. Publicly identifying yourself and your employer is another thing that distinguishes a journalist from a protester.
Next up in Dorman's defense was his CNS managing editor, Michael W. Chapman, who felt compelled to assert three times in five paragraphs that his reporter is not an "anti-abortion protestor." The fact that Chapman had to say it three times in five paragraphs seems to speak to how unclear that was to Snell and other actual journalists present at the press briefing.
The MRC's whining got the adjustments from the Post it wanted: Snell's article now identifies Dorman by name and occupation and removes references to him as a protester.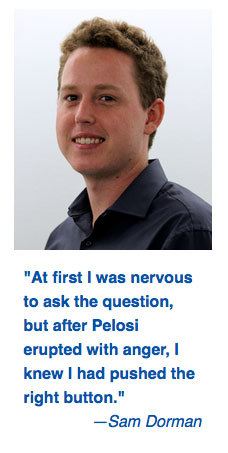 Yet that's not enough for CNS and the MRC. Chapman whined that the Post "only noted one 'correction' at the story's end in the changed copy" despite fixing "several errors."
And as if to demonstrate that Dorman really was an activist protester instead of a journalist, the MRC is doing the activist protester thing by continuing to complain despite getting exactly what it wanted -- and trying to raise money off it.
An Oct. 6 CNS article by touted how MRC chief Brent Bozell "wrote to Pelosi, noting that good reporters 'ask tough questions,' that her answer was 'disrespectful'; and that she should apologize to the reporter, CNSNews.com's Sam Dorman." Of course, Dorman's question wasn't "tough"; it was a gotcha question designed to mock her stance on abortion. That's the act of a protester, not a journalist.
Also on Oct. 6, the MRC sent out an email to its followers containing a link on the CNS website stating that "It costs $12,000 to fund an Intern at the MRC, and it is an example like Sam's as to why your continued support for our MRC Internship Program is so vital!" This is the first time the MRC has identified Dorman as an intern.
But the ultimate evidence of Dorman's intent on that CNS page comes from Dorman himself, in a statement underneath his picture: "At first I was nervous to ask the question, but after Pelosi erupted with anger, I knew I had pushed the right button." (Screenshot above.)
Journalists try to gather information. Protesters try to push buttons. Dorman's admission that he was trying to push a button on Pelosi and provoke the response he got is all the evidence we need that he was in protest mode, not journalist mode.
So, that settles it. Dorman is a protester -- indeed, right-wing journalists like him are indistinguishable from protesters -- CNS is an ideological news organization, and the MRC is trying to exploit Dorman's ideological clash with Pelosi to raise money. It's almost as if the whole thing was planned this way.
Popular in the Community