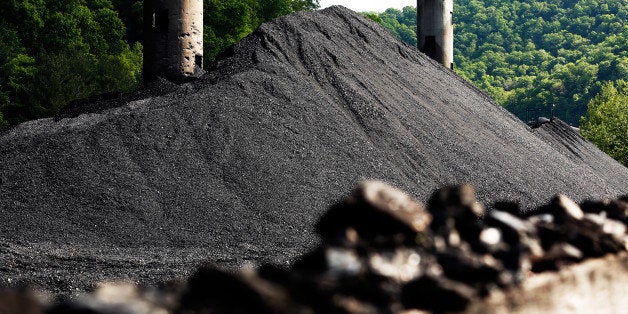 The right-wing Media Research Center is getting into the crowdfunding business, setting up a Kickstarter page to raise $15,000 for "completing the production and marketing" of a "short documentary" about "the devastating human toll of the EPA's war on coal," to be called "Collateral Damage." Here's the pitch:
Several months ago, MRCTV sent a camera crew to the southern counties of West Virginia to document the impact of the EPA regulations on the coal industry and the local communities that have historically relied on it for survival. What the team found was devastating.

The effect of shuttered coal mines and the loss of thousands of coal jobs has trickled down into nearly every facet of these communities, crippling local businesses, destroying the housing market and forcing desperate families from their homes. Thousands are without work, while still thousands more live under the constant threat of job loss and bankruptcy. Local charities struggle to meet the needs around them, only to be quickly overwhelmed. While the media are focusing on "climate change," hardworking Americans are left to wonder how they will keep the lights on in a house they're struggling to hold on to.

Through a compelling series of up-close footage and brutally honest interviews, "Collateral Damage" will expose in stark detail the real, human impact of President Obama's promised and delivered assault on the coal industry, and on the hardworking Americans and their families in Central Appalachia.

This is a true American story about real American people. And we need more Americans like you to help us get it out.
The solicitation doesn't explain why a wealthy organization like the MRC -- which raised more than $15 million in 2015 -- can't pony up a measly $15,000 to edit and promote footage they've already shot.
And it looks like this documentary will be on the dishonest side. In the trailer -- which frames President Obama and his EPA as the sole source of misery in coal-mining country -- there's a clip of Obama saying, "You know, the irony is that what's actually hurt coal is not any EPA rules." That clip is cut off abruptly.
Why? Because Obama's full statement under mines the entire premise of the MRC's film. Here's the full statement by Obama, with the tiny snippet the MRC used in bold:
You know, the irony is that what's actually hurt coal is not any EPA rules as much as it is any really cheap natural gas that has come from fracking, a new technology that we developed that allowed the United States to become the leading producer of natural gas in the world. And those gas-fired plants -- natural gas-fired plants are now so much more efficient that even if there were no rules whatsoever, coal would be replaced by natural gas in terms of generating electricity. Natural gas is a little cleaner than coal, and what we are saying in the same way that natural gas has replaced a lot coal-fired plants, well, let's see if we can get that same kind of progress on solar and wind and, you know, hydro and other clean energies that are sustainable over the long term.

And what we to then do is invest in those communities that used to have a lot of coal miners, which was a tough, dirty job. Let's retrain them so that they're the ones who are installing wind turbines. Let's retrain them so they are getting jobs in the solar industry. And that's the nature of American innovaton and American change. We used to have a lot of folks who worked on farms. Farms became really efficient here in the United States, and what we did then is said, let's set up public schools and let's set up community colleges and land-grant colleges and let's have them work in the factories. And then now we're having them work in the digital world.

And you know, we can't abandon those communities, and there's still some market for coal. And I'm still investing, by the way, in technologies that could potentially pull the carbon out of coal so that -- there's a lot of coal here in the United States as there is in China and India. If we could figure out a way to do that cleanly, that should be part of our smart energy mix. But we can't stand still. America never has, it never will.
So it's not the EPA who's the only villain here, or even the main one -- it's also fracking, something conservatives like the MRC have championed. And Obama has not maliciously abandoned coal miners -- he supports retraining them for new jobs. Somehow, we doubt that retraining will get mentioned in the MRC's film.
Also, apparently nobody has told the MRC that Obama is not running for re-election, so bashing him seems rather pointless.
It looks like the only "collateral damage" we'll actually be seeing from the MRC is to the truth.
Popular in the Community