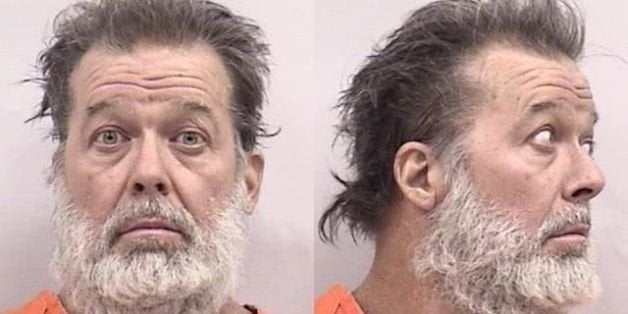 When the shooting that killed three at a Colorado Planned Parenthood clinic -- where the alleged killer, Robert Dear, reportedly ranted about "baby parts" after the crime -- occurred, the folks at CNSNews.com, the "news" division of the right-wing Media Research Center, knew what it had to do: change the narrative.
First on the agenda: dismiss the shooter as crazy, despite the fact that no psychological evaluation of Dear has been performed or otherwise made public. CNS articles portray Dear as "an apparently unstable man," highlighted Dear's "several run-ins with police" touted a Republican congressman's suggestion that Dear has "mental problems" and promoted GOP presidential candidates calling Dear a "madman" and "very unstable," not to mention "deranged."
CNS has done this before; it repeatedly portrayed Scott Roeder, killer of abortion doctor George Tiller, as mentally unstable despite the fact that he did not mount an insanity defense at his trial and a psychologist hired by his own defense found Roeder competent to stand trial.
The next step was to separate Dear from the anti-abortion movement, even though he was echoing its attacks on Planned Parenthood. CNS reporter Lauretta Brown countered statements by NARAL Pro-Choice America president Ilyse Hogue condemning the killings and those who apparently inspired Dear with statements from anti-abortion groups denouncing violence.
Brown quoted the Center for Medical Progress' denunciation of the killings -- in which Dear was dismissed as a "violent madman" -- and proudly noted CMP's "undercover videos over the summer showing Planned Parenthood's harvesting of aborted baby parts," but she did not mention that Dear was ranting about "baby parts" during his rampage.
Similarly, Brown highlighted Operation Rescue's statement denouncing the shooting, but she didn't mention that Operation Rescue official Cheryl Sullenger spent time in prison for plotting to blow up an abortion clinic.
Because Hogue specifically called out Operation Rescue president Troy Newman for "using Operation Rescue to call for state-sanctioned execution of doctors who serve women," Brown went further into defense mode on him as well, repeating an earlier Operation Rescue statement that "Newman has never advocated violence against abortion providers or facilities and has instead adamantly encouraged pro-life activists to work through the legal, legislative, and justice systems to bring abortionists who are breaking the law and harming women to justice."
But claiming that abortion doctors should go through the legal system before being executed is still demanding that they be executed, no matter how much Operation Rescue tries to deny it; the statement from Newman's book "Their Blood Cries Out," which Hogue was referencing, does not differentiate between abortion doctors doing their job legally and "abortionists who are breaking the law."
Brown concluded her article with an apparent attempt to justify the shooting and blame Planned Parenthood itself for it by quoting Mother Teresa: "[I]f we accept that a mother can kill even her own child, how can we tell other people not to kill one another?"
But CNS was not done. Managing editor Michael W. Chapman tried to change the subject altogether with an article on "The latest abortion surveillance report from the Centers for Disease Control and Prevention," in which "55.4 percent were performed on black or Hispanic mothers." He also wrote a companion article noting that "in New York City 76.4% of the abortions reported by race were of black and Hispanic babies."
Chapman was silent on the ethnicities of the people Robert Dear murdered while apparently inflamed by anti-abortion rhetoric.
Calling all HuffPost superfans!
Sign up for membership to become a founding member and help shape HuffPost's next chapter