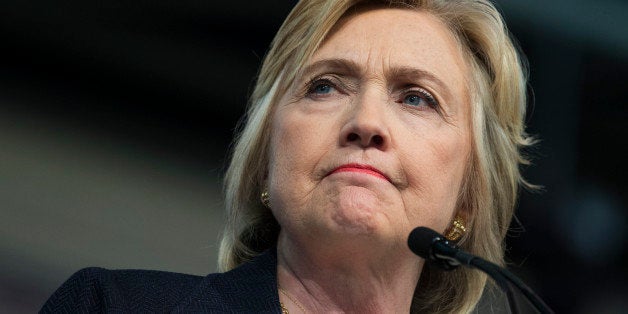 CNSNews.com, the "news" division of the right-wing Media Research Center, claims in its mission statement that it's "a news source for individuals, news organizations and broadcasters who put a higher premium on balance than spin."
That's a total lie. CNS is interested only in spin.
The latest example: CNS marshaled its team of so-called reporters to crank out a whopping nine articles in the day or so after the FBI recommended on July 5 that no charges be filed against Hillary Clinton over her private email server (here, here, here, here, here, here, here, here, and here).
All nine of these articles got front-page play at CNS. Three of those articles neglected to mention the pertinent fact that Clinton would not be charged.
Two days later, when FBI director James Comey testified before a Republican-dominated congressional committee, CNS reporters generated seven more articles (here, here, here, here, here, here and here).
All seven articles of these are based on either Comey's testimony or questions asked by Republican committee members. No article even mentions there are Democratic members of Congress at the hearing, let alone quote any of the questions they asked. CNS also failed to mention how Comey debunked several right-wing talking points about Clinton's emails.
That's a total of 16 CNS articles on Hillary's emails in a four-day period, all by CNS reporters and all of which appeared on the CNS front page.
By contrast, presumptive Republican presidential nominee Donald Trump tweeting out an image of Hillary Clinton considered anti-Semitic got no special coverage from CNS reporters, continuing a disturbing pattern of repeating tweets and images that originate on white nationalist and white supremacist websites. The only attention CNS bothered to give to this issue involving its preferred presidential candidate was an lone Associated Press article that appeared on the front page. No original coverage whatsover.
And that AP story, by the way, was the only mention of Trump on CNS' front page for the entirety of last week despite the fact that, as the other main presidential candidate and the one it would presumably prefer to see elected, he would seem to warrant coverage equivalent to Clinton. The most recent original coverage of Trump at CNS was a June 29 article by Susan Jones serving as dutiful stenographer on a Trump speech.
CNS did finally do another original Trump story on July 10, 12 days after its last one -- complaining that possible Trump vice presidential pick, Michael Flynn, "supports abortion and thinks homosexual marriage is fine."
It seems that, judging by the amount of company resources used, CNS is more disturbed that a possible Trump VP pick isn't isn't as right-wing as it would like than that Trump is tweeting anti-Semitic messages. ANd it's incredibly bothered by the fact that the FBI wouldn't fulfill its wish of criminal charges against Clinton.
If CNS really did put "a higher premium on balance than spin," Trump's controversies would get the same attention it gives to Hillary's. But they don't, making CNS' mission statement a lie.
Related
Popular in the Community