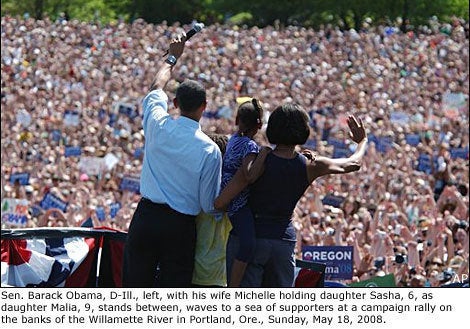 Rightward critics of Barack Obama continue to be all a-flutter over the fact that the Illinois Senator's massive rally in Portland, which drew over 75,000 people, was preceded by a free rock concert by area musicians Colin Meloy, Chris Funk, Jenny Conlee, Nate Query, and John Moen, who are better known to indie rock fans as The Decemberists (though they were not billed as such at the rally). As the National Review's Jim Geraghty says, "Now, I'm sure Obama would draw a big crowd either way, but wasn't that worth mentioning in the coverage?"
As Geraghty points out, the Decemberists are named for the Russian Decemberist Revolt of 1825 and have courted controversy by occasionally playing the National Anthem of the Soviet Union in concert - though that has little to do with politics and more to do with the whimsical, baroque backstory that lead singer and Victorian-era fiction enthusiast Colin Meloy has constructed as the band's backstory ("The band's official biography, keeping up their reputation for intentionally over-the-top grandiloquence, describes how they met in a Turkish bath. A footnote following the biography claims, 'The Decemberists travel exclusively by Dr. Herring's Brand Dirigible Balloons'").
Geraghty also points out that the Decemberists awesome, Rushmore-aping video for their excellent song "16 Military Wives" begins with the villain donning an American flag lapel pin:
The Decemberists also have a multiple-part song cycle about a guy who marries a bird that is still a more coherent foreign policy critique than anything the National Review has ever come up with.
UPDATE: The Decemberists will be appearing this Saturday at the Les Schwab Amphitheatre in Bend, Oregon along with Death Cab For Cutie. I sure hope major infrastructural improvements to the Amphitheater can be completed in time to accomodate the band. As the venue's capacity is a mere 8,000, it shall have to grow tenfold if the Decemberists are to have any hope in winning the presidency.
Popular in the Community