 WASHINGTON -- A former Department of Homeland security analyst who left the government after conservatives pummeled his report warning of right-wing extremism's growing threat said that the weekend attack on a Sikh temple in Wisconsin didn't surprise him because "politics and personalities" stymie investigators from targeting non-Islamic militants.
"There are certain people in charge who made a decision and they stuck by that decision," said Daryl Johnson, who left DHS two years ago to form his own consulting company. "It's come at a cost and that's the bottom line. Lives have been lost. Attacks continue to happen."
"Hindsight is always 20-20, but if DHS had a domestic terrorism unit today, we would definitely have sent out a warning, a threat assessment (to) Muslim-Americans being attacked. I know this was a Sikh temple, but he mistook them for Muslims," Johnson told The Huffington Post in an interview. Despite repeated reports of arson and other violence against mosques, "not a single intelligence report has warned these communities. ... Someone's not connecting the dots," Johnson said.
Saying, "I hate to be right under these circumstances," Johnson had warned in a 2009 DHS report about the growing threat of right-wing extremists. He said many would be motivated to become violent by the election of the first black U.S. president and an ailing economy. He also said right-wing extremist groups viewed military veterans as "lucrative recruits." It's unclear when Page, an Army veteran, became radicalized.
Johnson's report was blasted by conservatives, including Newt Gingrich, who insist only Muslim extremism poses an existential threat to the nation.
Pummeled from the right, DHS Secretary Janet Napolitano withdrew Johnson's report and soon slashed the number of analysts devoted to domestic, non-Islamic terrorism. Today, said Johnson, just one DHS analyst is assigned full time to track neo-Nazis like Page as well as violent anti-abortion activists and militant environmental and animal-rights groups.
While Rep. Peter King (R-N.Y.), chairman of the House Homeland Security Committee, has held a series of hearings on Muslim radicalization -- including inside the military -- Johnson noted that no one on Capitol Hill has given equal time to right-wing extremism.
"Why haven't we had any hearings on the white supremacist threat? I think it boils down to the fact that our legislators are basically biased in what they think the threat is," Johnson said. "I think they need to be more equitable."
Before Sunday's shooting at the Sikh temple, right-wing terrorists had killed nine people in eight attacks in the U.S. since 9/11, according to the New America Foundation, a non-partisan think tank. As Peter Bergen, who co-authored the foundation's study on homegrown terrorism, noted, that toll appears likely to rise to 15 given Wade Michael Page's white supremacist ties.
In contrast, terrorists inspired by al Qaeda or other Muslim extremist ideology have carried out four attacks on U.S. soil since 2001 that resulted in 17 deaths -- all but four of them at Fort Hood in 2009.
HuffPost's request for comment from DHS was not returned, but agency officials have denied Johnson's depiction of a department asleep at the wheel when it comes to violent extremists who don't fit the al Qaeda mold.
But Johnson said denial is bipartisan, with Republicans in Congress and Democrats in the White House failing to take right-wing extremism as seriously as they take Islamic militancy.
"The best word that could describe it is probably defiant. Resolute," Johnson said of the federal government's attitude. "There's pretty much a 'We made a decision, we're sticking with that decision no matter what happens, because if we reverse position we'll look worse' attitude."
Before You Go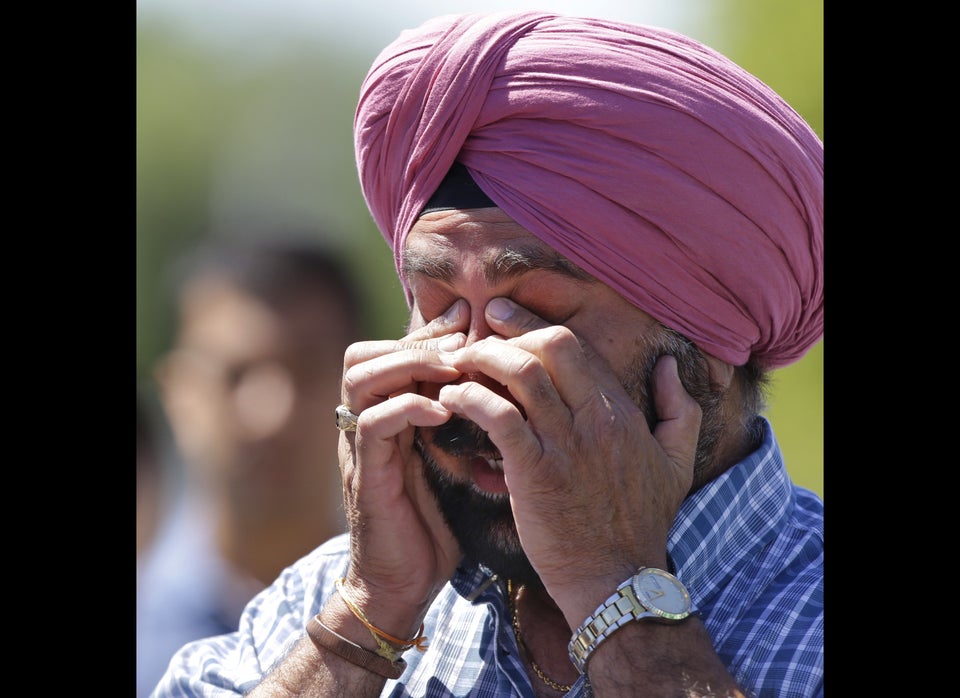 Wisconsin Shooting
Popular in the Community