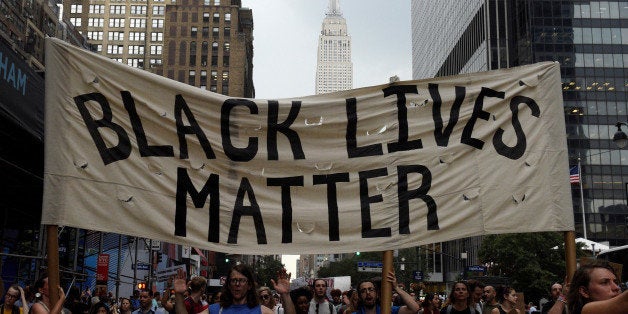 On Thursday afternoon, after the videos of the shootings of two black men by police rocked our nation, I walked up Fifth Avenue in New York City with thousands of other humans -- black, white, Latinx, Asian, every color, all shouting "Black Lives Matter." And it struck me, as it must strike black people every day, what depths of hell we have reached when we must shout out something that is so fundamentally and eternally obvious.
It is a confession of the hierarchy that white supremacy has imposed upon humanity, standing in direct opposition of the truth that all are made in God's image and are equally worthy of dignity and respect. And yet chant "Black Lives Matter" we must, as the world is not as it should be. There is a profound disorder and its name is racism, and it is literally killing black people.
One colleague/friend at the march, Blamo, wore a badge she made herself that read, "I can't keep calm -- I have a black son," and her fear and grief indict me as I recognize the lazy, auto-privilege accorded to my son, whose skin color immediately makes him safer than hers in a world where black lives matter less.
"Black Lives Matter," "No justice, no peace," "The people, united, will never be divided," "Hey hey, ho ho, racist cops have got to go." Our voices echoed in the canyon of buildings as traffic stopped and horns blared in solidarity and frustration. But our chanting became silent and traffic resumed as the horror of normalcy and order was restored.
And then five police officers dead in Dallas, more injured as a sniper hijacked a peaceful protest on Thursday night and turned it into a hate-fueled bloodbath -- and more are left without a father or mother, son, daughter, friend, beloved. Another colleague of mine is the wife of a police officer here in New York City. I can only imagine her fear for the safety of her husband, and the possibility of her three children being left without a father.
How can the cycle of violence and hatred end? How will we overcome the fatigue and hopelessness, the disbelief that black people can still be shot by police over and over and over and over and over and over and over and still we see a man pulled over and shot dead while his girlfriend and her young daughter watch, and another killed while selling music.
How can we help ensure that police will not have to fear for their lives as they fulfill their duty? How can we confront the reality that ammunition and guns are readily available to lone attackers who would threaten them and us? How can we continue to condemn bad policing without demonizing the police?
It felt good to be in the streets Thursday evening. For a moment, the fatigue and hopelessness turned into righteous anger and a sense of power and possibility.
There is no shortage of anger in America. But the question we must ask ourselves is whether our anger is righteous or not. Will it lead to a more just world? Will it get us off our couches and into the streets? Will our anger fuel real solutions to the problems that vex us? Will our anger break down the walls of hate? Will our anger continue to insist that Black Lives Matter and work for non-violent solutions to systemic racism? Or will our anger just block people off, deepen our divides, intensify our distrust, and turn towards violence?
Anger can quickly lead to hate, but righteous anger is ultimately an act of love.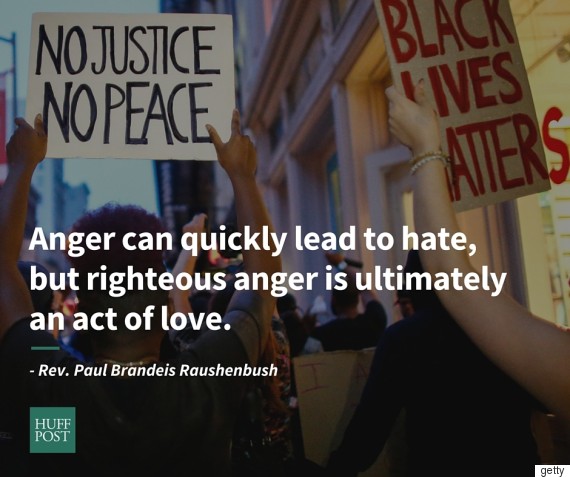 And loving, righteous anger is what the church should be about right now. We should be a place for the promotion of an active, prophetic, righteous love -- singing redemption songs, preaching Jeremiads of justice, lifting up prayers of hope and reading scriptures that demand that "justice roll on like a river, righteousness like a never-failing stream!" We should be holding hands together, gathering our communities to organize against all forms of oppressive systems, and insisting that reconciliation and peace will come, that Black Lives Matter completely in God's eyes and to our nation, amen and amen and amen. That sounds like church to me -- a church that makes a difference and speaks to a nation's sin-sick soul.
It's time to get out of the pew and into the streets -- and if you do, please invite me, as I want to be where the Spirit of God is really moving. We must not let our people die in vain, something has to change. The time is now. Justice is calling.
Related
Popular in the Community