Lloyd Maanyina is a charcoal burner from Livingston, Zambia - "home of the mighty Victoria Falls." The dirt from a hard day's work jammed beneath his fingernails, Maanyina counts his money as he tells a story of guilt and reconciliation.
Deforestation caused by charcoal production is a growing environmental problem in Zambia, where most of the population relies on charcoal for fuel. As Maanyina has become increasingly aware of his own impact on the environment, he is proud to have opened a micro nursery that sells trees to the community, giving back at least some of what he takes from the earth.
The award winning short documentary, Amazing Grace, has brought Maanyina's story to a global audience.
But how will his story have an impact in his community - the very community he hopes to enrich - when access to Internet is scarce and the country is facing an energy crisis?
This question led photographer Sydelle Willow Smith, filmmaker Rowan Pybus (whose company - Makhulu Productions - produced the film) and innovative design specialist Janine Johnston to create Sunshine Cinema.
Sunshine Cinema is a mobile, solar-powered cinema and platform with a mission to share knowledge and skills among African communities through film screenings, skill building workshops and discussions. With a steady supply of power regardless of the state of energy from the national power grid, Sunshine Cinema is able to screen content uninterrupted.
Producing and screening instructional videos on subjects ranging from how to make a solar cooker out of cardboard and empty chip packets, to how to build a chair out of tires, wire and rope, Sunshine Cinema deploys practical ideas and local knowledge to address social and environmental issues.
This is especially important in communities where there might not be access to research tools like Google.
Sunshine Cinema also produces and screens films (its own, and those of other African filmmakers) telling the stories of innovators and change agents like Maanyina, and promoting sustainable innovations.
"There are so many incredible films that have been made by African filmmakers from all over the continent," Smith said. "But so much of that content never gets seen in local theaters, firstly because there might not be a cinema there and secondly because most of the media that's shown here tends to be reruns from American series or flashy Blockbuster films."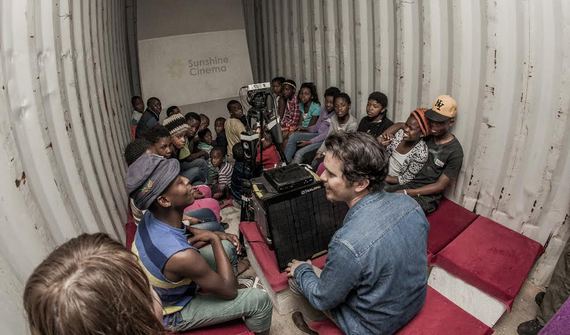 Sunshine Cinema's goal is simple: "We're not trying to be these Pan-African idealists," Smith said. "We really just want to showcase what is happening here and celebrate it."
Born and raised in South Africa, Smith was introduced to photography at a young age by her father, a darkroom technician. Her experience in a diverse schooling environment, sharing a classroom with young black photographers from diverse backgrounds at a time when South Africa was divided economically and racially, helped inform her artistic consciousness.
"I am South African in terms of my passport - my grandparents were born here - but I am also a settler," Smith said. "So as a white South African, I feel like I have a responsibility to do much more research before I tell any type of story, and to think deeply about what role I'm going to play. I think there is an entitled attitude perpetuated that needs to be addressed through more dialogue and listening on the part of those whose experiences are steeped in privilege."
Applying that same thoughtfulness to their work at Sunshine Cinema, the growing team of media makers and designers work with local partners to show films with appropriate subtitles (South Africa has 11 official languages), followed by community-facilitated discussions about the content they show.
"Instead of taking African stories from the continent and showing them to a Western audience, we wanted to create something that didn't just have a one-way flow of information,' Smith said. "We wanted to try to address problematic issues that we had encountered around distribution, and help democratize the flow of information by taking art outside of the gallery walls and into diverse communities."
But for Sydelle, making the film is only the first step.
"It's all well and good to make a film that shows people in a difficult or inspiring situation," Smith said. "It gets out there on the Internet and across the digital divide, and the people who are able to watch it watch it, but the local social actors and stakeholders don't necessarily get to unless they have access. To me, that's not creating the intended dialogue that the film is supposed to."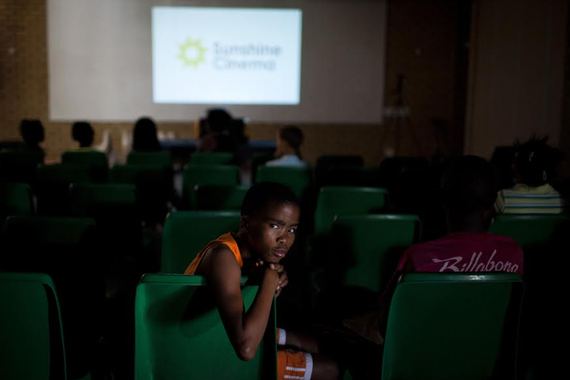 In South Africa and elsewhere on the continent, mobile cinemas have had a dark history. Used as a tool to support colonial power, films shown via mobile cinemas were used to "civilize" African people, sometimes portraying them as the caricatures of Mr. Wise and Mr. Foolish - Mr. Wise, of course, adapts to colonial ways, while Mr. Foolish clings to his African traditions.
Smith, intent upon not "coming across as a bunch of saviors from the post-apartheid generation," hopes that the problematic historical use of mobile cinemas can still be one of the issues that Sunshine Cinema can address. But instead of the colonial-era Mr. Wise telling viewers what to do, community members and stakeholders are able to exchange information directly with one another, teaming up to find immediate solutions to problems.
While the idea of bringing media into local communities is nothing new, Smith explains that she and the team initially felt there wasn't a space for the exchange of information.

"It's something you really feel when you spend time in places where people don't have access to affordable Internet or computers," she said. "There is this dominant narrative of mobile phones being the cure to all of Africa's problems in terms of the so-called digital divide, but for people accessing online spaces through mobile phones, data costs still remain extremely high."
For Smith, Sunshine Cinema's potential to become a platform for broader interaction and engagement is what draws her to the work.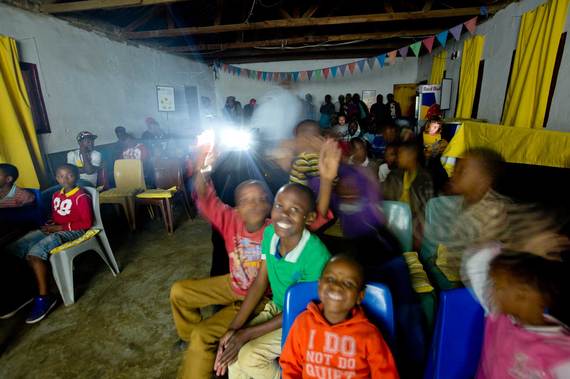 "At the end of the day, we are in love with cinema," she said of the Sunshine Cinema team. "We are media junkies; we watch thousands of films and have access to them. To be able to share them with people who might not have that same access is so important. We don't just want to show information-based content; we want to show content that provokes dialogue and discussion and see these stories used to create local networks."
REAL LIFE. REAL NEWS. REAL VOICES.
Help us tell more of the stories that matter from voices that too often remain unheard.