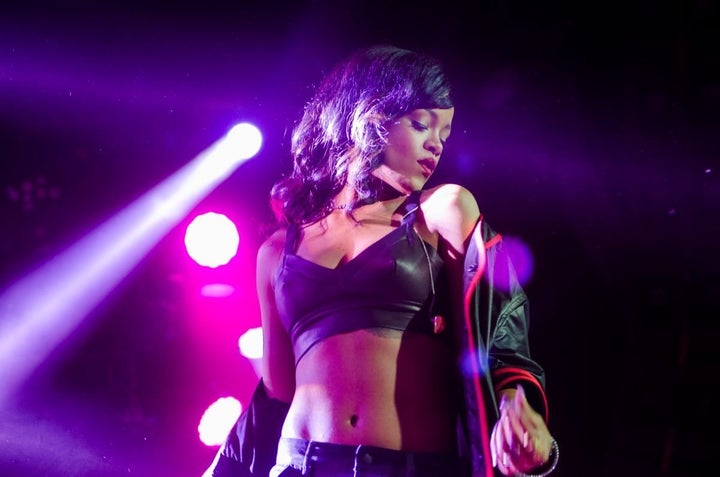 It's Wednesday night, and Rihanna is at the Plaza Condesa in Mexico City, not singing the chorus of her hit song "Only Girl (in the World)" for an audience of 700 people. She delivers the verses faithfully enough, her world-famous voice sounding confident if hurried. But as the synths kick in, she drops the microphone from her face, leaving it to her backup singers -- and prerecorded backing tracks -- to handle the familiar lyrics about wanting to be loved like the only girl in the world.
It's just another example of Rihanna being Rihanna. If she wants to turn this concert into an MP3 listening party with dance moves, she will. And if she wants to charter a jet and stuff it with 250 journalists, musicians and contest-winners, you can bet she will do that too.
By now, Rihanna's 777 tour -- which ends this Tuesday in New York after hitting seven countries for seven concerts over seven days -- has already become part Internet legend and part joke, thanks at first to a series of all-too-easily-ridiculed tweets by overexcited and/or drunken passengers. Recent dispatches from the plane have grown increasingly grim, with journalists demanding more Rihanna time and even streaking naked down the aisles of the plane. But leaving aside the ridiculous nature of the enterprise, the experience of riding along for three days raised an interesting question: Why did one of the world's biggest pop stars feel the need to host a week-long party in the sky?
Before taking off from Los Angeles, Rihanna ran up and down the aisles of the chartered plane, greeting her guests with an assortment of "this is crazy"-type exclamations. Thirty thousand feet above the U.S.-Mexico border, she barreled through again, pouring champagne into plastic cups. On the flight from Mexico to Toronto, she did nothing. And en route to Stockholm, she was likewise nowhere to be seen. Wherever the plane was, Rihanna did just as she pleased. To quote one fan who won a spot on the plane in a radio contest, "Everyone wants to be liked, but she doesn't care. She just does her own thing."
That's one reason she is so beloved. Polite society may wince at her see-through outfits, her tweets about smoking weed, the NSFW Instagram photos featuring strippers and, above all, her highly questionable decision to continue collaborating with her "ex"-boyfriend Chris Brown, who brutally assaulted her in February 2009 -- but Rihanna's fans love her all the more for being so brazenly imperfect. There's a reason her new album is titled "Unapologetic."
Then again, even taking into account her exceptional natural talents, Rihanna wouldn't be where she is if she didn't really care about her career. With 23 top 10 singles and seven albums, the 24-year-old star is easily among the most successful pop artists ever. She's currently on the covers of GQ and Billboard, and her latest single, "Diamonds," is presently holding down the No. 2 spot on the Billboard Top 100. She also enjoys a level of credibility that's rare for a chart-topper. "Rihanna, as history will tell it, will probably wind up being the most interesting female artist of all time," Kanye West told The Huffington Post. West's frequent collaborator Malik Yusef added, "I am a fan of having Rihanna partake in almost every song [Kanye and I] do."
Rihanna may routinely skip sound checks, but she is far from a slacker. Through interviews and off-the-record conversations with songwriters, producers and label personnel, a picture of her emerges as a singular talent whose work ethic and charisma compensate for a lack of attention to detail that borders on reckless. (She appeared on stage hours late for at least the first three nights of the tour.)
But there is another secret to Rihanna's success. At a time when most of pop's ascendant stars, from Lady Gaga to Adele, write at least some of their own material, Rihanna relies on a stable of producers and songwriters who spend months preparing tracks before she sets foot in a studio. A few hundred songs will be sorted into A, B and C lists by her team. "Unapologetic" features more than a dozen producers -- but those are just the ones whose work was actually chosen.
A glance at the writing credits on "Unapologetic" reveals an all-star roster that includes her perennial hit-maker The-Dream, who wrote "Umbrella" (originally for Britney Spears); Sia ("Diamonds"); Kanye West ("Numb"); Ne-Yo ("Right Now"); James Fauntleroy ("Get It Over With") and, yes, Adele ("Half of Me," co-written by Emeli Sandé).
The styles range from pure radio fare to dubstep and progressive house (David Guetta produced two tracks), but somehow it all comes out sounding like Rihanna. "It doesn't matter who she writes with or who writes for her," Benny Blanco, who co-produced "Diamonds," told The Huffington Post. "Rihanna is just one of those artists that no matter what you give her, it's going to become hers. She knows so much about music and so much of what she wants to hear that it almost doesn't matter what the song sounds like, because she's going to make it her own."
And though there have been scattered efforts to anoint "the next Rihanna" (her Roc Nation labelmate Rita Ora is the most recent candidate), the singer's ability to be recognizable across an array of genres helps frustrate pretenders. "The beautiful thing about Rihanna is that even though everyone tries to figure out the formula, there isn't really an equation," said Gabriela Schwartz, vice president of marketing at Island Def Jam.
It's also hard to imagine any of Rihanna's imitators catching up to her in the social media department. "People can't help falling in love with and kind of being obsessed with following her," Schwartz said, an assessment that's backed up by the numbers. Rihanna is the most-liked person on Facebook (62.6 million), and the fourth-most-followed Twitter user (26.7 million), behind Lady Gaga, Justin Bieber and Katy Perry and ahead of Barack Obama.
With all that in mind, it's tempting to view the 777 Tour as a victory lap around the world for a singer who is sitting on top of it. And yet, a close look at Rihanna's recent behavior reveals some causes for concern.
Be that as it may, Rihanna's habit of churning out hits is a testament not only to her vocal ability but also to her team's ability to place the right material in front of her. This time around, however, a number of sources close to the album's production said the singer seemed less interested in following direction and more interested in flexing creative control. While there is a long history of singers achieving greatness after shaking off constraints imposed by their label masters (think Marvin Gaye battling Motown's Berry Gordy for the freedom to make "What's Going On?"), Rihanna's path is riskier, since she doesn't write her own material and has no proven track record of choosing songs herself.
And while her impetuousness works for her when she's following instructions, it may be more of a liability when she's calling all the shots. Def Jam personnel and others with knowledge of the matter spoke of "Unapologetic" coming together at a fast clip. "We didn't even know we had an album coming until two months out," Adam Eisenberg, IDJ's director of artist development, said as the singer prepared to take the stage in Toronto. Blanco also expressed surprise at the urgency that underlined the recording of "Diamonds," noting that it had to be recorded, mixed and mastered in the few days before the single's release.
With "Unapologetic," Rihanna's deal with Island Def Jam is either at or near its completion. The label's decision to release only one single in advance of the album's release suggests a potentially troubling lack of confidence. Compounding those concerns is the issue of momentum. Maintaining a career as big as Rihanna's requires an unending amount of publicity. Through that lens, the 777 Tour can be seen not as a celebration but as a frantic effort to keep her in front of the lens, lest she fade away before her next tweet goes viral.
Because Rihanna is so spontaneous, it was odd to see her reciting the same stage banter in city after city. (This is not unusual. YouTube footage from Jay-Z's concerts confirms that he has been saying some of the same stuff for a decade.) But though the frame remained nearly exactly the same, Rihanna's performance blossomed noticeably on the second night of the tour. In Toronto, Rihanna ran the stage with ease, half lithe dancer, half army general. Dressed like Aaliyah, she made a medley of slow songs like "Unfaithful" come alive where they had fallen flat in Mexico City. Rihanna's ex-flame Drake, a hometown favorite in Toronto, never made an appearance, but the audience (of fans and journalists) was impressed. It was a performance that reminded Rihanna's fellow passengers just how great she can be when she's invested.
Rihanna's voice made her a star, and her Twitter account made her everyone's baddest friend. If she's going to take her career to the next level, whatever that may be, she'll have to find a way to stay genuinely engaged without veering outside the musical mainstream. In the meantime, she remains pop's most consistently refreshing act, if only because we never know what, if anything, will turn her on next.
PHOTO GALLERY
Rihanna's 777 Tour
REAL LIFE. REAL NEWS. REAL VOICES.
Help us tell more of the stories that matter from voices that too often remain unheard.
BEFORE YOU GO