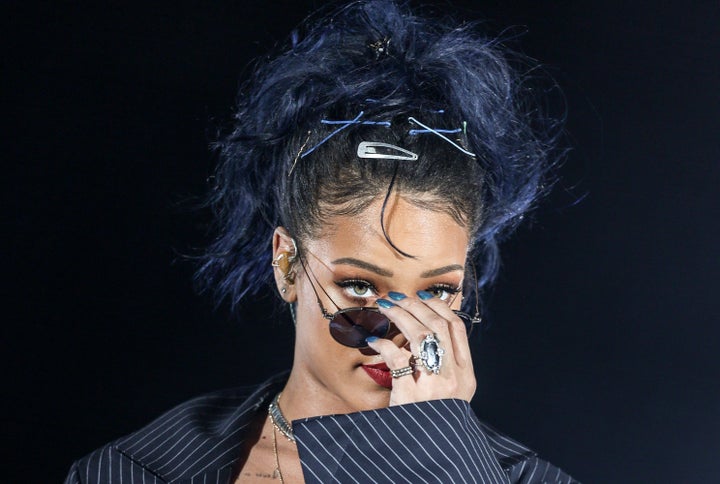 I snagged the Twitter handle @badgirlpripri after chuckling in my head for about three seconds and seeing it was still available. (Only later did I realize that Rihanna's Instagram handle was actually @badgalriri.) 
I occasionally regret the decision, like when spelling it out for my boyfriend's dad or in professional situations when "bad girl" is projected in large letters beneath my face. I can only imagine that the pun is lost on many readers who assume that I am a very bad girl and expressing this truth to the world. 
Occasionally I wonder: was it a wise decision to let a huge girl crush and a mediocre pun follow me this far into the working world? But what would be a better way to honor Rihanna's legacy than not giving a fuck about posturing, professionalism, politeness and other things that don't do much in the way of getting you what you want?
Rihanna's eighth album "Anti" dropped on Thursday -- awkwardly -- when, after months of teasing, the album was mistakenly uploaded to Tidal, quickly bootlegged, taken down, and then released by Rihanna for free. It was sloppy and confusing, and after only 15 hours the album has been downloaded over one million times. 
And then there's the album itself, a sonic reflection of the pre-release confusion, an odd but intoxicating jumble of doo-wop pop, warbling R&B and retro-futuristic rock ballads. In two of the stranger moments, "Never Endings" incorporates parts of Dido's "Thank You" (my bat mitzvah song), and "Same Ol' Mistakes" plays like a cover of Tame Impala's "New Person, Same Old Mistakes" (it's actually just Rihanna singing over the original backup vocals). 
For an artist known for her club bangers, "Anti" brings a radically different mood ― one more like getting too stoned at a party and watching as the scene slowly grows sinister and surreal before your eyes. Without the blaring techno backup beats, Rihanna's voice has room to stretch and transmogrify, channeling her chameleon persona into her vocal chords. 
Shortly before "Anti" dropped, Rihanna released the track "Work," featuring Drake, the only radio-friendly number of the bunch. To a scrambled tropical dancehall beat, Rihanna mumbles: "You see me I be work, work, work," repeating the word "work" over and over until the word loses meaning in her mouth, collapsing into wayward syllables and Jamaican Patois. She seems to get bored amidst her anthem exalting work, and opts for a shortcut. The song effectively captures Rihanna's modus operandi: a slacker and a boss, and whatever else she wants. 
While most women in the pop culture landscape are so quickly categorized as either Type A or chill, Rihanna is neither, or both -- she's the slacker who took over the world. Hard working, passionate, disruptive, impulsive. She misses deadlines, changes her mind, creates a maudlin patriotic anthem nobody asked for -- and we love her all the more. She's become impervious in all her sloppiness, her imperfections only adding to the ubiquitous power she's grown to wield. 
Of course, Rihanna has had her fair share of mess-ups. Her Sanskrit tattoo of the word "forgiveness" is spelled wrong, and the grammar is off on her neck tattoo "rebelle fleur." She called Rachel Dolezal a "hero," and one time trapped a bunch of journalists on #rihannaplane. But even when her actions are cringeworthy, there is something liberating about her ability to make mistakes without damning recourse, when so many "It" girls are ousted with a single gaffe. She's demanded the right to make mistakes, to offend, to be weird, because she's good at what she does. 
Ri is the anti-role model, in that she doesn't embody any one stereotype or mold. But for those of us that don't identify as entirely ambitious or rebellious, good or bad, "forgiveness" or "rebelle fleur," Rihanna provides some kind of extremely well-dressed guiding light. A light that spells out "do you ... and smoke weed." 
I saw Rihanna once in person. I spotted her way in front of me at a Drake concert and my eyes were glued to the zone where she occasionally bobbed in and out of view. Surrounded by a pack of close friends, she danced like crazy, her hip-length orange braids flying free amidst the cloud of weed smoke that formed around her like a divine orb. Smoking joint after joint, snapping selfie after unapologetic selfie, she seemed to do everything she wanted at the very moment she wanted it. 
PHOTO GALLERY
Rihanna Beauty Evolution
Calling all HuffPost superfans!
Sign up for membership to become a founding member and help shape HuffPost's next chapter