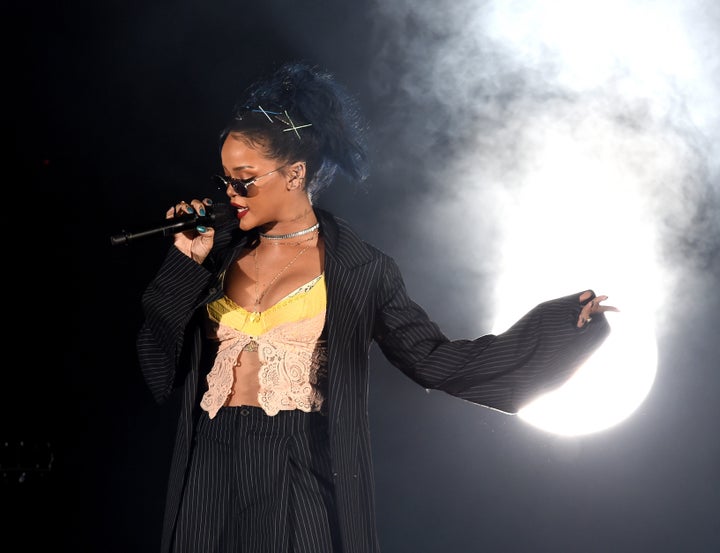 Rihanna's new album could be a turning point in pop music. Or it should be. 
We've waited since November 2012 for Rihanna to release a follow-up to "Unapologetic," an album that produced five Top 40 hits. Over the course of those three years, mainstream music became an amorphous bounty of distribution services and release patterns.
By the time "Anti" came out last week, following more than a year of teases, false starts and behind-the-scenes melodrama, Rihanna was part of a world where Beyoncé drops surprise albums at midnight -- and it shows. Not only did Rihanna debut "Anti" with no announcement or advance press (just a Tidal glitch), she peppered it with tracks that mostly sound unfit for radio spins.
The hit machine that is Rihanna has been an insuppressible force since "Pon de Replay" arrived in 2005. She's had a whopping 27 Top 10 songs, more than any other artist of her generation. (Three more and she'll surpass Michael Jackson.) It's no surprise, then, that many of the "Anti" reviews point out that it sounds far less commercial -- read: less club-worthy -- than Rihanna's previous work. Even those who praise her intent call the finished product "anticlimactic," "scattered" and a "roller coaster of experimentation."
There's no doubt that "Anti" is a departure for Rihanna, who, like Katy Perry, has become, foremost, a singles artist. Filler invades every album she's released. And even if you agree with me that "Love on the Brain" is beautiful and "Desperado" boasts subversive charisma and "Yeah, I Said It" is a fortress of sleek sensuality, none of that confirms that "Anti" is the Rihanna album we want. It is, however, the one we need.
We shouldn't settle for radio-friendly earworms in pop music. We should encourage cohesive albums that uproot the bloated production values that fostered the genre's sameness throughout the (very fun) Britney-Christina phase of the late 1990s and early 2000s. (It's worth noting that, for all her ubiquity, "...Baby One More Time" was Britney Spears' only No. 1 hit across her first five albums.) That era's uniformity has waned throughout the 2010s. Kanye West, for example, had three No. 1's before trading dance-floor decrees like "Gold Digger" for the uninhibited resonance of "Black Skinhead" -- and the alienating, jacked-up passion on 2013's "Yeezus" galvanized Kanye disciples, even though the album didn't contain anything as mainstream as "Stronger" or "Heartless."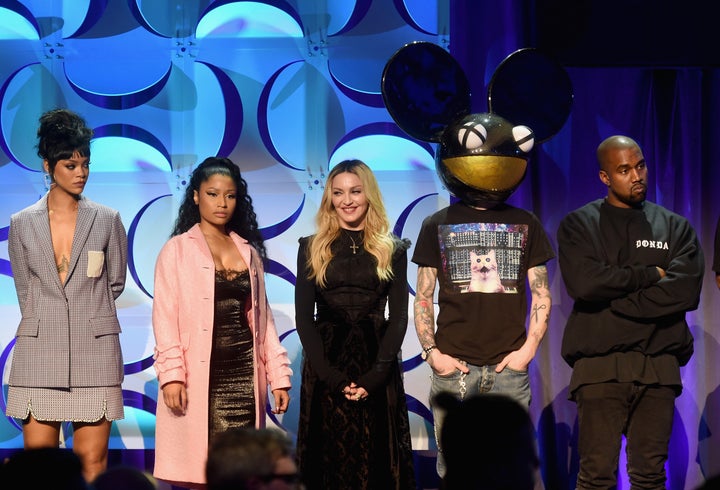 Madonna, on the other hand, was mocked for chasing EDM trends on 2012's "MDNA," even though the album yielded a Top 10 hit and the year's highest-grossing tour. "MDNA" was a misguided attempt at seizing a youth audience that simply doesn't have ears for Madonna anymore, so on 2015's "Rebel Heart," she reasserted what made her indomitable in the first place: a perspective that's uniquely her own. "Rebel Heart" is still sexual and dance-able in a way that transcends Madonna's age, but by digging into a singular theme (the rebel-versus-romantic duality), the album plays like a more robust experience. For fans, it doesn't matter how far the singles travel. (But for the record, "Bitch I'm Madonna" became her 57th song to make the Hot 100.)
What Rihanna did with "Anti" was respond to the masses that exalt her as a figurehead, especially the ones who want her to reflect routine notions of pop curation. She released three singles in 2015 ― "FourFiveSeconds" (a collaboration with West and Paul McCartney), "Bitch Better Have My Money" and "American Oxygen" ― but none of them appear on the album, because why should they? Those aren't part of the "Anti" experience. You don't get the album just to hear the singles anymore. You buy (or stream or steal or whatever) the album because it's a singular unit of creative expression. That's why Lady Gaga's conventional "Artpop," which proved to be more "pop" than "art," will always be less interesting than Miley Cyrus' recent collaboration with The Flaming Lips, a psychedelic mélange that produced no singles after it was deposited on SoundCloud for free last summer. It's also why Kendrick Lamar's "To Pimp a Butterfly" is arguably the defining album of 2015, even though none of its singles charted as high as the ones from "good kid, m.A.A.d city."
Rihanna is reflecting the new frontier. Artists don't have to crank out singles, Taylor Swift and Justin Bieber style, to be seen as successful. They can go the Carly Rae Jepsen route: release one fetching ditty ("I Really Like You") and then sit back and let the real fans appreciate how enjoyable the larger endeavor ("Emotion") is. During their hiatuses, they can appease listeners with one-off songs, then disappear to craft a collection that doesn't bend to the whims of radio trends, whatever that means anymore. It's clear that Rihanna, perpetual badass, recognizes the power she holds in popular music. Moreover, she recognizes that she isn't beholden to passé distribution models. (She only needs to ensure there aren't Tidal leaks.) 
By the next time Rihanna releases an album, we may not even expect singles. And that's for the better because it evens the playing field: If Rihanna helps to establish new hit-making rules now, she won't have to linger in the rearview mirror of her career in 30 years. Madonna doesn't need another "Like a Prayer," Bruce Springsteen doesn't need another "Born to Run," and by the time Rihanna is their age, she certainly won't need another "Rude Boy."

REAL LIFE. REAL NEWS. REAL VOICES.
Help us tell more of the stories that matter from voices that too often remain unheard.
BEFORE YOU GO
PHOTO GALLERY
Rihanna's Best Outfits