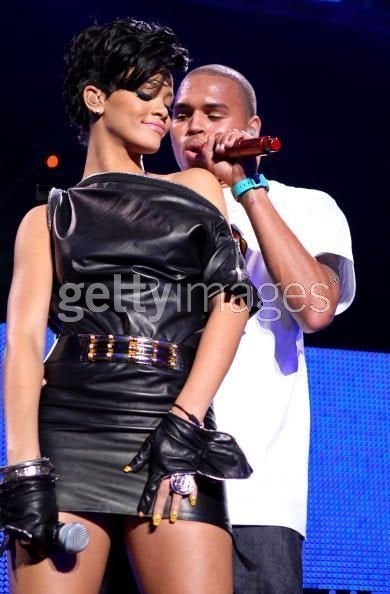 UPDATE TUESDAY NIGHT:
E! reports a death threat from Brown to Rihanna:
They began squabbling after leaving Clive Davis' pre-Grammy party late Saturday. Shortly after midnight, things blew up. Brown pulled his silver Lamborghini to the side of a street in L.A.'s Hancock Park neighborhood. That's when, per the source, Rihanna grabbed the car keys and tossed them out the window, sending Brown into a rage.

He tried in vain to find the keys, then came back to the car, put his hands around her neck and, according to the insider, said, "I'm going to kill you!"

According to the source, the 20-year-old "Disturbia" singer told police that she lost consciousness, and when she awoke, Brown had fled.


PREVIOUSLY:
New details in the allegations of assault against Chris Brown. According to multiple reports, his girlfriend Rihanna was physically beaten up by Brown in the early hours of Sunday morning in Los Angeles, with sources telling TMZ her injuries are "horrific," but she may not be cooperating with law enforcement.
As we reported, the photos show major contusions on both sides of the singer's face -- there is serious swelling and bruising. Her lip is split and her nose bloody. We have now confirmed there are bite marks on one of her arms and on several fingers.

And we now know this... Rihanna claims Brown struck her with his fists and that's what did the damage. There was no object used in the alleged attack...

And we've learned it was not Rihanna who called 911. Someone in the area heard her screams and called.
Law enforcement sources tell TMZ Rihanna's injuries were severe -- two "huge contusions" which swelled up on both sides of her forehead. We're told she also suffered "a bloody lip and nose."

One of the law enforcement people put it this way -- the contusions "look like an MMA fighter or something ... [It] looked like she was growing devil's horns."
Sources also told E! her injuries were bad, including bite marks, but hear differently on who called 911:
According to a source close to the investigation, Rihanna made the 911 call to police after Brown "fled on foot" from the scene following the attack. Two officers from the LAPD Wilshire Division found Rihanna in Brown's rented silver Lamborghini "beaten really badly and hysterical."

Brown had taken the keys to the car with him and Rihanna was basically left on the side of the road with the car.

"Rihanna didn't want anyone to touch her, she was in so much pain," the source says.

Rihanna, whose full name is Robyn Rihanna Fenty, had visible bruising and scrapes on her face and what appeared to be bite marks on her body. Officers took her to the emergency room at Cedars-Sinai Medical Center for treatment.
Meanwhile, Media Take Out also hears Rihanna was bloody and bruised, but also claims she may not cooperate in pressing charges:
MediaTakeOut.com can EXCLUSIVELY report that Rihanna does NOT want Chris Brown to be criminally punished for the alleged assault. According to an EXTREMELY reliable insider, Rihanna is NO LONGER assisting investigators in their criminal case against Chris Brown.

Unfortunately for Chris, that's probably not going to make the charges go away. Police claim that, on the scene of the incident, Rihanna identified Chris Brown as the man who assaulted her. Additionally, police have physical evidence. MediaTakeOut.com can OFFICIALLY CONFIRM that Rihanna's face and arm were severely bruised in the incident and Chris suffered from minor bruising as well.
Brown has pulled out of a scheduled appearance this weekend and Wrigley has suspended an ad campaign featuring the performer.
Popular in the Community