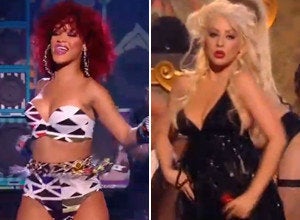 The "X Factor" finale aired from 7-9 PM on Saturday, December 11. Under British rules, 9PM is the "watershed hour," after which adult content can be shown.
During the finale, a scantily-clad Aguilera performed "Express" from her recent film, "Burlesque," while Rihanna stripped during a performance of her hit, "What's My Name?"
Ofcom has reportedly received almost 2,750 complaints about the performances, with an additional 1,500 complaints registered with broadcaster ITV. The show could be fined, and ITV could be forced to apologize, if Ofcom finds that the show violated code.
Watch the performances below:
Related
Popular in the Community