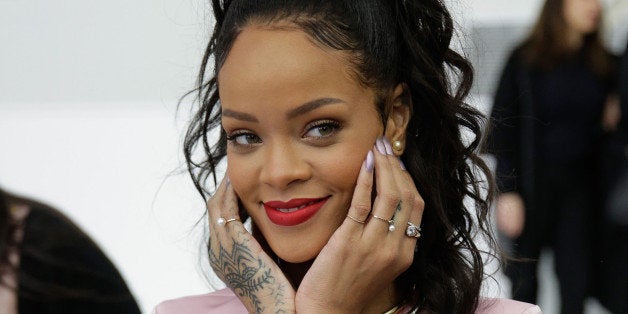 So, it's not a surprise that the same rules apply to things like Fashion Week, too. The Sun (and consequently The Telegraph) reported Wednesday that stars like Rihanna are paid £60,000 (about $100,000) by designers EVERY TIME they sit in their front row. That is, of course, more than one person even needs to live for a full year. And when you consider how many shows Ri goes to over the course of a given fashion week, as well as the other celebrities that brands are shelling out money to for appearances (we're looking at you, Miu Miu) well, the numbers are pretty shocking.
But is it worth the hefty price tag? Does seeing an "It" girl roll around the Chanel show in a shopping cart make you want to buy Chanel any more than you did before? Maybe -- for those who can afford to be buying Chanel in the first place.
The benefit for designers, naturally, comes from these celebs being associated with their brand. And in a society where photos rule the social media scene and you can follow your favorite stars' every move from your smartphone, it makes sense for labels to want them in their front row.
And OK, maybe we're a little jealous. After all, if we were offered seats in the front row at some of the biggest fashion shows of the year AND getting paid for it, we'd go to a whole bunch of shows, too.