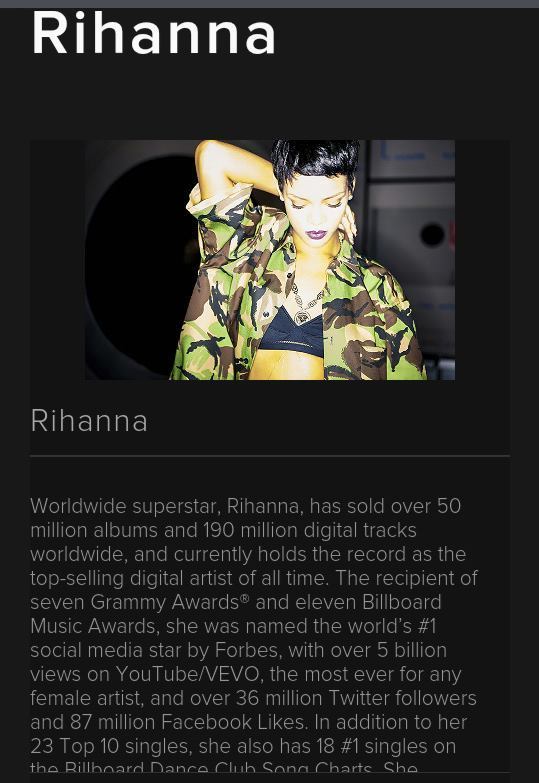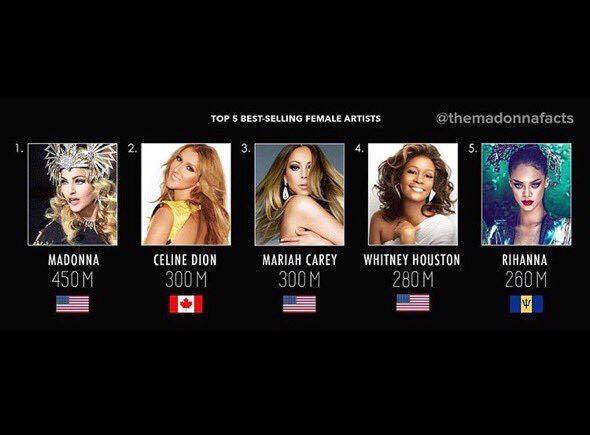 Earlier this year, Roc Nation made several claims that their record label 'queen' Rihanna has crossed over 250 million records worldwide and became the Best-selling black female artist of all time & the 2nd best-selling female artist overall. This claim demoted the holy trinity, Whitney, Mariah, & Celine to 3rd, 4th, & 5th overall sellers. After selling over 35 million albums worldwide (60 million with streams & shipments) and over 100 million singles (200 million with SPS), Rihanna has accumulated over 260 million units to her name.
The confusion comes in with the numbers of her competition such as Madonna, Beyonce, Janet, Britney Spears, Barbara Streisand, Celine Dion, Taylor Swift, Lady Gaga, Mariah Carey, and Whitney Houston. The industry has introduced a new avenue for record selling such as STREAMS (per sales) or SPS. Below is the new method break down:
1500 streams from a services =1 record sold
10 tracks sold from the same album = 1 album sold
With Rihanna being the 'stream queen' and in fact, the best-selling digital artist of all time & best-selling artist of the millennium, she has benefited the most from this new service. The industry has started to update every artist record sales using this new streaming formula and all new artist and music has been prioritized. Rihanna worldwide sales of 260 million units includes:
A collaboration of Record…Albums, Singles, Ringtones, Videos, DVDs, Streams, & Track Equivalent are all considered a RECORD. It doesn't matter if an artist sold 50 million albums & 200 million singles versus an artist who sold 100 million albums and 75 million singles. The artist with 50 million albums & 200 million singles sold more RECORDS, despite selling less albums.
Whitney Houston & other artist are a prime example of why Rihanna is being demoted. Whitney Houston sophomore album, 'Whitney' sold 9 million copies in the US alone as of the year 1999. This album since then has not been certified Diamond. It's been 18 years to date since this album has been updated. If you apply all the extra record sales, streams, shipments & tracks, this album will be well over 15 million.
Michael Jackson 'Thriller' album has been updated from Diamond to 3x diamond (32x platinum). This will allow older artist to place correctly on the Best-selling all time list. Nelly's 'Country Grammar' album is crossed over to Diamond certification with 6.5 million albums sold in the US. Destiny's Child 'The Writing's on the wall' also is 9x platinum with 8 million sold in the US and has been waiting for Diamond certification for over 10 years.
Once all record sales are updated, the Best-selling female artist list will be placed in this order.
Madonna (400 million)
Celine Dion (300 million)
Mariah Carey (300 million)
Whitney Houston (280 million)
Rihanna (260 million)
Britney Spears (260 million)
Janet (200 million)
Beyonce (190 million Solo/270 million total w/Destiny's Child)
Lady gaga (190 million)
Taylor Swift (180 million)
The Best-selling female artist of all time is: Madonna
The Best-selling black female artist of all time is: Mariah Carey
Popular in the Community