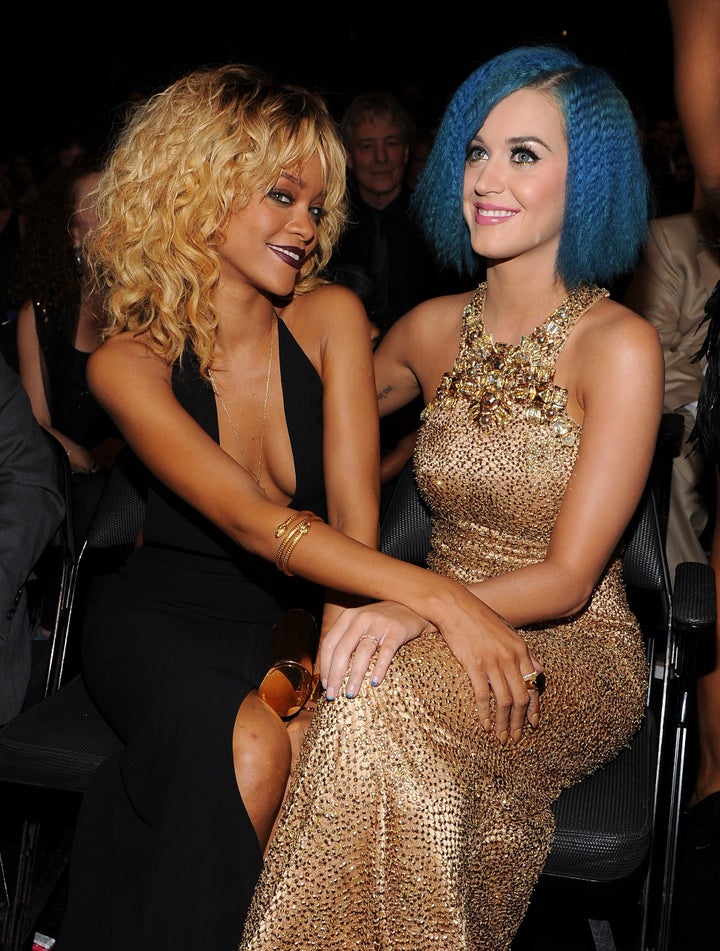 Rihanna and Katy Perry are two of the biggest names in pop music and BFFs, so a collaboration between the two seems only natural.
"We have been working on this for years. We still are trying to make a song together, Katy Perry and I," Rihanna told "Access Hollywood" on the set of a photo shoot for Vita Coco. "She is one of my favorite musicians, as well as one of my favorite people in the industry. She's very uncalculated, very sure of herself, and that's something very rare in this industry to find."
The 24-year-old singer revealed that while a Rihanna/Katy song is in the works, fans need to be patient.
"The song will probably come out in a while. I won't say that it's happening right now, but it's going to happen," she told "Access Hollywood," adding that both singers try to hang out whenever they can make time in their busy schedules.
Busy is an understatement, as both Rihanna and Perry are making their mark not just in music, but in Hollywood as well.
Hopefully the pop stars will make the collaboration happen sooner rather than later. Rihanna already made the time to collaborate with ex-boyfriend Chris Brown, on "Birthday Cake" and his song "Turn Up The Music," which sparked some controversy given the former couple's history. Rihanna recently explained her decision to work with Brown:
"I reached out to him about doing 'Birthday Cake' because that's the only person that really made sense to do the record," she told Ryan Seacrest on his radio show. "You know I thought about rappers, and I've done that so many times, and the hottest R&B artist out there right now is Chris Brown."
She continued, explaining that Brown then asked her to lend her vocal talent to his track, "Turn Up the Music (Remix)"
"We did two records," she said. "One for my fans. One for his fans, and that way our fans can come together. There shouldn't be a divide. You know? It's music, and it's innocent."
PHOTO GALLERY
Rihanna and Katy Perry
Calling all HuffPost superfans!
Sign up for membership to become a founding member and help shape HuffPost's next chapter
BEFORE YOU GO