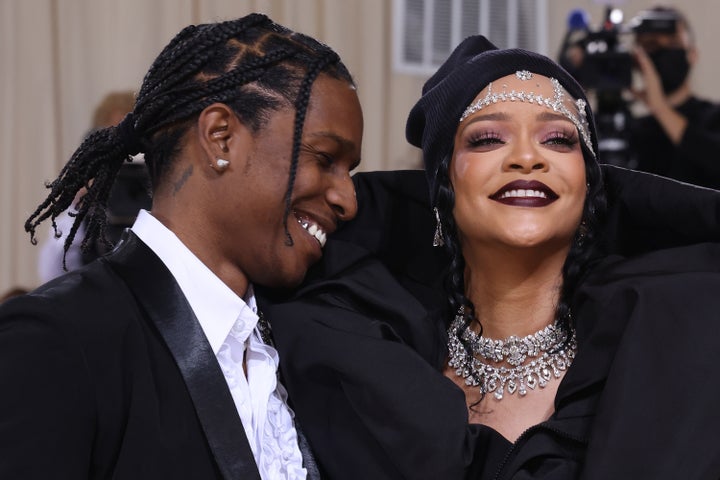 The album might be delayed, but motherhood can't wait: Rihanna is pregnant with her first child with boyfriend A$AP Rocky.
The music superstar and entrepreneur revealed she's expecting her first child by way of the ultimate fashion statement: a baby bump-baring pink vintage Chanel puffer coat.
The Fenty beauty mogul went sans shirt for the outing with a blingy display of colorful jewels and a gold cross covering her body. She completed the look with a pair of faded ripped jeans, while Rocky rocked leather pants and a white V-neck sweater.
In other photos from the outing, the pair shared a tender moment as the rapper planted a kiss on her forehead.
"She amounts to probably, like, a million of the other ones," he told GQ for the magazine's June/July 2021 cover story. "I think when you know, you know. She's the One."
He even shared his thoughts about starting a family with the singer one day.
"If that's in my destiny, absolutely," Rocky said, adding that he would be an "incredible, remarkably, overall amazing dad" someday.
Rihanna has also been open throughout the years about her desire to become a mother one day, telling British Vogue last year that she hopes to have "kids — three or four of 'em" in the next decade.
Even though she was dating Rocky at the time, the Grammy-winner made it clear that she wanted kids regardless of whether she was in a relationship.
"Hell, yeah, [I'd have kids on my own]. I feel like society makes me want to feel like, 'Oh, you got it wrong…' They diminish you as a mother if there's not a dad in your kids' lives," she told the outlet. "But the only thing that matters is happiness, that's the only healthy relationship between a parent and a child. That's the only thing that can raise a child truly, is love."
The duo have been in each other's orbit for a while now.
Rocky served as the opening act for a stretch of her Diamonds World Tour back in 2013, while she made a PDA-heavy appearance in the "Fashion Killa" music video as his love interest that same year.
But things only started to heat up after Rihanna called it quits with her boyfriend of three years, billionaire Hassan Jameel, in January 2020.
Since then, the two have been practically inseparable, appearing together for Rihanna's Fenty Skin campaign and making trips to visit the singer's family in her native Barbados over the holidays.
Popular in the Community