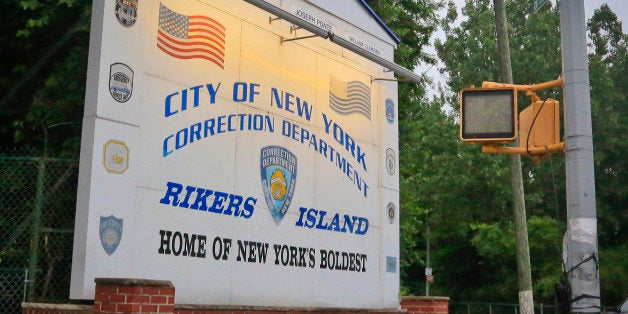 NEW YORK -- In the latest horror story to emerge from New York's largest jail, an inmate claims a guard tied him to a hospital bed before beating and sodomizing him with a nightstick.
Bishme Ayers, 25, was arrested on an assault charge in July and brought to Rikers Island, according to the New York Daily News. On his second day there, he went into an epileptic seizure. Ayers was taken by guards to Jacoby Hospital in the Bronx, where he was handcuffed to the hospital bed and assaulted by one of the guards, according to his lawyer, Michael Braverman.
"He starts punching me," Ayers told the New York Daily News on Tuesday. "My right arm was handcuffed to the railing, so he got a white sheet and tied my left arm to my right arm, so my arm was across my face."
"Then he started beating me up with the (baton) on my lower body, my legs," Ayers continued. "Then all of a sudden he shoved something in my rectum. I'm screaming, I'm crying. I'm begging for somebody to help me. He leaves the room and I'm still screaming."
Ayers has filed an official notice of his intent to sue the city over the assault, Braverman told The Huffington Post on Tuesday.
"There are medical records that document the event," Braverman said. "A rape kit was done, which we believe shows physical findings consistent with something being inserted into the rectum."
Terry Raskyn, a spokesperson for the Bronx County District Attorney's office, said the case has been brought to their attention and they are looking into it.
Braverman said his client believes the attack was revenge for another lawsuit he filed against the city over an earlier alleged assault by Rikers Island guards. In 2008, Ayers reportedly was serving a three-and-a-half year sentence for assault when he complained about conditions at the jail. The complaint led guards to beat him, he argued in that lawsuit.
Court records show that lawsuit was settled out of court in 2011 for an undisclosed sum.
Ayers told the Daily News that his assailant in July mentioned the earlier lawsuit while beating him. "You like snitching on my officers?" the guard said, according to Ayers. "Don't act like you don't know who we are."
Braverman said Ayers is now in counseling.
A spokesman for New York City's Department of Correction told The Huffington Post in a statement Tuesday that "although we cannot comment on specific planned litigation, Commissioner [Joseph] Ponte has no tolerance for violence at the Department of Correction, where the safety of inmates and staff is a top priority."
Ayers' allegations come in the wake of a scathing Department of Justice report on the "culture of violence" on Rikers Island. The report, released in August, described the "rampant use of unnecessary and excessive force" against inmates in the prison, as well as the overreliance on solitary confinement as a form of punishment. Although the DOJ report focused specifically on 16- and 17-year-old inmates, it speculated that conditions were just as bad, if not worse, for adult inmates like Ayers.
Braverman said he handles a lot of lawsuits from former Rikers inmates, and that the DOJ report didn't surprise him one bit. "I see cases every week where there's some type of claimed abuse," he said, though he added that Ayers' assault was one of the worst he's seen.
Commissioner Joseph Ponte was hired earlier this year by Mayor Bill de Blasio to bring sweeping reforms to Rikers Island, the country's second largest jail facility. At a city council hearing earlier this month, Ponte told lawmakers that he plans on ending solitary confinement for 16- and 17-year-old inmates by the end of the year, and that his department is installing more security cameras across the island to document the behavior of both inmates and guards.
Correction: A previous version of this article misidentified Michael Braverman as Michael Beaverman. We regret the error.
Calling all HuffPost superfans!
Sign up for membership to become a founding member and help shape HuffPost's next chapter
BEFORE YOU GO
PHOTO GALLERY
No Seconds: The Last Meals Of Death Row Prisoners