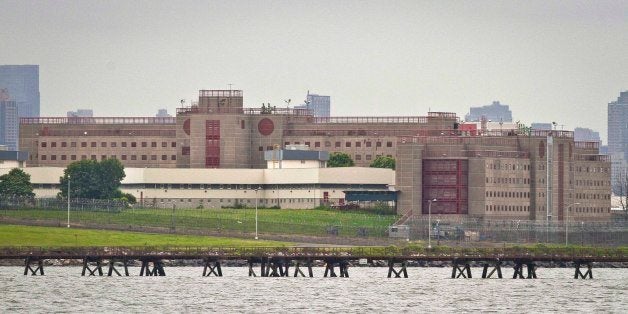 New York City officials and federal prosecutors have tentatively agreed on a plan for reforming Rikers Island, the city's largest jail.
The changes, which have not been finalized, would include stricter rules regarding correction officers using force on inmates, the installation of 8,000 surveillance cameras and the implementation of body cameras for guards, The New York Times reports. The jail would also be overseen by a federal monitor.
The city has been negotiating the details of the deal with lawyers for months. In December, U.S. Attorney for the Southern District of New York Preet Bharara announced the Department of Justice would be suing the city over the treatment of adolescents in Rikers, The New Yorker reported at the time. Additionally, Bharara's office joined a class-action lawsuit filed in 2011 against the city on behalf of a group of inmates.
The lawsuit, Nunez v. City of New York, alleges "unnecessary and excessive force inflicted upon inmates" and cites multiple incidents of officers brutally beating people held at Rikers to the point of needing surgery.
Many of the proposed changes relate to regulating the amount of forces officers are permitted to use on inmates, including a specific ban on striking them in the head.
Attorneys expect to present the details of the deal in a federal court on Monday, where they will be subject to the approval of Judge Laura Taylor Swain, according to the New York Daily News.
The jail has come under heavy criticism in recent months as activists and federal investigators have revealed a slew of abuses at the institution. An August DOJ investigation on the treatment of teenage inmates at Rikers found "rampant use of unnecessary and excessive force" by officers and frequent placement of mentally ill teens in solitary confinement.
Kalief Browder, a 22-year-old man who was jailed at the age of 16 on a robbery charge and spent three years at Rikers despite never being convicted of a crime, committed suicide this month, prompting even more national outcry about conditions at the facility. During his time at Rikers, Browder was beaten, spent an accumulated two years in solitary confinement and attempted suicide on multiple occasions. In 2013, he told The Huffington Post that guards punished him for the attempts by depriving him of food.
His robbery charge was ultimately dismissed.
Mayor Bill de Blasio announced a different set of reforms earlier this year, stating he would expedite court dates for the 1,500 inmates who had been held for more than a year with no conviction. He also launched a plan to modify the justice system's handling of minor offenses like littering or open container violations, with the goal of keeping fewer people behind bars for low-level infractions.
REAL LIFE. REAL NEWS. REAL VOICES.
Help us tell more of the stories that matter from voices that too often remain unheard.