WASHINGTON ― The average daily population at Rikers Island has dropped by 18 percent since 2013, while crime in New York City has reached record lows, according to new data provided to The Huffington Post and set to be released by Mayor Bill de Blasio's administration. That makes New York City one of the only big cities where both jail use and the crime rate are falling.
The average daily population at Rikers went from 11,696 in 2013 to 9,758 in 2016, and is down to 9,362 this month.
Nationwide, the latest available federal data shows that the population at local jails was 731,200 in 2013, rose to 744,600 in 2014, and then dropped to 728,200 in 2015. Data is not yet available for 2016, but the overall incarceration numbers in the U.S. are expected to remain flat from 2015 to 2016.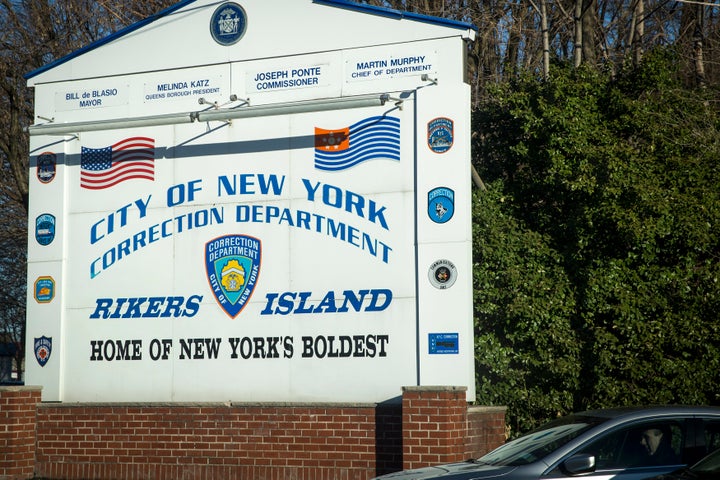 De Blasio set out to lower the Rikers population after he took office in January 2014. His administration credits the drop in the jail population to its efforts in diverting mentally ill people from jail, making it easier to pay bail and promoting alternatives to incarceration. One example: The number of individuals stuck in jail on a bail of less than $2,000 has dropped by 36 percent in New York City. That's an average of 244 fewer people locked up at Rikers on less than $2,000 bail on an average day.
"The number of people incarcerated in the U.S. did not fall in the last year, and our nation's incarcerated population remains the largest in the world. But New York City has a different story to tell – we are making every effort to ensure that people who do not need to be behind bars are not, all while keeping crime at historic lows," de Blasio said in a statement to HuffPost.
"In the last three years, we've been working from every angle to keep lower-level offenders out of jail and speed up case delays, and the total jail population has dropped 18% and the population just at Rikers Island has sunk 23% – that's significant progress," de Blasio stated.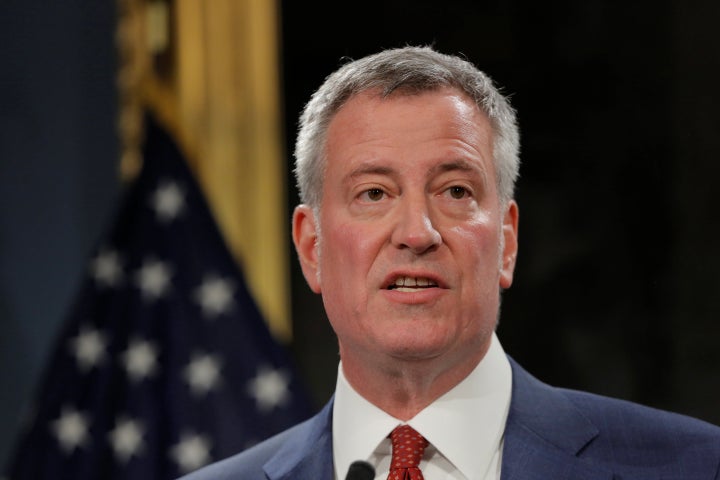 For decades, law enforcement has operated on the belief that a higher incarceration rate removes criminals from the streets and results in lower crime rates. But New York City's track record shows that's not necessarily the case, as criminal justice reform advocates have long suggested.
The city's record of lowering the jail population while also reducing crime makes it unique among major U.S. cities, wrote Elizabeth Glazer, director of the Mayor's Office of Criminal Justice, in a new report.
"Over the long span of more than 20 years, crime has declined by 76% while the jail population has dropped by half," Glazer wrote. "Over the last three years that trend has accelerated due to the intentional partnership and focus of all the parts of the criminal justice system: even as crime has gone down by 9%, the jail population has reduced by 16%."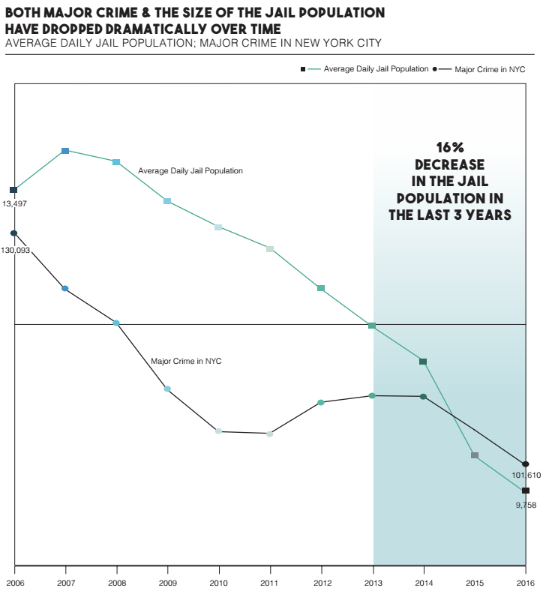 Rikers Island continues to face major problems, however. Just this week, a corrections officer was arrested on federal charges for allegedly beating a handcuffed inmate in the shower and then filing a false use-of-force report. A different inmate's lawyer indicated he planned to file a lawsuit after another inmate slashed his client in the face over the weekend.
In December, a former Rikers corrections officer was found guilty for kicking an ill inmate in the head. The inmate later died.
Just 17.9 percent of Americans polled thought the main role of jails should be to punish convicted individuals, while 33 percent believed jails should help prevent crime by giving people treatment and services to help them avoid criminal activity, according to a recent poll conducted by RTI International and Zogby Analytics that was backed by the John D. and Catherine T. MacArthur Foundation.
The poll also found that 67.4 percent of individuals believed that the risk a person poses to public safety should be the main factor in determining pretrial release, while just 9.5 percent believed ability to pay bail and other fees should be the main factor.