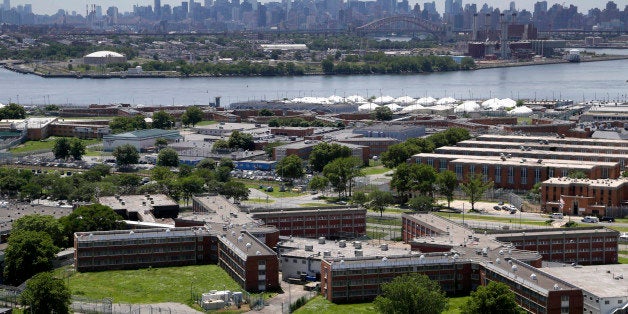 NEW YORK -- New York City Department of Correction Commissioner Joseph Ponte said on Wednesday that he's ending solitary confinement for young inmates on Rikers Island, New York's largest jail facility. But advocates for prison reform say the practice could still take months to phase out, and emphasize that young inmates at Rikers face a complex set of problems of which solitary confinement is only one part.
During a city council hearing, Ponte also said he didn't oppose a call for the hundreds of 16- and 17-year-old inmates at Rikers to be moved off the island altogether.
"We'd be in favor of that if we find a suitable site," said Ponte. "We will continue to explore other buildings."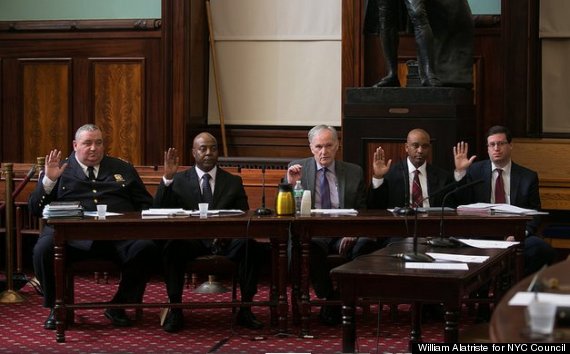 Ponte, center, and four other high-ranking DOC officials are sworn in before testifying Wednesday. (Photo: William Alatriste)
The hearing, during which Ponte fielded questions from lawmakers for two hours about conditions for young Rikers inmates, came two months after a scathing Justice Department report that detailed the horrifying "culture of violence" in the country's second-largest jail facility. The report included accounts of guards employing "rampant use of unnecessary and excessive force" against 16-, 17- and 18-year-old inmates.
"There's nothing in that report I disagree with," Ponte testified Wednesday.
While lawmakers said they felt Ponte is taking steps in the right direction, they expressed concerns about the timeline for eliminating the practice of solitary confinement, and pointed to a number of other problems young Rikers inmates still face.
New York City Council member Daniel Dromm invoked the story of Kalief Browder on Wednesday. Browder was 16 years old when he was arrested on a burglary charge in the Bronx. Always maintaining his innocence, Browder refused to accept any kind of plea deal, and ended up spending three years on Rikers without ever facing trial. During that time, he spent nearly 800 days in solitary confinement, also known as punitive segregation, where he languished 23 hours a day alone in a tiny cell. The conditions drove him to attempt suicide.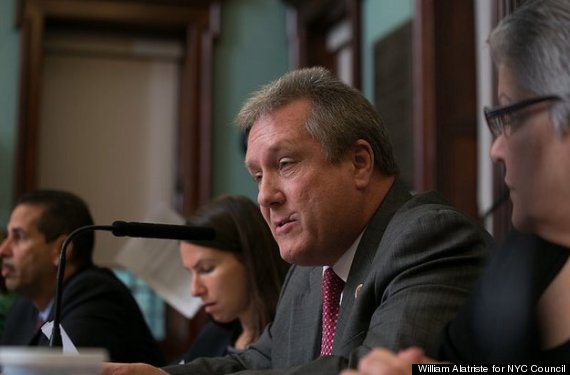 Dromm speaks during Wednesday's hearing. (Photo: William Alatriste)
"Officials on Rikers subjected this child to torture. There's no other way to put it." Dromm said Wednesday. "I am disgusted by what happened to Kalief."
Ponte, appointed earlier this year by Mayor Bill de Blasio to overhaul the Department of Correction, reiterated Wednesday his promise to end the use of solitary confinement for adolescent inmates by 2015. Instead, such inmates will face a "provost of sanctions," Ponte said, including loss of privileges and being confined to a cell for a few hours at a time.
City Council Speaker Melissa Mark-Viverito said she'd visited the punitive segregation cells for teens on Monday and was "alarmed to find one young man was scheduled to be there for 370 days."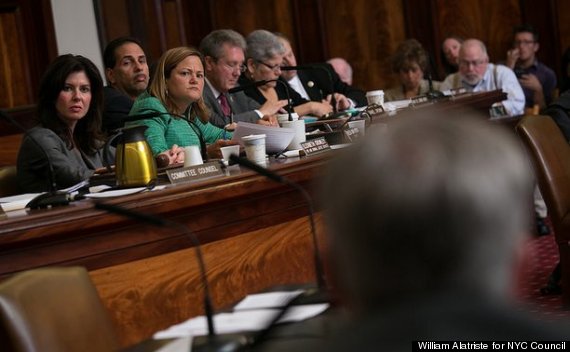 Crowley, left, and Mark-Viverito look on Wednesday as Ponte testifies. (Photo: William Alatriste)
Norman Seabrook, the head of city's union for jail workers, was the only one to oppose the end of solitary confinement during Wednesday's hearing.
"You do not want us to put them in punitive segregation, but instead you want us to give them 'a time out,'" said Seabrook, the president of the Correction Officers' Benevolent Association, in written testimony submitted to the council. "I give Paige, my granddaughter, a time out. She has committed no crime but yet you seek to employ the same form of menial punishment in convicted murderers and rapists. That is unacceptable."
Council member Elizabeth Crowley, who chairs the Fire and Criminal Justice Committee, pressed Ponte over the DOJ recommendation to move 16- and 17-year-old inmates off the island completely, a move she supports. She told HuffPost the "facility just isn't right," and that there need to be fewer inmates on each floor in order to prevent violence.
"The process of getting to the island is overwhelming," said Crowley, citing Rikers' out-of-the-way location in the East River between Queens and the Bronx. It's important for adolescent inmates, she said, that their families can easily access whatever facility houses them, as visitations are an important part of rehabilitation.
Crowley told Ponte it should take no more than three months to find a new location for adolescent inmates, and that she knows of at least one location in Queens that might fit the bill. She told HuffPost, however, that she's concerned Ponte's department is too "overwhelmed and underfunded" to focus on finding a new facility.
Ponte told reporters only that his department is actively searching for new facilities in the city, and will consult with other city departments over the coming weeks to see what spaces they might have available.
Seabrook, again, provided the lone voice of dissent during the discussion of moving adolescent inmates someplace new.
"Some members of this council have suggested that young adults should be removed from Rikers Island and placed in another location," he said. "If that happens, do you want a jail built in your community? I think the answer to that is no."
Crowley also said Wednesday she was alarmed to hear from the DOC that there are no psychiatrists on the island who specialize in adolescent mental health. There are roughly 300 inmates age 16 or 17 on the island at any given time, and about half suffer from mental illness.
Crowley further said she was extremely disappointed that Ponte did not bring along the DOC's highest-ranked uniformed officer, department Chief William Clemons, to Wednesday's hearing for questioning. Ponte controversially promoted Clemons in May, even though a New York Times report would later reveal that a Department of Investigations audit had reached damning conclusions about him. That audit found that Clemons and another supervisor had committed a "complete abdication" of their duties while overseeing the Robert N. Davoren Complex, the Rikers facility where adolescent inmates are housed, and that they had drastically underreported incidents of violence.
When pressed on Clemons' absence Wednesday, Ponte said that he was "on vacation." Crowley found this suspect.
"I believe the administration intentionally didn't bring him to the hearing," she told HuffPost.
Ponte, for his part, listed a slew of reforms that his department has undertaken since the release of the DOJ report. He pointed to new statistics showing that use of force by guards against teen inmates has dropped since mid-summer. During August and September of this year, there were 19 incidents in each month where Rikers guards used force against minors, a drop from between 30 and 40 incidents per month during the same period last year. The drop, Ponte admitted, was partially due to the fact that 18-year-olds are no longer housed with 16- and 17-year-old inmates.
He also noted that his department has been installing hundreds of cameras within the Robert N. Davoren Complex to cover "blind spots" in the facility, following a recommendation made in the Justice Department report. There are now 400 cameras inside the RNDC, which officials hope will act as a deterrent against officer-on-prisoner brutality and other types of violence. Over the next year and a half, Ponte said, 200 more cameras will be installed, at which point he estimates that 80 percent of the facility will be under surveillance. After that, he said, he'll seek funding for another 200 cameras.
Additionally, Ponte announced that a new unit of four internal investigators will be housed inside the RNDC starting next week. "They're there to reinforce the integrity, and make sure everyone's doing everything for the right reasons," he said. The ratio of inmates to guards in the RNDC has also been reduced, Ponte said, from 30:1 to 15:1.
Calling all HuffPost superfans!
Sign up for membership to become a founding member and help shape HuffPost's next chapter
BEFORE YOU GO
PHOTO GALLERY
United States Governors