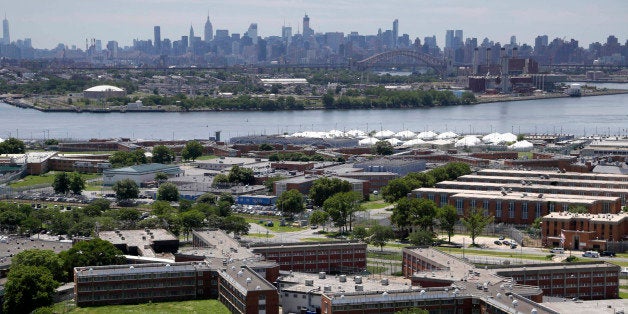 NEW YORK -- An employee at New York's largest jail was arrested this week, marking the 11th time this year that one of its workers has been charged either for smuggling contraband or assaulting an inmate.
Forty-eight-year-old Jeffrey Taylor, who worked as a nurse on Rikers Island, allegedly smuggled alcohol, tobacco, and a narcotic to inmates at the jail, the city's Department of Investigation announced Wednesday. Taylor on Tuesday pleaded not guilty to charges of receiving bribes and promoting prison contraband, according to the Bronx district attorney's office.
The string of arrests is part of a larger effort by the DOI to rein in violence and corruption on the island.
According to the DOI, between May and September of this year, Taylor allegedly took orders from three Rikers inmates for vodka, rum, other flavored drinks, and loose tobacco. Taylor, who worked as a nurse on the island for four years, allegedly conspired with inmates on janitorial duty, leaving contraband in areas of the jail that he knew they would soon have to clean. The janitors would then distribute the contraband to other inmates.
On one occasion, according to the DOI, Taylor smuggled in 20 strips of the narcotic suboxone. Inmates wired Taylor money in exchange for the contraband, the DOI said, earning him $2,000 in less than five months.
"There is zero tolerance for anyone who threatens the safety and integrity of the City's jails by trafficking drugs, alcohol, and tobacco to inmates," DOI Commissioner Mark Peters said in a statement. "As DOI's ongoing investigation has shown, contraband smuggling contributes to the larger problems of violence and disorder on Rikers Island and we are committed to exposing and stopping this pernicious and illegal conduct."
The arrests came as the U.S. Department of Justice was conducting its own investigation into guards' conduct on the island. In September, the DOJ released a scathing report documenting the "culture of violence" imposed on teenage inmates at Rikers. The report concluded that guards used "rampant use of unnecessary and excessive force" on inmates and relied too heavily on solitary confinement as a means of punishment.
Taylor works as a nurse for Corizon, a private correctional healthcare company hired by the city. In 2013, a group of psychiatrists from New York University and Yale University sent a report to the state Department of Correction documenting the ways in which Corizon was failing to provide adequate care to inmates on Rikers, according to DNAinfo.
DNAinfo also reported Wednesday that the city has continued to renew Corizon's contract to manage the healthcare at city jails, despite the fact that four inmates died under Corizon's watch during a two-year period.
In Alabama and Arizona, Corizon is being sued by the American Civil Liberties Union and the Southern Poverty Law Center for providing poor healthcare to inmates the two states.
Popular in the Community