There's only one road into Rikers Island. It takes visitors over a mile-long bridge, and standing before it, Officer Blackwell lists everything that can't be brought into New York City's largest prison.
"No cell phones, no electronic equipment not already checked in, no cigarettes, no lighters, no rubber bands," Blackwell says in a rehearsed voice.
"Can I bring my drumsticks in?" asks Carmine Appice, twirling the tools of his trade nervously.
For almost anyone else, the answer would surely be no. But when you're a 67-year-old rock legend who's worked with Ozzy Osbourne, Rod Stewart, and countless other stars, you get special treatment.
Blackwell waves a dismissive hand as Appice and his 56-year-old brother, Vinny, make their way into one of the most dangerous prisons in the United States, home to 12,000 inmates.
The brothers are about to hold a rock concert for 80 female inmates. The performance on Friday was one of the thousands of free concerts organized around the world for Make Music Day, an event that celebrates artists and encourages people to get involved with music. The exclusive inmate event -- first started in 2011 -- is called Rhythm on Rikers.
Make Music Day organizers Aaron Friedman and Lora Bodmer don't think the day should exclude people in jail.
"Make Music Day is about bringing the community, people, and cultures together," Bodmer says. "[Rikers' inmates] are ignored and forgotten, but they're still New Yorkers."
'Jesus, That's A Lot Of Razor Wire'
Packed onto a Department of Corrections bus, Carmine and crew begin the ride into the facility. Cruising down the massive bridge, the blue sparkling water surrounding them paints an almost serene picture.
Aside from his work backing some of rock's biggest stars, Carmine Appice is the force behind Vanilla Fudge and King Cobra. He's no stranger to the road. Today, the drive is pretty, but the final destination is not.
Vinny Appice, perhaps best known for drumming with Black Sabbath, can't help but make jokes as the bus rumbles along.
"Ah, I forgot my pocket knife!" and "Better leave this file here!" he says, to a few nervous laughs.
But as the bus crests a hill, and the massive, 413-acre island truly comes into view, voices suddenly drop. There is awe in the complexity of it all –- a parking lot with hundreds of cars, officers and civilian workers bustling about, and buildings that appear to stretch desperately to every corner of the island, all covered in a forest of barbed wire that seems never-ending and endlessly dense.
"Jesus," Vinny says almost under his breath. "That's a lot of razor wire."
After circling around the complex, the bus arrives to one of 11 facilities housing inmates. While some of the women here have been convicted, most of them are still going through the system and waiting for their day in court.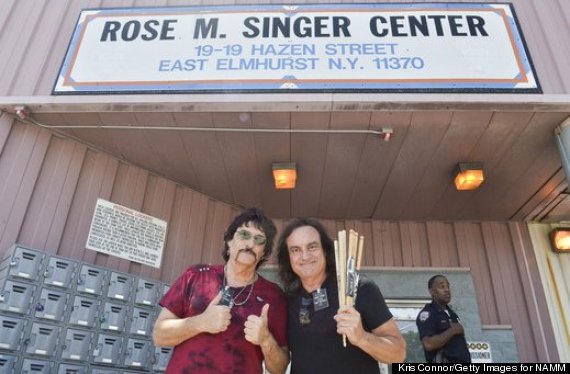 Carmine (L) and Vinny Appice (R) pose for a photo before entering the facility.
Security is tight as everyone is ushered into the facility. The group now has to trade out both their civilian IDs and the ID badges Officer Blackwell gave them at the beginning of the journey for a new card that's specific to the housing unit.
After going through a metal detector, an officer stamps everyone's hand with a black light-enabled letter. The visitors then make their way to a set of cell doors, which open and close at a glacial pace as they bring their hands under a black light to read the prints. Another set of cell doors slide open, and everyone passes the checkpoint.
"I'm getting anxious," Carmine says, unable to stop himself from fidgeting and hitting his drum sticks on the prison walls behind him. Vinny, perhaps subconsciously, starts to join him. There's an obvious sense of urgency in the rhythmic tappings.
For their part, the correctional officers all seem to be in good spirits, surprised and excited to see outsiders. Captain Sherry Peake and Deputy Commissioner of Public Information Eldin Villafane point out the painted murals adorning the prison walls and the rec area yard where inmates congregate.
Villafane says he wants to let people into Rikers to see a lighter, healthier side of a prison that in the past has been riddled with controversy. This year alone, 40 stabbings and slashings occurred at the facility, according to the New York Daily News. The prison has also recently come under fire after a mentally ill inmate killed himself only a week into his stay, and another died after a heating system malfunctioned and he was "basically baked to death," according to a city official who spoke to the Associated Press.
Villafane says he hopes to nurture a relationship between prison officials and journalists hoping to gain access to the facility. He's also pretty jazzed that he was recently able to meet the cast of Orange Is the New Black, which filmed at a Queens facility.
"I got to meet Piper!" he boasts.
'She Didn't Think She Could Play Sober'
Walking through the halls of Rikers, a sickly sweet smell reminiscent of a high school cafeteria fills the air. Colorful plastic chairs line the walls of a small, cramped gymnasium with three basketball hoops -- only one missing its netting.
"This is the biggest show I've ever played," Carmine jokes, before turning his attention to the large fans blasting humid air at him. There's no central air conditioning, and Carmine quickly accepts that his set is going to be a sweaty one.
During some down time, Carmine talks in detail about his drumming style. Unlike most drummers, both Carmine and Vinny play with their sticks backwards, and have added carved tips to allow the sticks to bounce off the drums more seamlessly. The backwards playing is partly to produce a "thicker sound," Carmine says, and to combat the booming noises that amplifiers and new-age speakers produce -- which both men admit have left them a bit deaf. Playing backwards also keeps the brothers from breaking too many sticks.
Carmine also touches on his relationship with former bandmates.
"When I see Rod Stewart, he always gives me a hug," Carmine says affectionately. "But that doesn't mean he'll return my phone calls."
As Ludwig drum kits are set up, Carmine and Vinny meet three volunteers from the Rhythm on Rikers program who have taught the five inmates who will perform with the band.
Amy Garapic, Carson Moody, and John Colpitts taught men and women at Rikers to play the African bongos as part of a 10-week course that included music theory and information on outlets to contact once they've been released. The inmates were chosen for the class based on their behavior and willingness to learn the new skill.
"One of the [female participants] used to get high on the street and play drums," Captain Peake says. "She was worried about this program because she didn't think she could play sober. But she can, she definitely can."
The women participating in the drum clinic beam in their aspen green uniforms as they walk into the gym to meet Carmine and Vinny. The once-nervous drumming duo now can't stop chatting up the ladies.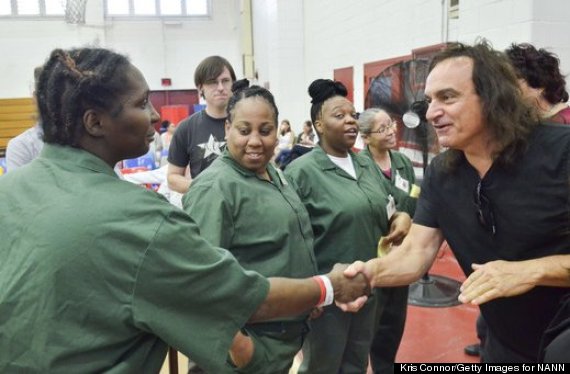 Vinny Appice shakes the hand of inmate Alitha Jackson. Also pictured are inmates Vanessa Boomer, Tiffany Champagne, and Maribel Adorno (L-R), and Rhythm on Rikers volunteer John Colpitts (behind).
Alithia Jackson softly tells the drummers that the group met in the breakfast line. Her foot is bandaged, and she walks with a limp after a recent surgery. The other women were worried she wouldn't be able to play, she says, but the operation wasn't going to stop her.
"I just came from an operation [on Monday], and now I'm here," Jackson says. "I didn't want to miss it."
Vanessa Boomer, whose voice raises with optimism when she talks about her September 26 release date, credits programs like Make Music Day and Rhythm on Rikers for helping her get through her time in prison.
"It's about always learning to stay on a straight path," Boomer says simply.
As dozens of other female inmates shuffle into the gym and take their seats, Carmine and Vinny go over a game plan for the show.
"When I point at you, you do a solo," Carmine says encouragingly to the inmates, before pausing. "Can they solo?"
Before the inmates can answer, volunteer Moody says very matter-of-factly, "Oh, they can solo."
'The Response Says It All'
As the inmates begin to play their drums, the volunteers playing with them attempt to get the crowd involved, leading them in chants and claps through cultural music inspired by African nations like Nigeria.
The crowd seems relatively unimpressed, shuffling in their colorful chairs. Carmine is sitting with Vinny in the bleachers at the very back of the gym to get a better view, but he suddenly jumps up and hustles over to the drums. Applause and cheers fill the room, and hands suddenly shoot up in the air, twisting into raised index and pinky fingers -- the international sign for rock n' roll.
As Vinny mans the drums, putting down hard, powerful beats, the inmates play along enthusiastically on their bongos.
Like some crazed conductor, Carmine thrusts his arms out at the crowd and begins clapping, encouraging the other inmates to join him. Almost in unison, they do, and any anxiety the group felt seems to evaporate into the humid gym.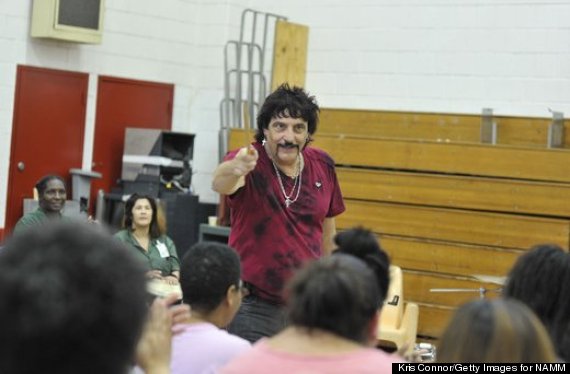 The mood has changed. Carmine is leading the crowd, pointing at the inmates playing bongos to take over solos. Most of the women cheer and applaud, though one woman rocks back and forth with her hands over her head, clearly perturbed by the loud music.
By the time Carmine himself gets on the drums, its pure pandemonium. Women sway and dance in their seats, and a few of them stand up to see Carmine and Vinny's hands moving at speeds lesser drummers can't fathom.
A female correctional officer walks in and starts dancing, eliciting some of the loudest cheers yet. Other officers sway and clap along to the beat.
"I think the response says it all," Peake says. "When we have programs like this, it helps bring down some of the tension. It becomes really harmonious."
'They're Gonna Be Back … You Won't Be'
At the end of the show, Carmine and Vinny quickly hustle out to perform their next set for the male inmates, but the volunteers and drumming women keep the party going a while longer. This time, during an African-influenced song that requires a back and forth with the audience, the inmates are much more receptive.
The performing inmates receive a standing ovation at the end of their set, as they clap in unison and chant back and forth with the group. Many of the women call for an encore.
Peake says its programs like this -- along with other opportunities like talent shows and poetry seminars -- that create an atmosphere for inmates to better themselves.
"We're gonna keep it going," Peake says, joking around with inmates not to "mess up my hair" as pictures are snapped.
"I'm not gonna forget this day," Maribel Adorno, one of the inmate drummers, says. "I'm not. [Carmine and Vinny] are legends. I had to be in prison just to meet them."
Before the 80-plus inmates are ushered back to their cells, Captain Peake shouts out boisterously:
"They're all gonna be back here next year. Hopefully you won't be!"
And that gets the loudest, most walloping cheers yet.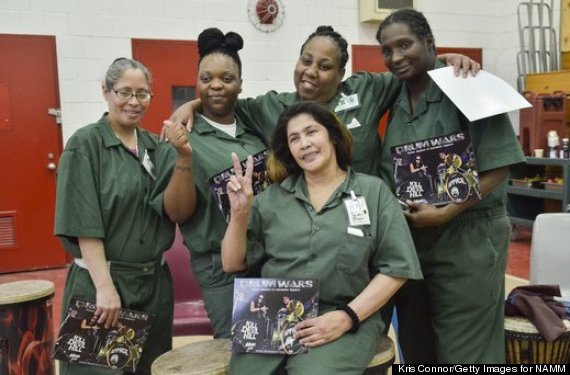 From left to right: Inmates Maribel Adorno, Tiffany Champagne, Vanessa Boomer, Diana Marreo and Alithia Jackson
REAL LIFE. REAL NEWS. REAL VOICES.
Help us tell more of the stories that matter from voices that too often remain unheard.
BEFORE YOU GO
PHOTO GALLERY
Rhythm on Rikers