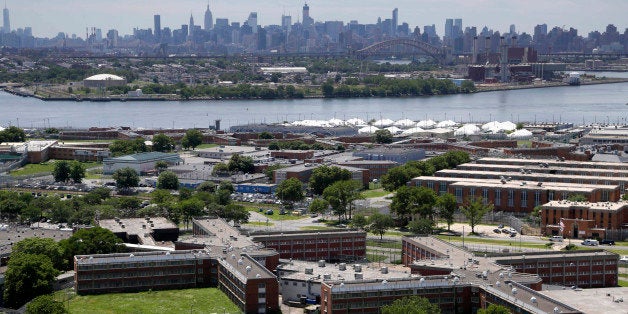 NEW YORK -- The country's second-largest jail will open a housing unit this week for transgender women, officials announced Tuesday, in a historic effort to protect transgender inmates from violence, rape and harassment.
The New York City Department of Correction said that the new housing unit at the Rikers Island jail facility will have an initial capacity of 30 beds, which it said would be sufficient for the number of transgender women at Rikers at any given time. Inmates will be placed in the unit voluntarily.
"Because inmates are not all alike, the Department is creating specialized housing for many specific inmate groups," said Correction Commissioner Joseph Ponte in a statement. "Providing [transgender women] with specialized housing and services is good policy and meaningful reform and is expected to reduce incidents involving these individuals while also leading to better long-term outcomes, including possible reductions in recidivism," he said.
Currently, transgender women incarcerated at Rikers either are housed with males in the general population -- where they face disproportionate rates of violence, rape and harassment by both staff and other inmates -- or choose to go into protective custody, which is essentially solitary confinement. Transgender inmates under protective custody are locked alone in a cell for 23 hours a day.
The new housing unit was developed with advice from several advocacy groups. Alisha Williams, director of the Prison Rights Project at the Sylvia Rivera Law Project, told HuffPost that her group and others started talking with the city about the struggle of transgender inmates over two years ago. It wasn't until Mayor Bill de Blasio (D) took office, she said, that a plan to create a transgender housing unit gained momentum.
De Blasio appointed Commissioner Ponte earlier this year to bring dramatic reforms to Rikers Island, which for years has been plagued by violence and corruption. A U.S. Justice Department report earlier this year described a horrifying "culture of violence" inside a facility for adolescent inmates.
Williams added that while the new housing unit is a "good development" for transgender inmates, the Sylvia Rivera Law Project is also focused on keeping transgender women out of jail in the first place.
The report states that about "16% of transgender adults have been in a prison or jail for any reason. This compares with 2.7% of all adults who have ever been in prison."
The NYC Department of Correction said Tuesday that guards for the new facility have received special training in how to deal with transgender inmates.
"We are taking extra precautions to ensure these individuals are safe and receive appropriate support," said Assistant Chief Yolanda Canty, who oversees the North Infirmary Command on the island, where the new housing unit will be located. "This includes recruiting dedicated staff who are comfortable working with this population and providing them with training on how to work with transgender women sensitively and effectively."
Two New York City Council members expressed support for the new housing unit on Tuesday. Council Member Elizabeth Crowley, who chairs the Committee on Fire and Criminal Justice, told HuffPost in a statement that "for too long, the Department of Correction has operated under one size fits all practices that neglected to recognize the unique needs of diverse jail populations." She added, "I commend Commissioner Ponte for helping move the Department into the 21st century."
Council Member Daniel Dromm, a vocal critic of conditions on Rikers Island, told HuffPost that the new unit was an "important step in the right direction." He said that "nothing happened under [former Mayor Michael Bloomberg's] administration" to address the plight of transgender inmates and that he commended de Blasio and Ponte for beginning real change at Rikers.
Popular in the Community