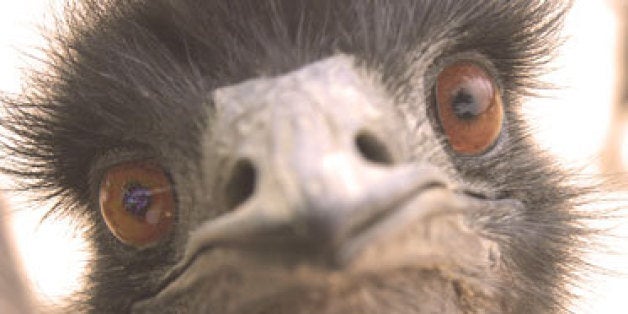 Mary the emu did not like hanging out with the other emus at Rikki's Refuge, a Virginia animal sanctuary about 90 miles southwest of Washington, D.C.
The giant bird -- who was, in fact, male, but named after a refuge volunteer -- came to Rikki's in 2006 after evading capture by animal control in nearby Spotsylvania County.
The 367 private acres at Rickki's are home to more than 1,000 animals, including emus, pigs, horses, sheep, rabbits, cows, cats, dogs and peacocks and at least one very patient goat:
At the sanctuary, Mary quickly expressed her preference for living apart from members of her own species, and soon found herself shacking up with a similarly disposed companion: a goat who disliked goats.
"Mary was very happy with her shy goat," the sanctuary's founder and director, Kerry Hilliard, told The Huffington Post by email. "Over the years a young emu pair arrived who didn't like living with the emu herd, and they moved in and befriended Mary too. Then a pot belly pig joined us who didn't like living with pigs. And so the goat, the pig and the three emus have lived happily together."
That changed one morning in early January, when a staff member heading to feed breakfast to Mary, Beau the pig, and their goat and emu friends was called off to help at the sanctuary's "Horsey Haven" pasture.
"It was no more than a 15 minute diversion and he was back to look in on Mary and her roommates," said Hilliard. When the staff member returned, he found Mary "collapsed, barely breathing, surrounded by pools of blood. Our medical team ran at full speed with frigid air burning their lungs on this coldest of mornings. But it was too late. Mary was dead within minutes. She had a fractured leg and it sure looked like she'd been shot."
A necropsy conducted at a state lab confirmed Hilliard's suspicions.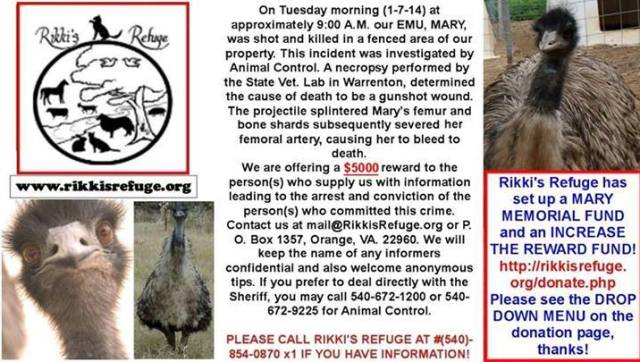 "Had my staffer not changed his routine to check on the horse issue, he would have been in that pen, probably hugging Mary at the time of the murder," said Hilliard. "This means he could just as easily have been the target of either a deliberate murderer or a foolish person and a stray bullet fired by a trespassing person on sanctuary property."
The no-kill sanctuary, where animals go to live out their natural lives -- most after being rescued from abuse or abandonment -- quickly suffered a second loss, as well.
"Beau, Mary's pig friend, did die," said Hilliard, explaining that a couple of days after Mary's death the elderly pig "went down."
"The vet who examined him could not fund a cause. She felt it was age related, and he did have bad arthritis, and maybe it had just gotten so bad he wouldn't get up. She treated him for that as well as possible infection," Hilliard said. "There was no change. A vet with more experience with mini pigs then examined him. He could find no cause either. Nor could he find any reason to suspect it was foul play of any sort. No gunshot wound, no signs of poisoning, no injuries. He treated for a possible spinal infection. It didn't help."
After several weeks of examinations and treatment without improvement, Hilliard made the decision not to wake him up when Beau was put under anesthesia for more tests, which were also inconclusive.
"We sent Beau along to meet his Mary at the Rainbow Bridge. Even the doc and his staff were crying," she said.
And while she still has no definite answers about what sparked this tragic series of events, there's one thing Hilliard thinks she knows, and that's what caused Beau the pig to die.
"I believe," she said, "it was from a broken heart."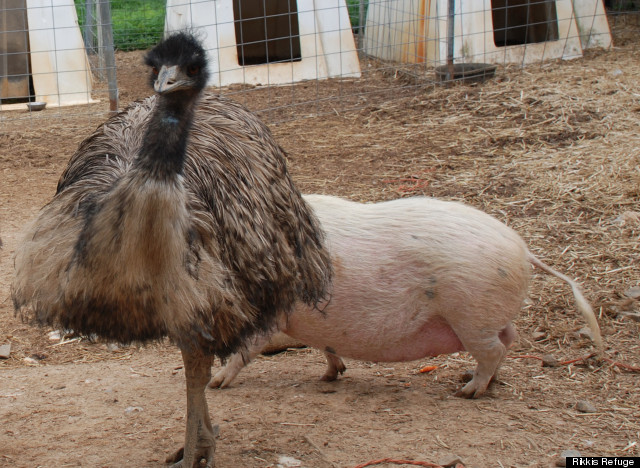 Photo of Mary and Beau, courtesy of Rikki's Refuge
Before You Go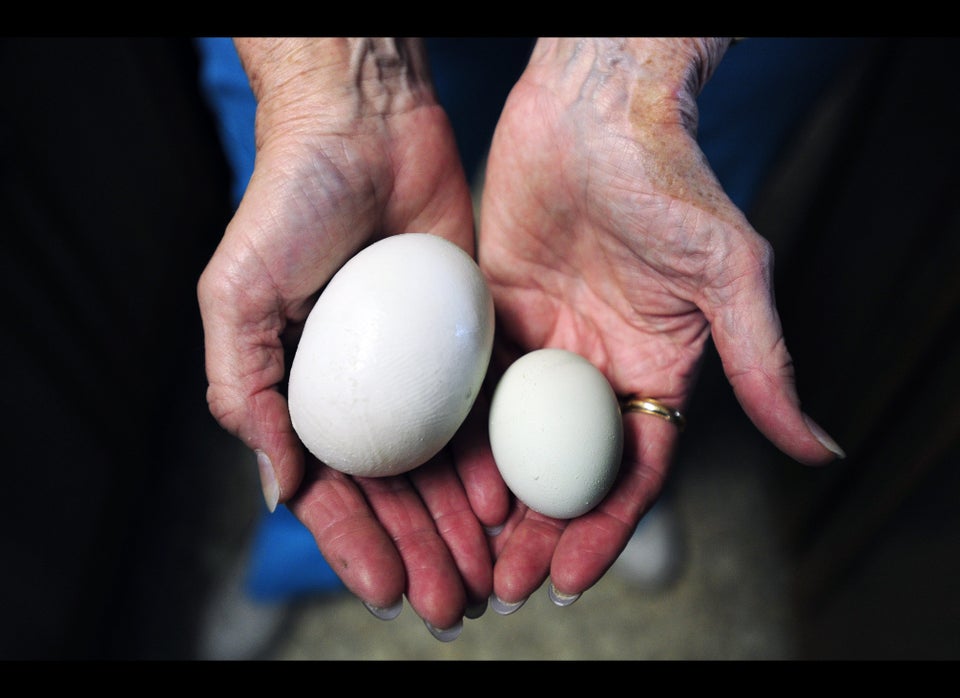 Animals In The News
Popular in the Community