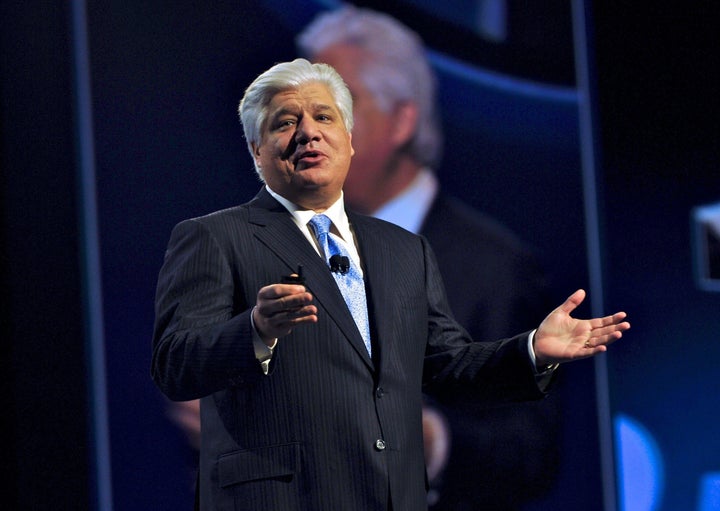 Research In Motion, the maker of the once-dominant BlackBerry line, finds itself hurtling closer and closer to crisis, as consumers increasingly choose to buy sleeker smartphones from competitors like Apple. Will it be able to step back from the brink? And how much longer can it persist in an iPhone and Android-dominated world?
An earnings call on Thursday laid it bare: RIM's profits are down nearly 10 percent from a year ago, layoffs are imminent, and its COO is taking a leave. RIM lowered its profit expectations for 2011, just as its stock price dropped to the lowest it's been in five years.
The company's latest product also appears to be a bust. RIM shipped 500,000 of the new PlayBook tablet computers last quarter. By comparison, Apple shipped 3.27 million iPads in the first quarter after its tablet launched.
Analysts are pessimistic about RIM's future, warning that if the company cannot produce innovative products soon, it will find itself losing more and more users. Even enterprise customers -- a once unassailable stronghold for the company -- are moving onto other brands.
Experts blame this bleak situation on RIM's sluggish product introduction, as well as its failure to build products that successfully deviate from its past offerings. For RIM to compete, they say, the company must overhaul its approach to business and focus on making products palatable to consumers who are reaching for other phones. A leadership shakeup will likely be needed to make that happen, some suggest.
"If they're going to survive, they're going to have to make some radical changes," said Bob Egan, CEO of tech research firm the Sepharim Group.
The phone that still stands for business-first efficiency has fallen into disfavor as spiffier handsets, featuring advanced touchscreens and heaps of apps, have come onto the scene. Before the iPhone, getting email and browsing an occasional webpage was all people wanted or expected from their phones. But ever since Apple shook up the smartphone market, BlackBerry has lurched towards this crisis moment with one lackluster product offering after another.
"In terms of innovation, they have tried a number of things in the past few years that have fallen flat," said Andy Castonguay, a director of research at the Yankee Group, another tech research firm. "The Bold was probably their last truly innovative product design."
Each new measure of the market shows Blackberry sinking further and further down a list it once sat unchallenged atop. One survey indicated that over half of current BlackBerry owners plan to buy an Android- or iOS-powered handset, and that only 11 percent of consumers planning to buy a smartphone were planning to buy BlackBerrys.
"They have a product problem," said Charles Golvin, a principal analyst at Forrester Research. "Their products are not keeping pace with the market and what their customers are demanding. The last substantial introduction they made was the Torch. In the mobile equivalent of geolocal time, it was an eon ago."
Analysts say that RIM's comeback is dependent on its ability to begin releasing products more regularly to keep pace with the smartphone cycle. The company's last major phone release was in August 2010. This summer, it was supposed to introduce a new touchscreen phone, the BlackBerry Bold 9900, but the release was pushed back.
And while speed is important, just as crucial is that RIM deliver products that are as polished as possible.
"They've got to increase the cadence of their product releases: How often they get things out the door," said Egan. "They can't continue to delay product releases, and come to market with unfinished products like they did with the PlayBook."
For all that devotees love about the phone -- the keyboard, the BlackBerry Messenger push system, the quick and easy email functionality, the encryption technology -- there are a slew of other features that come standard on other smartphones that BlackBerry has seemed unable to deliver as quickly or effectively as needed. The platform has about 26,000 apps, compared to Apple's 350,000. Even worse, other phones perform the same functions as BlackBerry phones, with added benefits, making the RIM's offerings seem like relics of the early 2000s. For example, Apple's newest mobile OS will feature iMessage, which functions exactly like BBM.
"The BlackBerry OS platform is clearly moving into the rearview mirror," said Golvin.
BlackBerry's most loyal customers up to this point have been in the enterprise market, where the phone's security and reliable email have endeared it to IT managers throughout the business world. But even in enterprise, companies are shifting towards the deployment of iPhones and Android-powered devices. At a recent press conference, Steve Jobs stated that 35 percent of the Fortune 500 has run tests with the iPhone. RIM has not adjusted to the new reality.
Traditionally, employees would simply receive a phone from their BlackBerry-centric tech departments. Today, faced with a huge range of seductive smartphones from which to choose, they're buying what they want to buy -- and they're not choosing BlackBerry. Increasingly, companies are providing support for non-RIM devices, even introducing them as company phones in some cases.
"They cannot, and will not, shut the floodgates off for personal-use devices to be used as part of the enterprise," said Egan.
Though BlackBerry built itself as an enterprise company, going forward, it must mirror the actions of Microsoft -- another historically business-centric brand -- and cater to ordinary consumers. Today, most debates on smartphone merit revolve around Android versus Apple. BlackBerry has to get back into the consumer conversation, or risk fading out.
"They offer things that are tremendously valuable to that corporate IT manager, but it's not a powerful message to the consumer market," said Golvin. "They have to change their internal thinking because if they're only focused on that corporate IT manager, they don't have a good understanding of what the end user needs."
Even as RIM has lost market share and watched revenues slide, one thing has remained consistent: the leadership at the top. For two decades, co-CEOs and chairmen Jim Balsillie and Mike Lazaridis have been in charge. Some experts say that their lack of vision will continue to hurt the company, unless changes are made.
The pair has not been quick to adapt to the changing smartphone market, focusing on business customers as consumer-centric products took the lead. An investor in the company has called for the roles of chairman and CEO to be split, with the chairman role reassigned to an independent board member. Some analysts say that leaving Balsillie and Lazaridis at the top will only exacerbate the company's woes and prevent the company from making the bold changes it requires.
"They need to bring in new leadership," said Egan. "Retire the co-CEOs, or put them on the board or something. It's time."
RIM's quandary is not just that it must differentiate its product from an already-crowded smartphone market, but that it must distance itself from being known for features that first made it successful -- all without alienating loyal customers. While it can't afford to lose the people who love it most, it also can't continue selling the same old products and expect anything to change.
"They have to say, 'Everything you love about your BlackBerry is here, and we're giving you these other things that you seem to want from our competitors,'" said Golvin. "They can't abandon that foundation, it has to be an 'and' story: 'Everything you love about your BlackBerry and...'"
For all that it must battle, RIM is still a major company with a lot of cash. Its phones still account for 27 percent of the U.S. smartphone market, and overseas, RIM has seen 67 percent growth, largely in emerging markets. Analysts tout the upcoming QNX operating system as a potential step forward, but it won't arrive till early 2012.
Still, they warn, if RIM wants to remain in the game, it will have to produce a great phone that matches its competitors. And it will have to do it soon.
"I tend to be a bit more optimistic than most about their longer term future," said Castonguay. "But short term, the forecast isn't good."

Related
Popular in the Community