As summer visitors flock to Hawaii for sun, sand and surf, the militaries of more than two dozen nations will be in and around the islands for five weeks of war games.
The Rim of the Pacific exercise, hosted every two years by the U.S. Pacific Fleet, claims to be the world's largest international maritime maneuvers. The Navy says the exercise, best known as RIMPAC, provides a unique training opportunity that fosters relationships vital to "ensuring the safety of sea lanes and security on the world's oceans." 
The massive exercise also comes with controversy, drawing fire from Hawaii residents and environmental groups who say the games harm the ocean and marine life. Many of the activities will be far offshore, and won't noticeably affect tourists.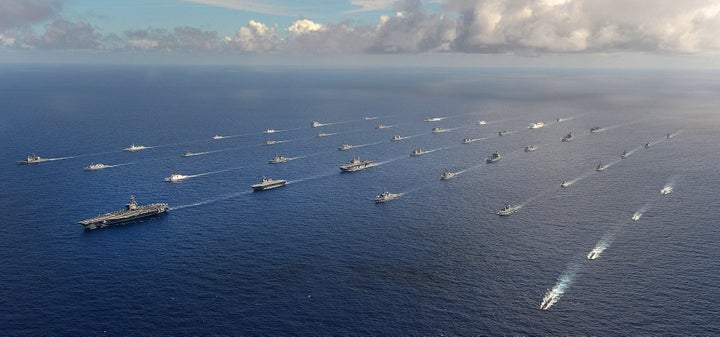 This year's exercise -- the 25th since its inception in 1971 and the largest yet -- kicks off Thursday and continues until Aug. 4. It will include 26 nations, 45 ships, more than 200 aircraft, five submarines and 25,000 personnel in and around the Hawaiian islands and in Southern California.
Rochelle Rieger, a Navy spokeswoman, told The Huffington Post that RIMPAC 2016 includes for the first time Denmark, Germany and Italy, an advanced submarine rescue exercise, and a harpoon missile launch from a U.S. Navy littoral combat ship. (Brazil, facing multiple crises as it prepares to host the Olympics later this summer, was supposed to join, but backed out due to "unforeseen scheduling commitments.")
Participants will practice disaster relief, maritime security operations, sea control and complex war-fighting, the Navy said in a statement. Two drills will involve sending a pair of retired U.S. ships -- the former USS Thach and former USS Crommelin -- to a watery grave at the bottom of the Pacific. The exercise, which the military calls SINKEX, involves towing decommissioned vessels out to sea and shooting at them with missiles and torpedoes until they sink.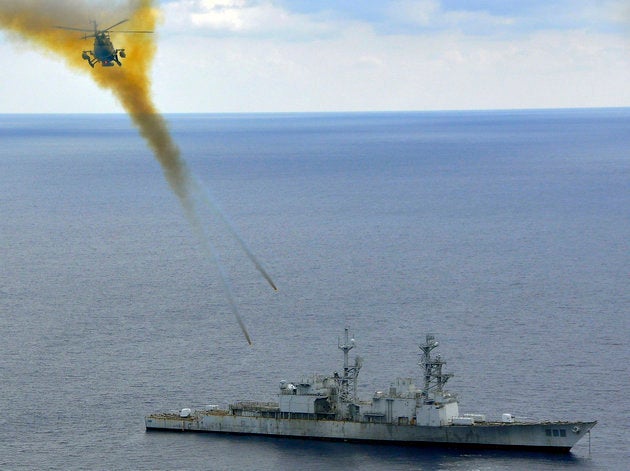 Rieger noted that 70 percent of the planet is covered by water, 80 percent of the world's population lives on or near a coast, and 90 percent of international commerce travels by sea.
"The global maritime environment is too large and too complex for any one nation to safeguard," Rieger wrote in an email.
The war-gaming comes at a price for whales, dolphins and other mammals.
David Henkin, an attorney at Earthjustice who represented environmental groups in the organization's 2013 lawsuit against the Navy and National Marine Fisheries Service, told HuffPost there is "no longer any scientific debate" about whether RIMPAC and similar Navy trainings harm whales and dolphins. 
"They do," Henkin said, citing the Navy's own estimates that trainings off the coasts of Hawaii and Southern California over a five-year period may inadvertently kill 155 marine mammals and injure approximately 2,000.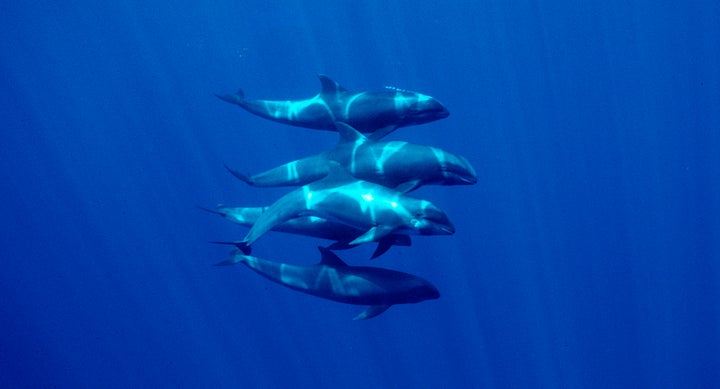 Henkin called it a "compromise." The Navy limits activities in sensitive areas, but not in others, including RIMPAC, which he said continues to threaten marine life. 
Earthjustice will continue pushing the Navy and National Marine Fisheries Service to do away with war games altogether.
"We have specific concerns about RIMPAC," Henkin said. The exercise in 2004 likely caused a mass stranding of 150 to 200 melon-headed whales on Kauai, he said. "The only way to prevent similar tragedies in the future is for the Navy to keep its deadly activities out of sensitive marine mammal habitat."
The National Oceanic and Atmospheric Administration was unable to conclusively determine if the stranding was a result of RIMPAC. "While causation of this stranding event may never be unequivocally determined, we consider the active sonar transmissions of July 2-3, 2004, a plausible, if not likely, contributing factor in what may have been a confluence of events," the federal agency wrote in a report.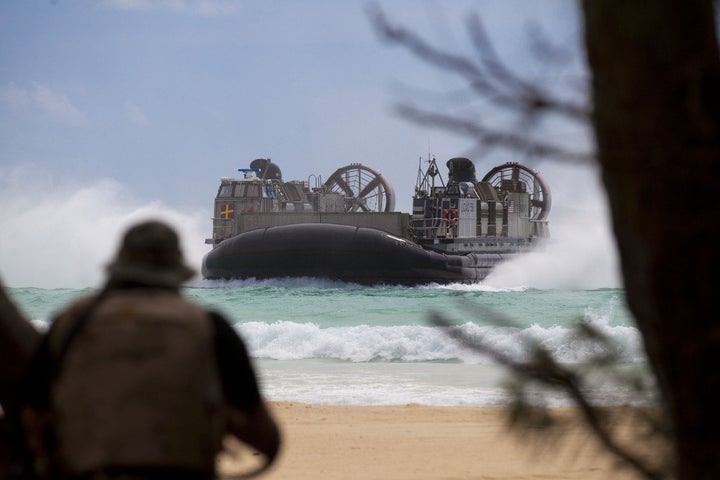 In addition to the Earthjustice lawsuit over RIMPAC, conservation groups, including the Sierra Club and Basel Action Network, filed suit against the Environmental Protection Agency in 2011, alleging the agency failed to prevent the SINKEX program from polluting the sea with toxic materials.
To minimize the potential impact of RIMPAC exercises on marine life, Rieger said participants receive training and are required to follow protective measures. Those measures, she said, include posting trained lookouts, monitoring for marine life before and during the use of sonar and explosives, establishing safety and exclusion zones, and "reducing or ceasing sonar transmissions when marine mammals are detected within prescribed distances."
This year's exercise, themed "Capable, Adaptive, Partners," also includes forces from Australia, Brunei, Canada, Chile, Colombia, France, India, Indonesia, Japan, Malaysia, Mexico, Netherlands, New Zealand, Norway, People's Republic of China, Peru, the Republic of Korea, the Republic of the Philippines, Singapore, Thailand, Tonga and the United Kingdom.
To see pictures of RIMPAC 2014, go here. 
Calling all HuffPost superfans!
Sign up for membership to become a founding member and help shape HuffPost's next chapter
BEFORE YOU GO
PHOTO GALLERY
Pearl Harbor, Hawaii