Fearless, dedicated, yet emotional about conflicts ripping into her country, Rima Maktabi knows when to suppress tears and get on with her job as a professional journalist.
"So many times I cried when I interviewed the displaced Lebanese from south Lebanon, and many nights I suffered from physical pains due to stress," she said of reporting Israel's July 2006 war on Lebanon and sleeping with refugees.
Despite hating the war, Maktabi never editorialized on the air.
She acknowledged feelings affected journalists seeing their people being slaughtered, but believes detachment brings reporters closer to "the truth.''
She also finds it less difficult and hazardous for journalists covering wars in their own countries because they know the terrain, can mingle with the people, and speak the language.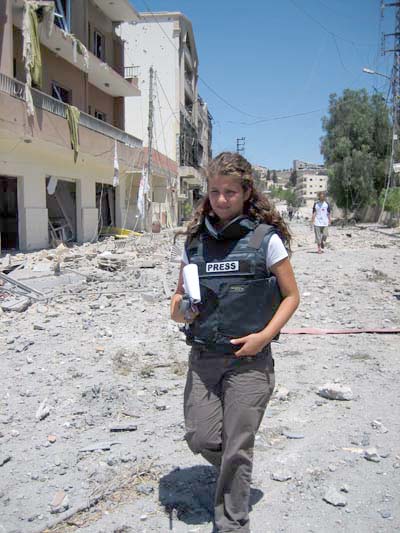 Rima Maktabi covers Israel's July 2006 war on Lebanon (Al Arabiya)
"The more familiar one is with the land, the geography and the people, the faster and more accurate the coverage," she noted.
So what makes a good war correspondent? Those who get close to the people, she said, despite being startled by missiles and war flames.
"(In) times of war, phones and means of communication may be cut, sources try to mislead journalists, rumors spread fast, and live TV coverage requires immediate information which might be wrong," she said of reporters' need not to lose sight of accuracy in the fog of battle.
Maktabi could have stayed away that summer, or in 2007, when the Lebanese army fought protracted month-long bloody battles with "Fateh Al Islam" in Lebanon's north, where the terrorists were holed up, but she decided to witness and report.
There's steely determination in the style, substance and modus operandi of this prime time news anchor at Dubai-based, Saudi-owned Al Arabyia (www.alarabiya.net) satellite channel, out to prove that looks aren't everything.
She has been presenting and co-producing a daily news hour in Arabic called "Al Thamina (8:00) KSA" since June 2008 (http://www.youtube.com/watch?v=OB4_2yT0EoQ), but it's a hard slog and a quantum leap for the attractive one-time weather girl, whose understated beauty landed her as a game show host, before she turned to news, all at Lebanon's Future TV station.
The 32-year-old Maktabi was initially criticized for not being in full command of the Arabic language -- her college studies were in English -- and that her claim to fame was "a pretty face" when she began at the pan-Arab Al Arabiya.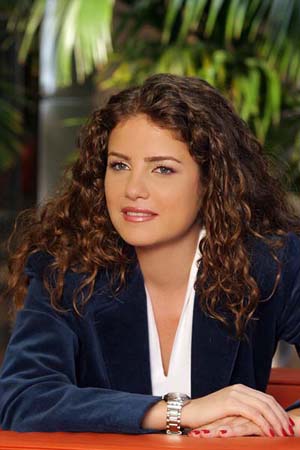 Weather girl, game show host, anchor Maktabi
(Al Arabiya)
What helped was a decade's worth of work at Future TV, where she started in 1996 as a teenager, and her later transformation into a writer, reporter, news anchor and occasional field correspondent.
Dedicated viewers followed Maktabi's career shift and became big fans, with admirers blogging about her, or posting romantic videos singing her praises as "the bird of journalism." (http://www.youtube.com/results?search_type=&search_query=%D8%B1%D9%8A%D9%85%D8%A7+%D9%85%D9%83%D8%AA%D8%A8%D9%8A&aq=f).
As a news anchor, she's seen the big picture and interviewed decision makers and analysts from Iraq, Lebanon, Palestine, Jordan, Algeria, and the U.S., to name a few. She has covered breaking news, Arab summits, a Lebanese presidential election, and done a memorial program on the fall of Baghdad.
But it's the people on the street in Lebanon who inspired her.
The most touching dialogue was with Lebanese journalist Samir Kassir on a debate show for Lebanese youth she hosted on Future TV in 2005. Kassir was assassinated a month later, leaving the station with the last live interview of him.
"I felt proud and guilty: proud to have interviewed a thinker and journalist of his kind and caliber; guilty because I pushed Kassir in my questions to speak his mind, which he did freely and courageously," Maktabi lamented.
At that time, speaking with that tone was high risk, and the reward for free words was blood, she added, recalling the spate of assassinations gripping Lebanon, that included mentor Gebran Tueni, publisher of the daily An-Nahar, who, like Kassir, was blown up in his car a few months later.
When anchoring the news, Maktabi stands in front of large interactive screens talking, walking about, pressing buttons, and dealing with fast moving visuals, much like counterparts at CNN, Fox, the BBC or SkyNews.
Does this draw a larger audience or do viewers find it distracting?
"I think the video wall presentation in "8 o'clock KSA" (17:00 GMT) involves the audience more in the news," she argued, providing her with a wide range of elements by using graphics, video rushes, and strong content. It has also improved ratings from the news hour's pre-May 2008 launch.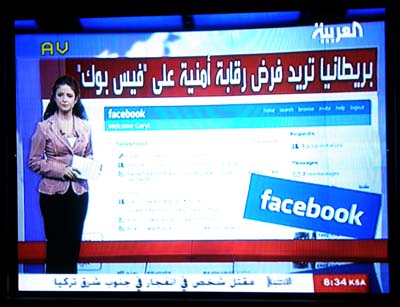 Maktabi anchors prime time newscast on Al Arabiya (Abu-Fadil)
But remote interviews have risks, Maktabi admitted, notably when sources lie or mislead. So advance research and knowing the topic well is paramount, and if she doubts a tip or a report, she does not air it.
"I simply tell the audience that I need to confirm certain breaking news or that I am not sure," she said.
The insistence on high professional standards comes from a hard-driving former reporter/college professor in Lebanon who saw potential in the undergraduate juggling studies and game show hosting, and who encouraged Maktabi to pursue an MA in international affairs to be on firmer ground as a well-rounded journalist.
What keeps her going is a never-ending search for knowledge - something she hopes will take her back to academia for a PhD in media or politics, or another MA in business or management. Becoming a university professor is also an option.
But anchoring and reporting are still Maktabi's passions. As is print, where a brief stint alongside TV in Lebanon, first gave her a taste for traditional journalism and a desire to be a columnist.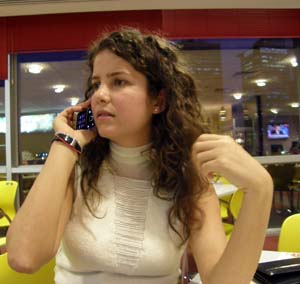 Off-camera Maktabi works the phones (Abu-Fadil)
She answers messages from young people or students who need advice and morale boosts but only responds to fans with emails of gratitude.
Asked where she saw herself in 5-10 years, Maktabi replied: "In a kitchen cooking for five kids, my kids. Just a joke. Ask me in 10 years."


Calling all HuffPost superfans!
Sign up for membership to become a founding member and help shape HuffPost's next chapter