Akhmetshin is roughly 50 years old and holds dual Russian-American citizenship. He has kept a relatively low profile in Washington, D.C., until recently, but has spent decades embedded in several high-stakes lobbying campaigns on behalf of the former Soviet Union.
"I know of no Russian gun-for-hire who managed to run his campaigns so successfully, running circles around purportedly much more seasoned Washington hands," veteran reporter Steve LeVine told Radio Free Europe in June 2016.
Akhmetshin confirmed to The Associated Press on Friday that he had participated in the now-infamous meeting between President Donald Trump's eldest son and Russian lawyer Natalia Veselnitskaya. Jared Kushner, Trump's son-in-law and adviser, and Paul Manafort, Trump's campaign manager at the time, also attended.
The meeting came amid a lobbying campaign against the Magnitsky Act, legislation passed in 2012 that barred several Russian officials accused of human rights abuses from entering the U.S. and infuriated Russian President Vladimir Putin.
Just days after the meeting, Akhmetshin hosted a screening of a Russian propaganda film at the Newseum in Washington. The movie was an effort to undermine evidence that the Kremlin had authorized the imprisonment, torture and eventual murder of a Russian lawyer and whistleblower named Sergei Magnitsky, whose death inspired the Magnitsky Act.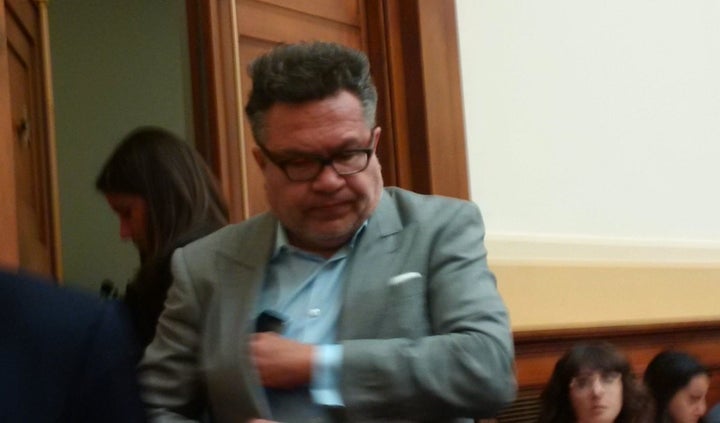 Trump Jr. did not originally disclose Akhmetshin's presence at the meeting. His attorney, Alan Futerfas, claimed Friday that his client wasn't aware of the lobbyist's background at the time of the meeting.
"He is a U.S. citizen," Futerfas told NBC News of the lobbyist. "He told me specifically he was not working for the Russian government, and in fact laughed when I asked him that question."
Akhmetshin was the subject of a letter that Sen. Chuck Grassley (R-Iowa), chairman of the Senate Judiciary Committee, sent to Homeland Security Secretary John Kelly in April as part of an investigation into potential violations committed by the lobbyist under the Foreign Agents Registration Act.
Court papers from lawyers for International Mineral Resources, a Russian mining company that alleged Akhmetshin had orchestrated a cyberattack against them to tarnish their public image, described the lobbyist in November 2015 as "a former Soviet military counterintelligence officer."
Akhmetshin told the AP on Friday that he served in the Soviet military from 1986 to 1988, but denied ever receiving formal spy training.
NBC News, which first reported that a Russian lobbyist attended the meeting between Veselnitskaya and Trump Jr., also said another unnamed individual was present. The sixth meeting attendee hasn't been identified.
Akhmetshin told the AP that he didn't expect his meeting with Trump Jr. to be a "big deal."
The Trump Jr. meeting revelation is only the latest scandal to rock the White House, which has repeatedly denied that Trump campaign aides had connections to Russian government officials during the 2016 presidential election. Four U.S. intelligence agencies, including the FBI and CIA, reported in January that Putin ordered an influence campaign, including cyberattacks against Democratic National Committee servers, to tip the election in favor of Trump.
Several Trump associates, including Kushner and Manafort, are under federal investigation over their potential links to the Kremlin.
CORRECTION: An earlier version of this article incorrectly stated that 17 intelligence agencies concluded Russia had interfered in the election. Four intelligence agencies investigated the issue and published the report.
Before You Go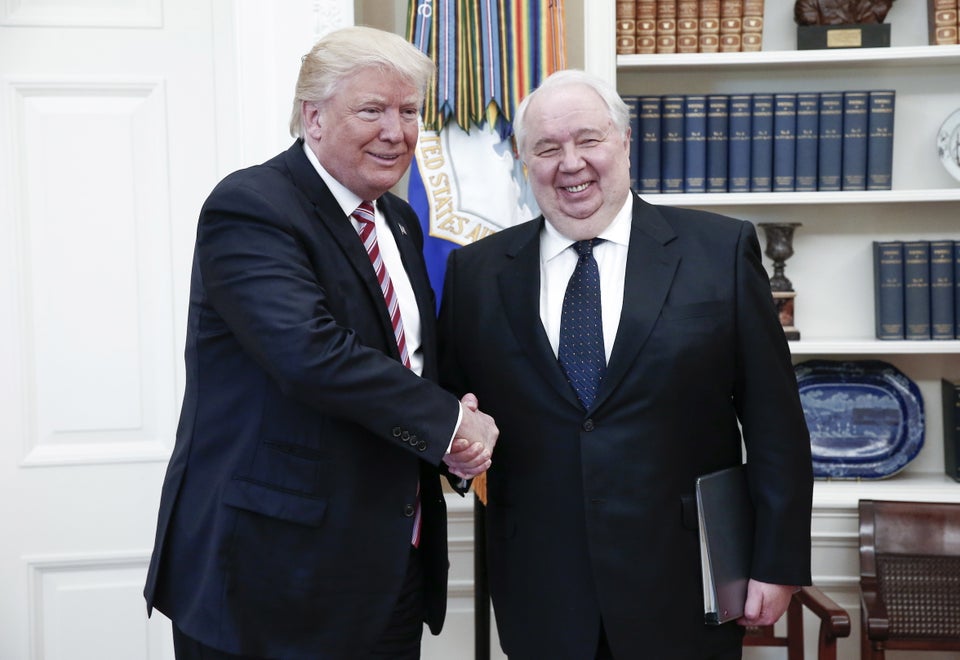 Donald Trump Meets With Russian Officials
Popular in the Community