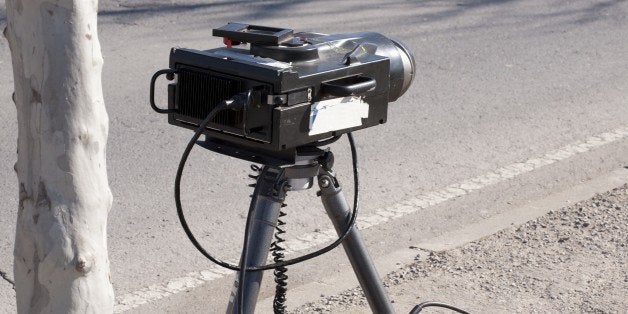 Which cameras will watch the cameras watching the cameras?
Prince George's County cops announced they are installing new cameras designed to keep a watchful eye on the Maryland county's speed cameras, WTOP reports.
Since April, six speed cameras have been attacked by angry citizens, according to WTOP. One camera was shot at and another burned.
Prince George's County Police Maj. Robert Liberati said he doesn't think people's rage is a result of the cameras, per se.
"The roads are choked, there are lots of drivers on them. I think traffic itself is the cause of frustration [toward speed cameras]," Liberati said. "But, we have a duty to make the roads safe, even if takes a couple extra minutes to get to your destination."
County officials gave approval last year for police to roll out about 100 speed cameras near schools across the county, according to College Park Patch. During a council meeting debate over the cameras, several residents protested their installation.
Though Prince George's police insist the motivation for keeping the cameras safe isn't financially driven, speed cameras are cash cows for many municipalities that have installed them.
REAL LIFE. REAL NEWS. REAL VOICES.
Help us tell more of the stories that matter from voices that too often remain unheard.
BEFORE YOU GO