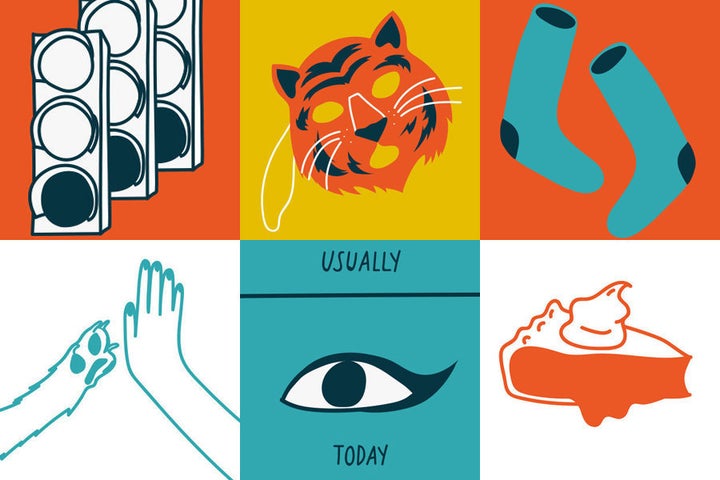 Just when Rinee Shah switched to working as a full-time freelance illustrator, another big change happened in her life: she was confronted with the always-trying tumult of a breakup.
"I suddenly had a lot of free time without the structure of my usual routine," she told HuffPost in an email. "I knew I wanted to start a new illustration project and, instead of doing it on a random topic, I thought it made sense to make something relevant to the life shift I was going through."
So, as a way of easing her own unhappiness, she began a project for which she drew 100 happy things, mostly submitted by friends and fans of her work. Submissions ranged from the universally enjoyable (pie, warm socks) to those specific joys only some of us quietly share (the way Neil deGrasse Tyson says "water").
"It sounds a little cheesy, but I hope this project makes viewers smile and think of their own happy thing," Shah said. "Going through a breakup can feel like such a solitary experience, but I've gotten several emails from both friends and strangers telling me that they're going through a breakup right now, too, and seeing the site helped cheer them up."
Shah acknowledges that she feels fortunate to have an outlet. The project, she says, has been extremely therapeutic.
"This project is my way to grab control of the situation and focus on something really positive. Drawing out the happy things has been a way to really hold onto them," Shah says. "I feel like I'm collecting happy things for myself but also anyone who comes to the site. Also, I like the community aspect of drawing things that people submit instead of just thinking of my own."
View a few of Shah's 100 happy things below, or on her blog. 
PHOTO GALLERY
12 Illustrators You Should Know Right Now
Calling all HuffPost superfans!
Sign up for membership to become a founding member and help shape HuffPost's next chapter