Sometimes, superheroes wear orange coveralls instead of capes.
In Union City, California, a family breathed a sigh of relief after two Union Sanitation District (USD) workers recovered an heirloom from the sewer more than six weeks after the family's toddler flushed it down the toilet.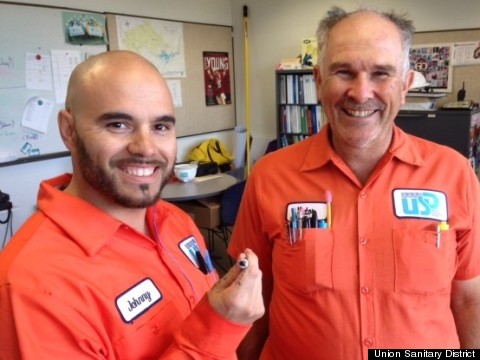 Collection Services Workers Johnny Powell (left) and Victor Vasut (right) smile with the ring they rescued.
KTVU reports the heirloom, a diamond and sapphire ring passed down through the Tapal family by Munazzar Tapal's great-grandfather via his own deceased father, found its unusual resting place thanks to their 3-year-old son's royal flush in October.
A search for the ring conducted by a plumber turned up nothing, so they called the USD as a last-ditch effort. That's when workers Johnny Powell and Victor Vasut, fathers themselves, stepped up to help.
Crews flushed sewer lines in the Tapal's neighborhood multiple times in search of the ring, and were about to admit defeat when they finally found it on Nov. 14. Per a USD media release, the family treasure had traveled more than a third of a mile from the Tapal's house, tumbling around corners and nearly falling into a larger sewer line where recovery would have been all but impossible.
"It's rare to find something like this. It's like a needle in a haystack," Collections Supervisor Shawn Nesgis told USD.
After what we assume was a very thorough cleaning, the ring is now back where it belongs. One day, the family says it plans to pass the ring down to the boy, who by then will presumably have grown out of his "Finding Nemo" phase.
Calling all HuffPost superfans!
Sign up for membership to become a founding member and help shape HuffPost's next chapter
BEFORE YOU GO
PHOTO GALLERY
Wacky Finds Worth Big Bucks