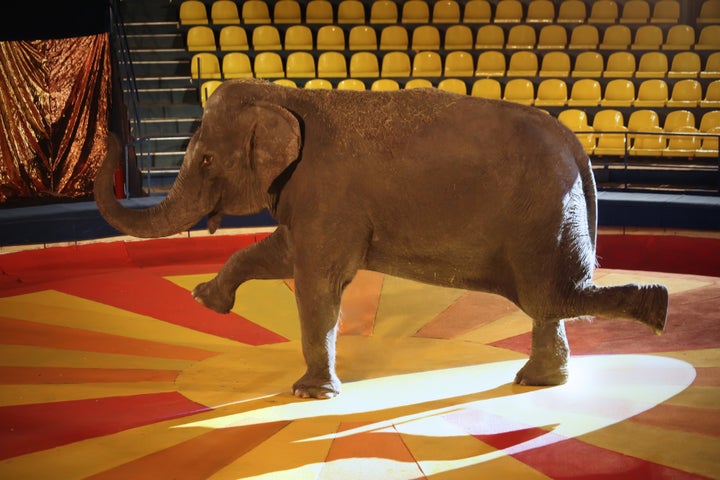 Everyone has do-over moments — words, actions, decisions you wish you could take back. Like when I told a friend she was better off without her rotten ex only to learn the two were back together. Or the time I congratulated an acquaintance on her pregnancy and then learned she'd had the baby months ago. There was a horribly embarrassing moment when I mistakenly sent an email to an old boyfriend about a new boyfriend, complete with very personal details and then tried to break into his account to delete the email before he read it... and got caught. But my biggest do-over moment was working for Ringling Bros. and Barnum & Bailey Circus.
The circus was my first job out of college. To get the job, I had to write an article about King Tusk, the largest traveling land mammal on the face of the earth. I was flown to Ohio, met King Tusk, an 11,000-pound, 10-foot-tall elephant, and wrote a pretend interview. Fun, right? At the time, I thought so, too. I got the job and spent the next year traveling to areas where the show performed, from Florida to Alabama to Atlanta to Manhattan.
I learned how to juggle from some cool clowns, met trapeze and high wire artists who passed down their skills through generations. I also met a group of aerial skiers from Canada who skied down a massive indoor ramp and performed mid-air acrobatics. Sometimes they landed well, other times they required a hospital visits and stitches. The job was fast-paced. I wrote articles for the Sunday supplemental section of the local newspaper of whatever city the show visited, plus performer biographies and additional material used for public relations.
Throughout my time at the circus, People for the Ethical Treatment of Animals, more commonly known as PETA, and other animal rights organizations protested in different cities. The circus transported its animals using trains, and the animals at each venue spent their time in mostly windowless arenas in cages or pens, except for the elephants. The elephants were chained together by one foot in a long line for hours on end. I tried to avoid walking close to the animals' cages, especially the tigers, as they'd spray to mark you. FYI that scent is impossible to get out of clothes. I'd avoid the elephants, too, as I'd witnessed King Tusk sneeze, and it was both impressive and very messy. It's embarrassing now, but at 21 years old, I didn't worry about the animals' treatment. I was just trying to survive my first job and also listened to the trainers, who told me that they loved their animals and vice versa; that the animals were intellectually challenged and enjoyed performing; that circuses helped preserve and protect animals from extinction. And, I never saw outright, hands-on physical abuse.
One day I was accompanying a guest behind the scenes, and he asked me why the elephants swayed. I said what I'd heard the performers say: It's because they love the music. In the wild, elephants walk up to 30 miles a day while constantly foraging for food and water. They live in matriarchal societies and are active up to 18 hours a day; they don't develop the arthritis and foot diseases that are prevalent in zoos and circuses due to standing on hard surfaced for long hours. Elephants in their natural habitats live over 70 years (unless poisoned or killed by poachers) while captive elephants are usually dead before the age of forty. I didn't know any of these things as a recent college graduate. Now I do, and I also know that elephants sway when they are mentally distressed.
When that guest asked me why the elephants were swaying, I gave him a stock answer. But my gut told me that I was lying. When the circus brought in an elephant calf named Prince Tusk, I didn't yet know that elephant calves are dependent on their mother's milk for up to four years, are loved and protected by the entire herd, and that, when separated from their mother, cry actual tears of misery. But I did sense that Prince Tusk was lost and lonely. I quit my job soon after.
"While I understand that Ringling Bros. did make some efforts to ensure the conservation of elephants, and I do believe that some of the trainers truly loved their animals, in my mind it's not enough to make up for forcing wild animals to perform unnatural acts for entertainment or keeping them captive."
This leads to my biggest do-over moment. I should've educated myself after I left the circus and spoken about my misgivings to animal rights organizations ― or anyone that would listen. While I understand that Ringling Bros. did make some efforts to ensure the conservation of elephants, and I do believe that some of the trainers truly loved their animals, in my mind, it's not enough to make up for forcing wild animals to perform unnatural acts for entertainment or keeping them captive.
I wish it hadn't taken me a year to understand that no wild animal belongs in a circus or that animal sanctuaries are the best solution once a wild animal is taken from their natural environment. We have to work harder at maintaining those habitats, creating situations that benefit both the wild animals and the humans around them so that they can both live in safety, prosperity and peace. Poachers for the illegal ivory trade slaughter one hundred elephants every day in Africa. Both Asian and African elephants in the wild will become extinct in the next 20 years if nothing is done to save them. I wish I'd raised my voice and spent the past two decades doing more than donating to elephant conservation organizations. I wish I'd fought for all the animals in captivity and the wild.
What do you do once you recognize a do-over moment? How do you rectify a wrong, whether or not it was intentionally committed? This morning, while walking my dog, I ran into an old friend. We'd parted ways years ago, mostly my fault, and I suddenly apologized. She accepted and a weight was lifted for both of us. I'm sorry goes a long way in fixing a do-over-moment. So apologize, of course! But go beyond the apology. Help a friend, make someone's day, use whatever skills you have to make things right in the long run. Ensure the situation never happens again.
So how do I correct my actions, decades after my time at the circus? First, I apologize. I'm sorry for taking that job. I'm more sorry for doing nothing after I left to really influence change. But how do I make things right in the long run? I share my biggest takeaway from working for the circus: You don't change people's minds about anything, whether it's politics or wild animals performing for entertainment, by bombarding them with facts. During my time at Ringling, which shut down in May 2017 after operating for 146 years, there were picketers with signs, people shouting facts and, at times, vitriol. PETA even dumped a truckload of manure to block a driveway to our office. All that did was make the employees defensive and angry. Look at what's going on today in politics. Everyone is yelling. No one is listening. Very few productive conversations are happening.
People don't care with their ears. They care with their minds and hearts. In order to ensure that wild animals are protected from circuses, roadside safaris and poaching in the wild, I need to share that elephants are incredibly similar to humans — intelligent, family oriented, capable of joy and despair; that they mourn their dead, and protect the weakest in their herd. Education leads to understanding, which leads to caring and action. If people have empathy for the plight of elephants, my hope is that they'll help these magnificent beings survive and thrive.
Today I support the incredibly important work of Space for Giants, an organization battling for a secure future for elephants and their landscapes forever, and Reteti Elephant Sactuary, the first community-owned elephant sanctuary in Northern Kenya that works to rescue and release orphaned and abandoned elephant calves while creating jobs for the local people who live beside them. Please visit their websites, learn how important elephants are to both the environment (They're Keystone Species, responsible for maintaining the biodiversity of the ecosystems we need to live.), and to each other, and read about the love shared between humans and the elephants they protect and rescue.
We all have do-over moments. They're cringeworthy at best, damaging to us and to others, both human and animal, at worst. But the true shame of a do-over moment isn't in being human and having them, it's in failing to apologize and rectify the situation. I can never take back my time working for the circus. What I can do is reach out to others in hope of creating an army of caring individuals that will help save elephants from abuse and extinction.
Nancy Richardson Fischer is a graduate of Cornell University, and a published author with children's and adult titles to her credit, including "Star Wars" titles for LucasFilm and numerous co-authored autobiographies such as Bela Karoly, Monica Seles, Apolo Ohno, and Nadia Comaneci. Her young adult novel "When Elephants Fly," the story of a young woman desperate to avoid schizophrenia who risks her freedom and sanity to save an elephant calf's life, will be published by HarperCollins/Harlequin Teen in September 2018.
Do you have a personal story you'd like to see published on HuffPost? Find out what we're looking for here and send us a pitch!