Hundreds of Canadians formed human shields around mosques as Muslims gathered for the first Friday prayers after a deadly attack on an Islamic center in Quebec.
Yael Splansky, senior rabbi at Holy Blossom Temple, Toronto's oldest Jewish congregation, organized efforts in her community and told reporters that she hoped the "rings of peace" would send a message to Muslim Canadians that they aren't alone. Splansky said she was inspired by a similar display of solidarity at a mosque in Oslo, Norway, in 2015.
"No Canadian should be afraid to go to their house of worship to pray," Splansky told Canadian network CTV News on Friday. "It's a terrifying scene. Imagine people of faith going to pray in peace, to pray for peace and to be at risk. Houses of worship are sacred and must be protected."
Canada, like the United States, has witnessed a staggering rise in anti-Muslim sentiment and attacks in recent years. This fact became all too real Sunday when a gunman opened fire at the Islamic Cultural Centre of Quebec City, killing six people and injuring 19 others.
Alexandre Bissonnette, a French-Canadian university student known to have far-right, nationalist views, was arrested and charged with six counts of first-degree murder and five counts of attempted murder on Monday. Canadian Prime Minister Justin Trudeau characterized the attack as an act of terrorism, telling Muslims: "Thirty-six million hearts are breaking with yours. Know that we value you."
Splansky and others took the sentiment to heart. More than 100 people joined Splansky's group to form a circle of solidarity around the Imdadul Islamic Centre. Similar actions unfolded at a handful of other mosques around the Toronto area and other parts of Canada.
"To see there are people out there — Jews, Christians, people of other faiths or no particular faith, who really care about the Muslim community — I think that says a lot and it's really reassuring," Ilyas Ally, assistant imam at Toronto's Islamic Information and Dawah Centre, told CBC News.
Congregants from a local church and synagogue gathered outside the center on Friday, Ally said, holding hands and forming a human shield during the afternoon prayers.
Ally posted a video on Facebook to show the magnitude of the crowd:
In Newfoundland, hundreds gathered to form a circle of protection around the province's only mosque. Syed Pirzada, president of the Muslim Association of Newfoundland and Labrador, addressed the crowd and expressed his gratitude for the outpouring of support.
"Although this tragedy has taken an irreparable toll on Muslims across the country, the kindness and generosity of fellow Canadians has been a great source of comfort," Pirzada said, according to The Guardian. "Canada has spoken: no to hate, no to bigotry, no to religious violence, no to intolerance."
Before You Go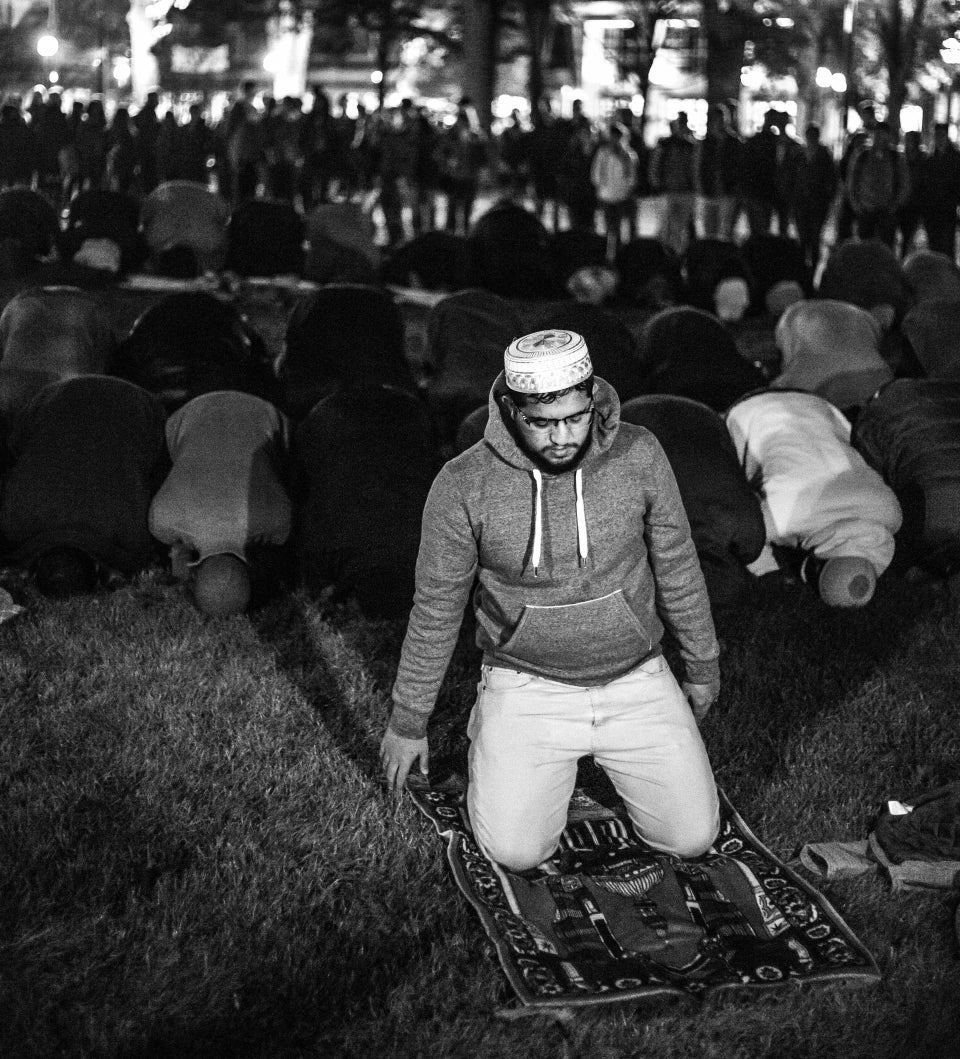 Interfaith Allies Surround Praying Muslims With Circle Of Protection
Popular in the Community