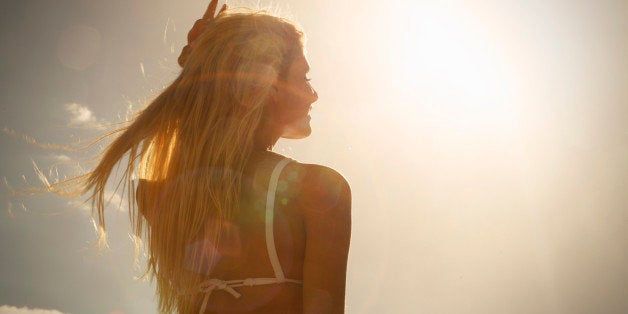 As you get deeper into your twenties the number of engagement rings you start seeing in your social channels increases rapidly. If you're single, you go from feeling "young, wild and free" to feeling like you're behind. In the grand scheme of things, you are young in mind, body and soul with the whole world ahead of you; yet every engagement ring you see makes that scene a little harder to see.
Lately I've decided to paint a different type of scene. The one where I decide to chase life instead of marriage. The type of scene where I command my own destiny, without checking in with anybody. The type of scene where I make choices based on my own desires. The type of scene where I am selfish with my passions and my path because this is the only time I can be. The type of scene where I take advantage of having no ring, but having a full, full heart that's ready for anything.
I'm painting the type of scene where my soul is my compass, my smile is my entrance, and my days are unpredictable.
So instead of walking into every bar analyzing the crowd looking for a boyfriend or husband, I focus on the moment in front of me. I focus on the people I came with, the ones that'll stay with me, and the ones that will eventually be at my wedding, maybe. Instead of giggling waiting for someone to buy me a drink, I buy my own. I know what I want, and I as a strong, independent woman can happily afford to. Instead of vying for attention I make memories worth far more than small talk and stolen glances.

Instead of waking up each day needing to fulfill someone else's wiles, I focus solely on my own.
Instead of needing a man to plan a couple's vacations in another country I'm planning a journey of my own. Instead of waiting for someone else to make decisions with I'm making travel plans according to my volitions. I'm planning the vacation of my dreams led by my own destiny. One where I get to choose the itinerary or stay without one. One where I get to meet other travelers and share our stories. One where I get to be myself, or find myself, in another land with my hair up and my walls down.
Instead of waking up each day needing to fulfill someone else's wiles, I focus solely on my own. I wake up and stretch out across the entire bed and enjoy coffee for one. I take the day by storm chasing my aspirations, and I focus on my career without needing to text anyone or plan what's for dinner. I kick ass in the office and then go kick ass in the gym without checking the time. I can go out for drinks, go see a movie, or just take a walk for a breather without asking anybody. The day is mine to seize.
Instead of focusing on my future groom I'm focusing on my future bridesmaids. We're making plans, having adventures, turning late nights into mornings, laughing into the wind, and leaving memories everywhere we go. We're dancing in dirty bars on Saturday and having cocktails in sunglasses on a Sunday. We're forgetting our age but remembering each other. We're living the lives that we have instead of thinking about the ones that we don't.
We're taking advantage of our youth that'll shape the history of how we'll be remembered.
Instead of stalking exes I'm stalking the Forbes 30 Under 30. Instead of binging on 'The Bachelorette' I'm binging on 'Shark Tank' brainstorming my big idea. Instead of pinning wedding dresses I'm pinning travel destinations. Instead of grocery shopping for two I'm splurging on mint chocolate chip ice cream for one. Instead of buying a Birchbox I'm buying SinglesSwag because I'm proud to be single. Instead of worrying about my future I'm focusing on making the present damn near incredible.
Instead of chasing marriage I'm chasing adventures. I'm chasing late nights, the best slice of pizza, the next page on my passport, and my passions. Instead of chasing marriage I'm chasing serendipity. I'm running into the wind and letting it take me where my destiny pleases. I'm giving my heart over to fate and making the most of it. I'm living for another round of rosé and another round coffee to keep me up during the midnights I chase my dreams.
The only ring I'm looking for right now is the one the wine glass leaves. So instead of chasing marriage, I'm chasing life. I'm chasing the "me" I need to be so that when I (and he) are ready to meet, it'll be everything we both dreamed it would be.
Related
Popular in the Community