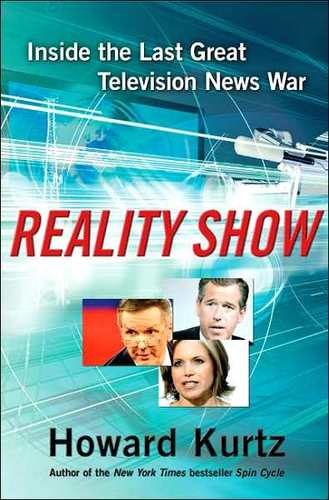 There's been barely a whisper leading up to Howard Kurtz's new book, released tomorrow — it's been embargoed, hushed, and kept under wraps for months, it's title and cover even kept off Amazon. The book is called Reality Show: Inside The Last Great Television News War, and it chronicles the saga of the latest — and possibly last — generation of Big Three Anchors: Brian Williams, Charlie Gibson, and Katie Couric. Amazingly, Kurtz and his publishers were able to keep the details of the 480-page book from leaking — impressive considering the number of people he obviously spoke with across all three networks — and today is the first day that details from the book have been made available. (Well, except for the Barnes & Noble in Deerfield, IL, where a certain shopper tells us it was proudly displayed on the new Non-Fiction table. Oops.) Kurtz's own Washington Post today runs a lengthy excerpt, the Drudge Report has a few scoops...and, rounding out this particular Big Three, ETP is pleased to offer our own ¡EXCLUSIVE! intel and excerpts from the book.
Despite the careful seeding of info, the book itself still remains under wraps, but from the amount we've surveyed (about 7,500 words) it looks to be a thoroughly engrossing, engaging and more than occasionally juicy read. Kurtz declined to name who spoke with him, but did say that no interview he sought was declined. All signs point to a cast of characters straight out of TVNewser's wildest fantasy, in addition to the Big Three: Diane Sawyer, Elizabeth Vargas, David Westin, Bob Schieffer, Lara Logan, Steve Capus, Jeff Zucker, Andrea Mitchell, David Gregory, Ann Curry, Bob Woodruff, Les Moonves, Rick Kaplan, Sean McManus, Dan Rather, Mary Mapes, Tom Brokaw, Tim Russert, Campbell Brown, John Reiss, Alexandra Wallace, Meredith Vieira and Matt Lauer. This is a non-exhaustive list.
Before getting into some excerpts, some revelations:
Before the ABC anchor chair was assigned, Diane Sawyer and Charlie Gibson were in constant contact about it, offering each other the position and volunteering to back off. It was decided that Charlie would take it — and then Sawyer had the idea to do the newscast together, like the partners they'd been for eight years. Sawyer was filled with enthusiasm. Gibson wasn't into it.
However effective Couric was in the morning, her partner Matt Lauer privately had doubts about how she would do in the 6:30 timeslot — and said so, telling a friend that he didn't think the evening newscast played to Couric's strengths. Oops. Now that's in a book.
NBC News scooped CBS on their own exclusive interview with Bob Woodward for the release of State of Denial. The book was embargoed, but CBS had issued a press release crowing about its revelations about White House obfuscations on Iraq. Williams was annoyed that NBC was empty-handed, and wanted the story. The Nightly team scratched their heads about how to do it...and then CBS posted clips from the interview on its website. Using that footage, available quotes and some confirmatory reporting, NBC led with the story, scooping CBS, which didn't even mention it — and thereby got the exclusive on the exclusive.
Remember that mystery exec at NBC that Katie Couric claimed she felt "pressure" from to back off of the administration on Iraq? It was Bob Wright.
My, what a lovely handbasket: BriWi on how the White House played the press after 9/11: "He had to admire, in a clinical sort of way, the political management of the press during what came to be known as the war on terror. It was truly remarkable."
My, what a lovely handbasket, Part II: Charlie Gibson essentially had his job because Bob Woodruff had been blown up in Iraq, but still, he wanted to go. He hadn't been in three years; Brian Williams had just come back from his third trip. He mentioned it to ABC News boss David Westin. "Not on my life are you going," Westin said. "Not with my track record." (We're sure that one gave great comfort to Martha Raddatz.)
Guess he wasn't that distracted by hurricanes: In a shocking contradiction to the other tome published on the subject — his lawsuit pleading — Kurtz reports that Dan Rather apparently pushed for the Memogate story to air, threatening to leak proprietary docs to the New York Times if the piece was spiked. If we were Josh Howard we would be completely out of patience.
Remember when NBC shocked the news establishment by actually calling the Iraq civil war a civil war? The same guy from whom Couric said she felt "pressure" started the dominoes falling with an email asking if it was time to use the term — in spite of the White House. Then the guy who greenlit "Joey" chimed in, and the rest is history.
The Real Reason Diane Sawyer Turned Down The Anchor Chair: Katie
It had been clear for some time that Couric was headed to CBS to take over Dan Rather's old job. If Sawyer were to take the plunge as the second woman to be the solo anchor of a nightly newscast, she realized, all the press coverage would be about dueling divas. Never mind that they knew each other only slightly. It would be like that New York magazine cover every day, a relentless focus on what they were wearing and similar trivia. It would be like every movie that featured two women battling it out. Women made great copy, that was the way the popular culture worked... She did not want her evening news tenure to be viewed through that prism. If she went to Darfur, the stories would be all about how she was trying to demonstrate that she was more interested in the plight of refugees than Couric was. She would be cast in a catfight. Couric would be the featured player and her role would be to juice up the story. No matter what she did journalistically, everyone would suspect her motives. No, it just wouldn't work. This was Katie's moment. Sawyer would not thrust herself into that particular spotlight....

"Good Night And Bite Me": Katie Couric's Big Mouth, Fracturing Team
Everyone at CBS, it seemed, was buzzing about Couric's exceedingly candid interview with Esquire. She said she hated the word panties. She said that sometimes she barely remembered to put on deodorant. She said she had a perfect life until she turned 40, when Jay died. She said she was open to love but that it was difficult at 49 with two kids and a very public life. She said there were a lot of "circling vultures" out there ready to eat her alive. She said she played the piano and cried when she was depressed.
Couric also complained about Esquire's editors having said in a cheeky column called "Obscure Women We Love" that they no longer felt they knew the anchor. Her response: "You don't know me any more? Bite me."
For days, CBS reporters and producers, at the slightest provocation, walked around inviting a biting from each other. One jokingly wondered whether the official motto of CBS News had gone from "Good night and good luck," to "That's the way it is," to "Bite me." .....
Sean McManus had a message for the troops. It was fine for CBS staffers to fight among themselves in the office, he said on a conference call. That was what journalists did. But these were family fights, and no one should talk about them to outsiders.
A woman in the London bureau had a question: Was McManus saying that there was a lack of loyalty at CBS? No, McManus said. He just wanted to make sure that they kept their discussions in-house.

Brian Williams Slides To Second

[A]lthough Nightly had lost half a million viewers from the previous year--even more than Couric had shed, as CBS executives kept reminding reporters--Williams was convinced that none of it, not a tenth of a percentage point, was his fault... [W]hat was killing the newscast, he thought, were the budget cuts at the network's ten O-and-Os, or owned-and-operated stations. At every station he visited, he could still smell the gunpowder from people being shot... All these cutbacks, Williams believed, were slicing into his lead-in audience in the major markets in a way that coincided with his ratings slide, as if someone had flipped a switch. Local executives at these stations kept asking him to fix his newscast, but Nightly, in his view, was not the problem.
Williams took his case to Jeff Zucker. "These cuts are killing me," he said. He also appealed to Jeff Immelt at GE.
"You're the most important single asset to the company," Immelt assured him. It was nice to know that he was even more vital than lightbulbs, Williams thought, but that didn't make the problem go away. Immelt and Zucker both said they would look into the matter, but Williams was not optimistic.
Williams thought Nightly was as good as ever, but this was really starting to sting. The horse-race coverage was maddening, especially since most television writers never bothered weighing the merits of the newscasts. It was always numbers, just numbers.
And for Williams, the numbers were personal. The ratings slide was being hung like an albatross around his neck. Every news story on the subject began, "Williams has lost X hundreds of thousands of viewers..." Did people actually believe that he had been on top for two years and suddenly became an awful, unwatchable presence?

There's more — and apparently it's already available at your bookstore! So go buy it, or don't and wait for the juicy bits to leak out on your favorite blog. Or, you could always catch the Reality Show live at 6:30 pm on your favorite network. But God, who watches the news anymore?
Popular in the Community