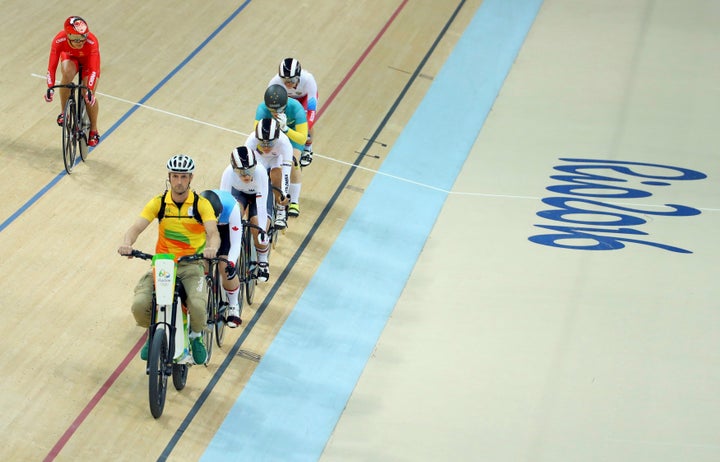 RIO DE JANEIRO, Aug 14 (Reuters) - He rides with champions but his name is not on any team list or competition schedule.
Ivo Siebert, 35, a semi-professional who owns a bike shop in southern Brazil, is setting the pace for the track cycling keirin event, calmly riding an electric bike while the world's fastest racers prowl behind him, preparing to sprint.
"You feel that energy behind you... but you have to keep very focused, on the speed, on the curves," said Siebert, who in flapping beige trousers and black backpack looks more like a man commuting to work than an important part of an Olympic event.
The keirin is a race in which track cyclists sprint for victory after a speed-controlled start behind a motorized pacer. Tracing its roots to the gambling circles of post-war Japan, where it gained popularity for its drama and unpredictability, it first became an Olympic event at the Sydney Games in 2000.
In Rio's Olympic velodrome, Siebert peels aside with two-and-a-half laps to go. Unleashed, the racers pump to a full sprint, weaving dangerously up and down the inclined track with curves so steep a ladder is required to clean them.
Crashes are not uncommon. On Saturday, three riders hit the boards, tearing great holes in their lycra, during women's qualification. No one was badly hurt, however.
"Thankfully I'm not really able to watch the race. I think it's better that way," said Siebert.
Standing about six feet tall, with closely cropped hair and serious eyes, Siebert hesitated when first asked to ride the electric bike. "I needed a few hours to think about it," he said slowly as if weighing up the decision again. "It's a really big responsibility."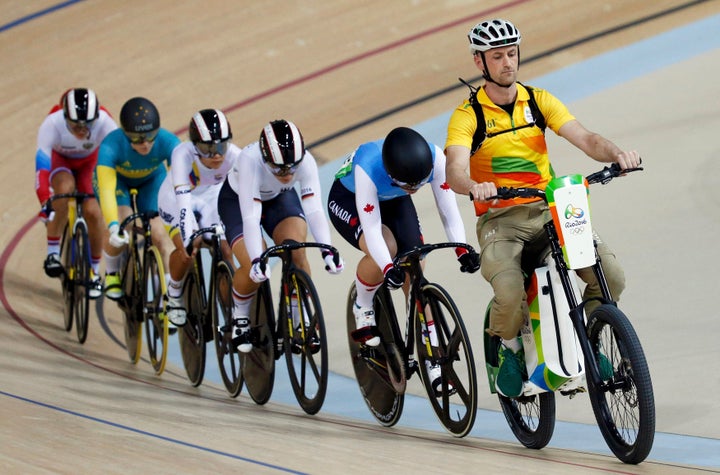 He might not be competing for a medal, but the race depends on Siebert gradually increasing his speed from 25 km per hour to 50 km before pulling aside at just the right moment.
Millions of people around the world are watching. For a first timer it can be daunting. On Friday, long after Britain's Bradley Wiggins claimed his fifth gold and left the arena, Siebert shared the venue with cleaners and a handful of left-over reporters, doing practice laps around the track.
"Out of respect for the athletes you have to make sure nothing goes wrong. These riders, to me, they are semi-gods," Siebert said.
He does not take the responsibility lightly.
"When I woke up this morning I didn't look at my phone, didn't talk to too many people, I just stayed focused like I used to before a race," he said.
Will he put up a photo of this moment in his shop?
"I probably will. I'll have to ask them for one from the final," he said, his serious gaze breaking into a smile.
(Editing by Ken Ferris/John O'Brien)
For more Olympics coverage:
Popular in the Community