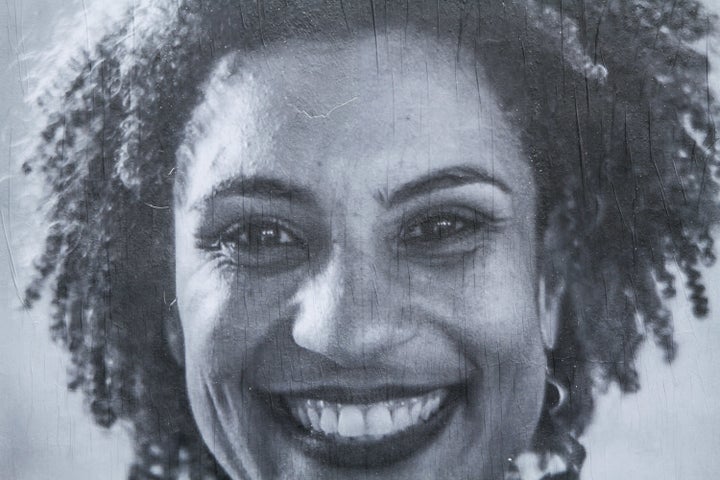 Nearly two months have passed since the assassination of Marielle Franco, the black, queer favela-born Rio de Janeiro councilwoman whose murder turned her into a martyr for the cause of police reform. Now Rio police believe they may finally be close to answering the question that has become a rallying cry in Brazil and across the world: "Who killed Marielle?"
During a meeting with two federal lawmakers this week, top police delegates seemed optimistic about new information they had recently obtained in the course of their investigation. The delegates mentioned they could soon begin preparing hard evidence to take to a jury and a courtroom, said federal deputy Jean Wyllys, who was in attendance.
The investigation still isn't over, Wyllys cautioned. But police believe their investigation is on the right path, he told HuffPost by phone. And that path, according to news reports, may lead right back to the police.
Rio's Civil Police did not respond to HuffPost's requests for comment on Thursday morning. But the Brazilian newspaper O Globo reported Wednesday that an anonymous witness identified two men ― one a city councilman, the other a former military police officer ― who allegedly orchestrated Franco's murder. O Globo later reported that the witness said two military police officers were in the car that fired on and killed Franco and her driver, Anderson Gomes.
"Many feel that Franco's murder was a deliberate and targeted attempt to erase a woman who had challenged Rio's entrenched power structures."
Franco, a member of the leftist Socialism and Freedom Party, or PSOL, was 14 months into her first term on the city council when an attacker gunned her and Gomes down after an event in Rio the night of March 14.
Franco was a fierce critic of rampant police violence in the city; she also opposed the federal military intervention that Brazilian President Michel Temer launched in February. With her election, she became a powerful advocate for poor, black favela-born residents like herself. Many say they feel her murder was a deliberate and targeted attempt to erase a woman who had challenged Rio's entrenched power structures ― from its police to its political leadership ― which often stigmatized and ignored favela residents.
Almost immediately, Rio police turned their suspicions on rogue militias. The extrajudicial armed groups, often made up of current and former law enforcement officials, are active in Rio and especially its informal favela neighborhoods. Franco had previously served on an investigative committee that probed the number of killings such militias had carried out across Rio.
Since then, investigators have linked the bullets that killed Franco and Gomes to a cache originally owned by the Federal Police in Brasilia. Last week, reports emerged that five security cameras monitoring the street where they were killed had been turned off during the assault. And on Sunday, a Brazilian TV news program reported that the two victims had not been killed with a pistol, but with a submachine gun commonly used by Brazil's special police forces.
Additionally, two men who'd been indicted as a result of the militia investigation Franco helped conduct had visited the Rio city council building in the days before her murder, The Intercept Brazil reported.
Orlando Oliviera de Araújo, the former military police officer whom O Globo's witness named, has been in prison since 2017, but he allegedly still runs a militia group from behind bars, according to the paper. Araújo and Marcello Siciliano, the city councilman the witness identified, have reportedly denied any role in the shooting.
'I Want To Believe In Justice'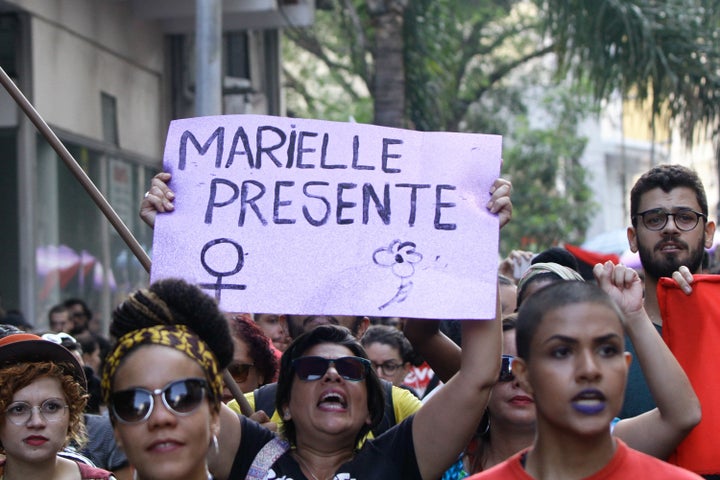 Franco's death sparked demonstrations in cities across Brazil and the world: Cries of "Marielle Presente" ― or "Marielle Is Here" ― came from protesters in Paris, Buenos Aires, New York and Washington who hadn't known her name just days earlier, but were nonetheless inspired by her cause.
But as days turned into weeks, the worst fears of Rio residents and Franco's supporters began to deepen: that her killers were professionals committing a crime designed to go forever unsolved, that the same power structures Franco had criticized would have no interest in solving the crime anyway.
"Brazil has a long history of killing of human rights defenders with no investigation," said Jurema Werneck, the director of Amnesty International Brazil.
Rio police, who initially refused assistance from federal police investigators, have attempted to alleviate any fears that they will not find Franco's killers, insisting for more than a month that their investigation "is on the right track" and pledging that they "will not rest until we have settled the case."
The lack of immediate answers is not a result of an unwillingness to pursue the case, police and security experts said, but of a justice system in which progress is made inch by inch when it's made at all.
"I want to believe in justice. I want to believe that these people will reach Marielle's killers."
The meeting between top police officials and the federal congressmen was an information-sharing session, meant to assuage public doubts in the police investigation and address the lawmakers' misgivings about it.
Wyllys, himself a member of PSOL, criticized police for allowing information on the case to be disseminated primarily through media reports, saying it has fueled the belief that Franco's killers may never be found by creating "room for speculation and insecurities on the part of society." But the congressman, who represents Rio de Janeiro, is trying to maintain hope about the investigation.
"I want to believe and I hope that we find the culprits," Wyllys said. "I want to believe in the good faith and competence of this team and in the commitment of the delegate Rivaldo [Barbosa, head of Rio's Civil Police], who personally knew Marielle, and I want to believe in justice. I want to believe that these people will reach Marielle's killers."
'They Have An Obligation To Give Us An Answer'
Without a hard conclusion to the case, though, Wyllys and others reiterated the need to maintain pressure on the police to carry out a thorough investigation.
Rio's police are among the most violent in the world ― in 2017, they were responsible for nearly 1,000 killings. And human rights activists have long criticized investigations into police killings and the rogue militias that patrol many favelas, saying they effectively allow police to target poor, black Brazilians with impunity. That has diminished trust in Rio's police and contributed to the belief that they may not be capable of carrying out a real investigation into Franco's death.
City councilman David Miranda, also a member of PSOL, delivered a petition to the Organization of American States in the Dominican Republic this week, calling for an independent investigation into Franco's murder. Miranda was accompanied by Mônica Benício, Franco's widow.
More than 20,000 people have signed the petition since it first went public in March, including high-profile celebrities, musicians, authors and politicians from around the world.
"Given that Marielle's assassination bears all the hallmarks of a targeted assassination," the petition states, "we call for the creation of an independent commission comprised of prominent and respected national and international human rights and legal experts and tasked with carrying out an independent investigation of the murder of Marielle Franco with the full cooperation of state judicial and police authorities."
Franco's killing came amid a yearslong increase in violent crime rates across Brazil, and the number of shootings in Rio de Janeiro has continued to rise in 2018. But Franco's death stands out, given the challenge her very existence represented to Rio's ― and Brazil's ― establishment.
"This was really an attack on democracy," Brian Winter, the editor-in-chief of Americas Quarterly who lived in Brazil for five years, said on his podcast last week. "Whoever did this was trying to send a message, a message in favor of the disastrous status quo on violence in Rio and in Brazil as a whole, and a message that political participation by people like Marielle was unacceptable."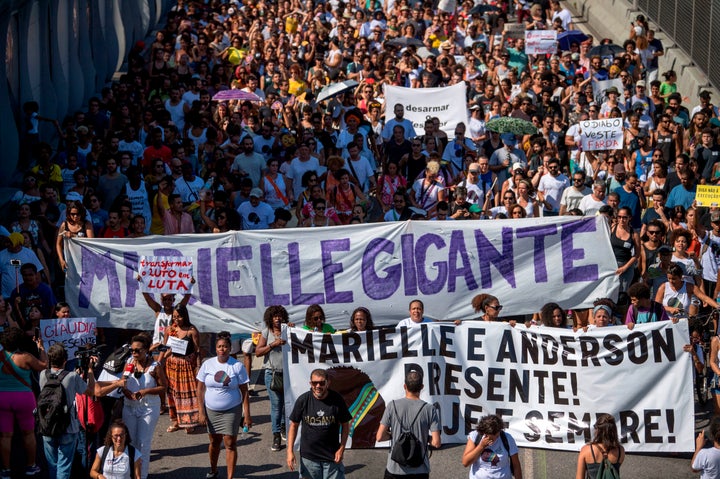 Wyllys, meanwhile, sees Franco's murder as a side effect of the broader political polarization that has plagued Brazil since the 2016 impeachment of President Dilma Rousseff and former President Luiz Inácio "Lula" da Silva's conviction on corruption charges last year.
That polarization, Wyllys said, has provoked increasingly incendiary rhetoric, often aimed at leftist politicians ― both Rousseff and Silva, who is once again running for president in 2018, are members of the center-left Workers' Party. The rhetoric has at times turned violent. In March, just two weeks after Franco's murder, someone fired on Silva's campaign bus during an event in the southern state of Parana. A month later, gunshots fired at a group of Silva's supporters injured two of them.
"I believe that Marielle's murder took place within this atmosphere of hatred," Wyllys said. "Criminal forces that have a presence in [Rio] state and are dissatisfied with the political action of the left may be behind this murder, not only in an active way, but by allowing this environment of tension and hatred."
The political nature of Franco's killing and its links to official sources of ammunition and weaponry only increase the importance of finding her murderers, Werneck said ― and until the investigation actually brings Franco's killers to justice, activists will continue to pressure investigators and police.
"We are demanding an answer, and we are expecting an answer, and they have an obligation to give us an answer," she said. "It has been almost 60 days, but we will continue to put on pressure. They have an obligation, not only to Marielle's family, but to the movement, to black women, to the people of Rio de Janeiro, and to the people of Brazil."
Werneck added: "We have the whole world looking at them, and asking for answers. We cannot send the message of impunity."
Brunna Radaelli contributed reporting.