This post has been updated to reflect that there is, uh, another pool that has turned green as well. 
There's something in the water at the Olympic diving pool, and ― after a day of hemming and hawing ― officials said Wednesday it's probably just algae.
Water at the facility mysteriously changed hues overnight from a clear sky blue Monday to a soupy emerald green Tuesday, concerning athletes and officials alike.
While officials on Tuesday assured Olympians that the Kermit-colored water posed no danger to their health, an explanation for the transition was harder to come by.
"Water tests at Maria Lenk Aquatic Park were conducted and there was found to be no risk to athlete's health," officials told the BBC's Nick Hope. "We're investigating what the cause of the situation was but we are happy to report that the competition was successfully completed." 
(Adding to the mystery: The Olympic pool ― used for water polo (group stages) and synchronized swimming ― located just steps away from the diving platform, remained blue).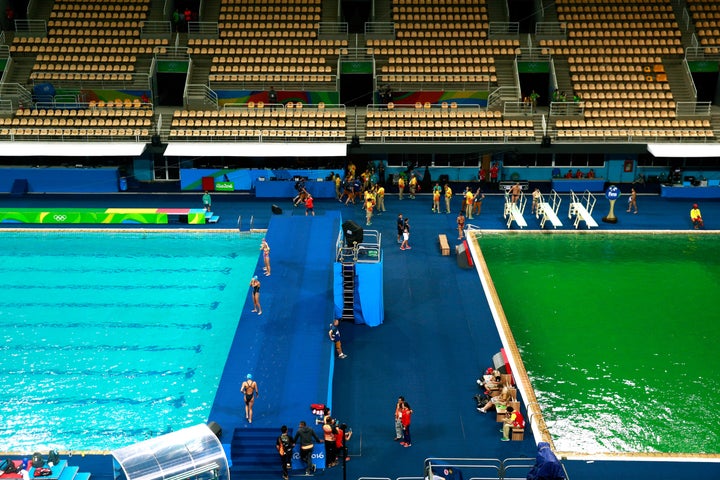 On Wednesday, however, officials decided an algae bloom was to blame, prompted by plenty of heat and no wind.
Andrada said they expect the pool to return to its normal blue color sometime Wednesday.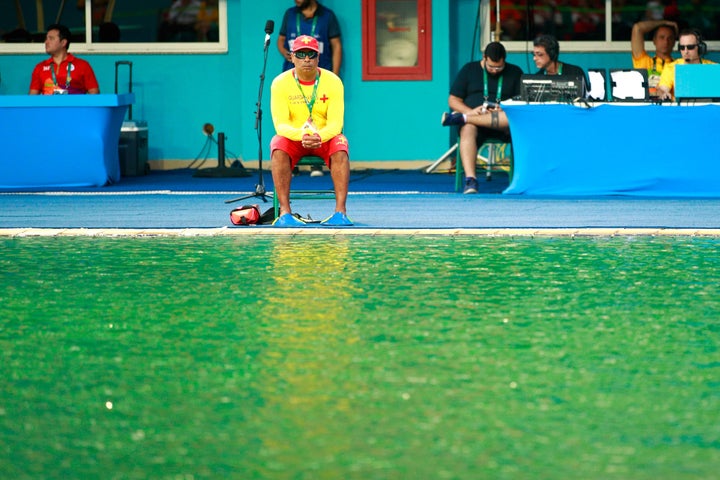 For the most part, Olympic athletes seemed unperturbed by the sudden color change, even though pollution in Rio de Janeiro has been a major storyline headed into the games.
"When we were practicing to get used to this venue (the water) was always sky blue," China's Liu Huixia told Reuters. "But we're always mentally prepared for unexpected situations."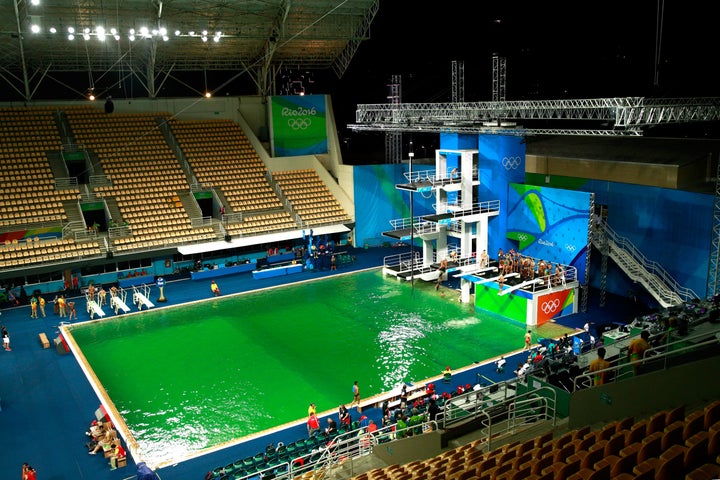 UPDATE ― Wednesday, 6:37 p.m.: As of Wednesday evening, the diving pool has not only failed to return to its original blue color, but the nearby pool ― used for water polo and synchronized swimming ― has adopted a green shade itself.
In an email to The Huffington Post, Nate Hernandez, a director at VivoAquatics, a company that specializes in managing large-scale aquatic installations, cast doubt on the sudden algae bloom theory floated by officials.
"It would have to be ideal conditions for algae to proliferate that quickly in that large of a body of water," Hernandez said.
While the higher temperatures might increase the likelihood of a bloom, that alone wouldn't suffice. According to Hernandez, water circulation within the pool would likely also need to have been cut to zero.
"No circulation – this could be a result of a mechanical failure, power failure, or simply human error in not circulating the pool."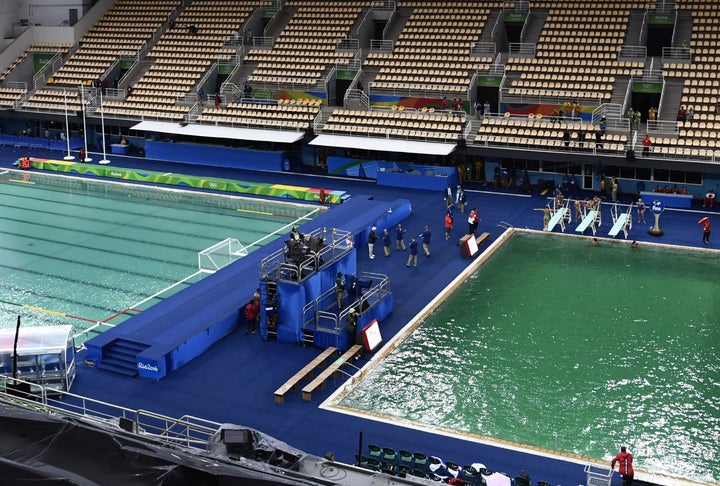 For more Olympics coverage:
Calling all HuffPost superfans!
Sign up for membership to become a founding member and help shape HuffPost's next chapter
BEFORE YOU GO
PHOTO GALLERY
Funniest Faces Of The Rio Olympics