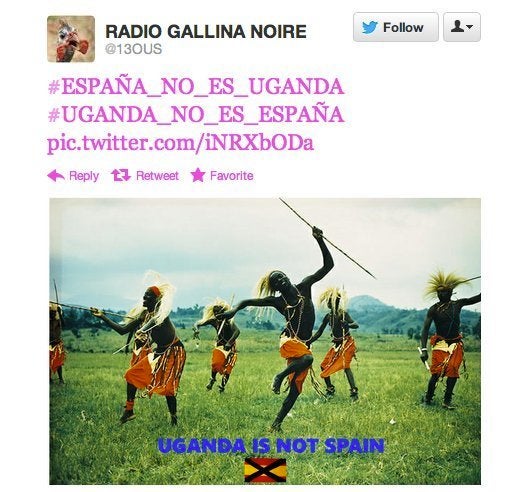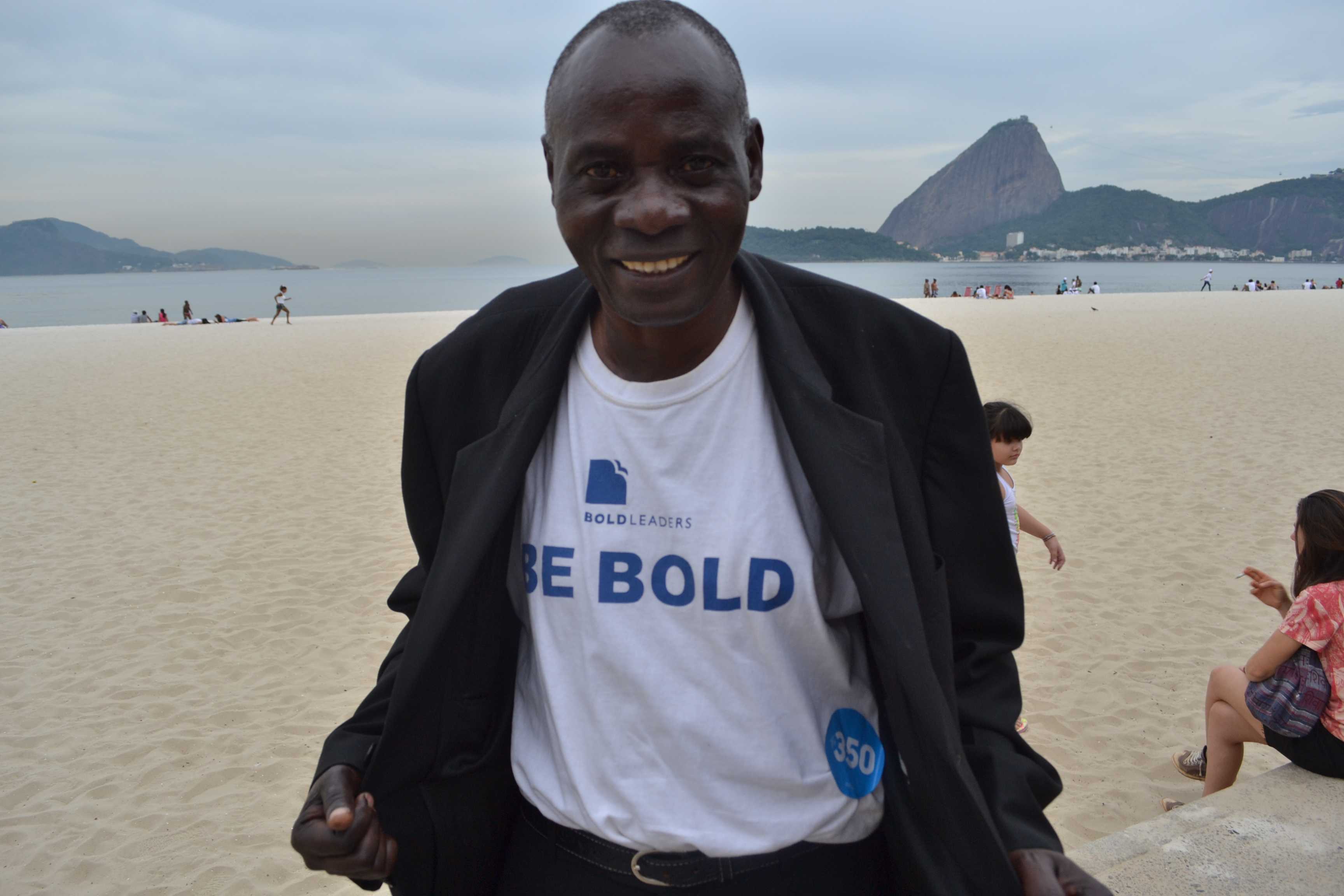 Kaganga John at the People's Summit that is affiliated with the UN Conference, Rio+20
Kaganga John, 56-year-old farmer, community leader and environmentalist, is in Rio de Janiero this week to participate in the United Nations Conference on Sustainable Development. He is here to make his voice and the voice of small scale farmers in the developing world heard in these important proceedings. The United Nations repeatedly emphasizes that a critical factor in the success of these agreements is how they will be received and implemented on a grassroots level. Kaganga John believes their success is dependent on decision makers intimate understanding of the situation communities are facing in the developing world, and the sustainable development work they have been doing for decades on the grassroots level. That is why he is here to tell his story.
His grandmother didn't write but she did read beautifully. He remembers sitting on the mud floor of her house and listening to her soft voice as she taught him how to read. His mother died in 1958, when he was 2, so his grandmother was raising him.
When he was 10, his aunt volunteered to take him in, as well as pay his school fees, to give the ailing grandmother a break. But his aunt had different intentions, and after crossing the country to live with her he found himself taking care of her young children. His aunt did not give him any money for school. So Kaganga John started ventures to pay his school fees himself. He began making pancakes and selling them in the streets; he bought a used camera for 15 Ugandan shillings (10 cents) and started taking school photos for the local children for 2 shillings each. Everyone called him "Cameraman." Bit by bit, he was able to save enough for his tuition.
But one night when he was 14, he was reading on his bed when the candle tipped over and his clothes went up in flames. He was badly burned and spent several months in the hospital, where he nearly died. "I think I almost joined my mother at that time of my life, but somehow I survived," he recalls. His chest, arms, and chin are still covered in scars. When he came out of the hospital, his superstitious relatives prohibited him from going to school. They said it was clear that the spirits did not want him to go back to school.
So Kaganga John educated himself. He would often sit for hours under the trees near his home and read book after book. He loved the trees. They gave him shade and comfort in the hot Ugandan climate.
At 17, dedicated to get his high school diploma, he moved away from his family who were still denying him education to the capital city. It took many years of working and studying, but when he graduated his love for learning led him immediately back to school as a teacher. But he wanted to also educate those children and adults that would never go to school. Books were only available new, so most Ugandans could not afford them. He started collecting books; books that he'd read, and books that had been read by others. When he'd collected enough, he started a business, and he sold books secondhand.
He loved owning his book store. For a living, he got to read and meet fellow scholars who would come into his shop in search of new material. "Meeting other Ugandan scholars was inspiring. I encouraged my customers to write and self publish their own books. People in town knew they had a place to sell their books if they could bind them themselves," he says. He was enjoying being a business owner, but during a visit to his home village, he saw that his community had really fallen behind. Children were dropping out of school because it was a 5-kilometer walk to the nearest classroom, the forest where he used to read had been cut to the ground for charcoal and firewood, the roads had washed away, and many in his community were using poor farming practices and going hungry as a result.
He couldn't bear to see it. He decided he needed to leave his bookshop, return to his village, and commit the rest of his life to uplifting the community.
That was 20 years ago. Since he began, he has advocated for the re-planting of hundreds of hectares of the forest near his home. He has started a free school under these trees, which started by educating 53 students from his community and has grown to educate 250 students today. He's helped local farmers diversify their crops and commit to colorful nutritious plates of food every night, and he is currently looking to refurbish four computers he acquired so he can start a tech and resource center to help his community educate themselves.
He has done this all with the small amount of money he earns from the farming workshops he conducts for NGOs, the books he still occasionally sells, and the small contributions he has been able to solicit from his community and friends. He has done all of this on his own and with a few dedicated volunteers. Through determination and dedication he has become an expert on sustainable development, an expert on food security, and an expert on grassroots advocacy; and now he needs to be connected with people across the world to unite his work with theirs. He says he is using all the energy he has before he dies to ensure that the changes he has made in his community are permanent.
That is why he worked tirelessly to find sponsorship to attend the United Nations Conference on Sustainable Development: to share his story and to make new connections that will help his community sustain itself. He sees three key steps toward sustainability. Firstly, he needs those computers to be refurbished so he can open his tech center. Secondly, he needs the funding and raw materials to construct a secure building for his school. And finally, he needs technical support from the international farming community to ensure that the young farmers are up-to-date and ready to take up the mantle when he's gone.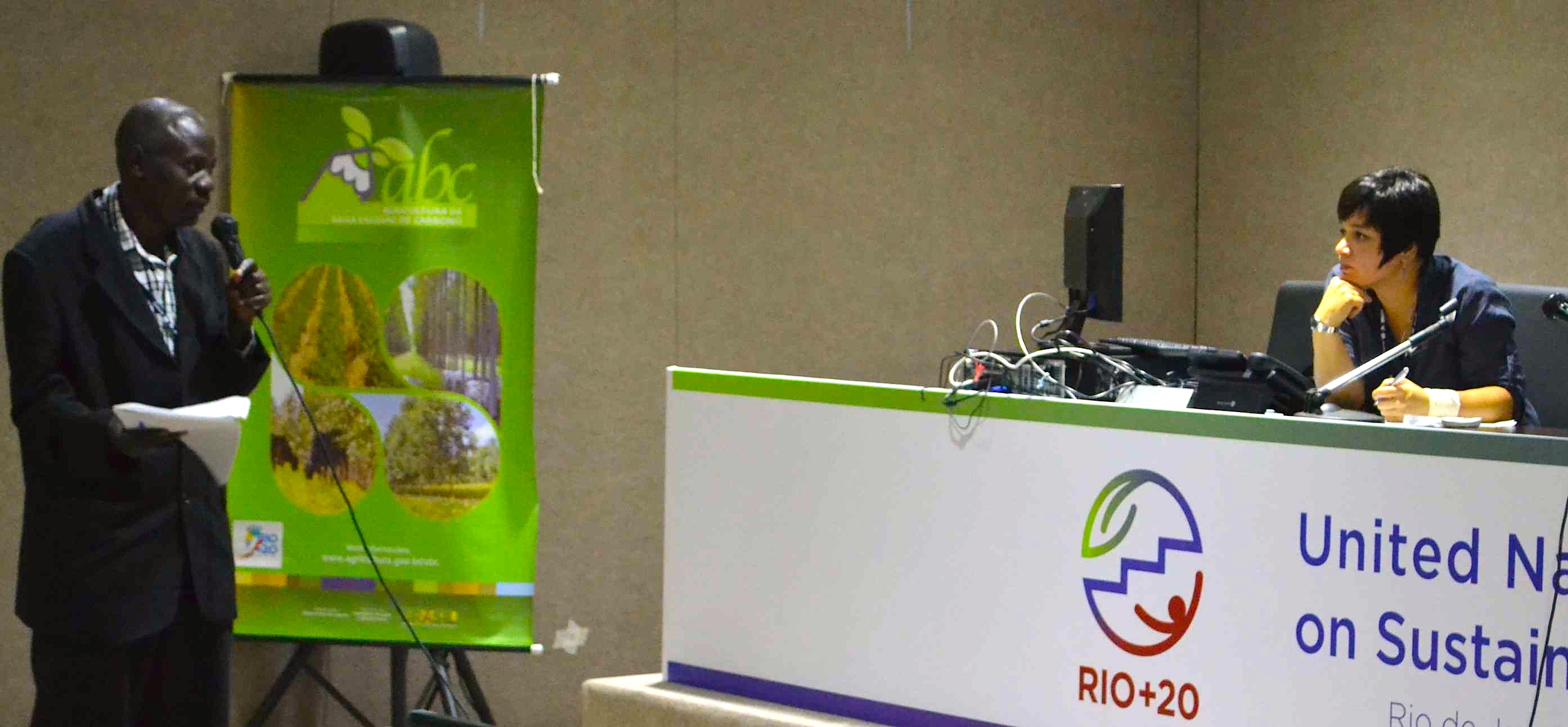 Kaganga John speaking at United Nations side event on Sustainable Agriculture
Between speaking on official U.N. panels and attending presentations, roundtables, and meetings, Kaganga John says he is coming home full of inspiration and connections. He sees this week as a turning point in his community's history. "I hope that I have done my job here in Rio and made the voices of my fellow community members and small scale farmers all over the world heard," he says.

He plans to commemorate this turning point with the launch of his One Thousand Hectare Forest Project, a community initiative to get farmers to commit to leaving at least one hectare of raw forest untouched for 15 years. He has already secured more than 15 hectares for preservation. "As we grow and develop the land to cultivate it is also important to understand that we must also preserve. Preservation is a key part to sustainable development, and that is what I want my community to know."
See a video of Kaganga John at Rio+20. https://www.youtube.com/watchv=ENIk4NRcyNg&feature=plcp
REAL LIFE. REAL NEWS. REAL VOICES.
Help us tell more of the stories that matter from voices that too often remain unheard.