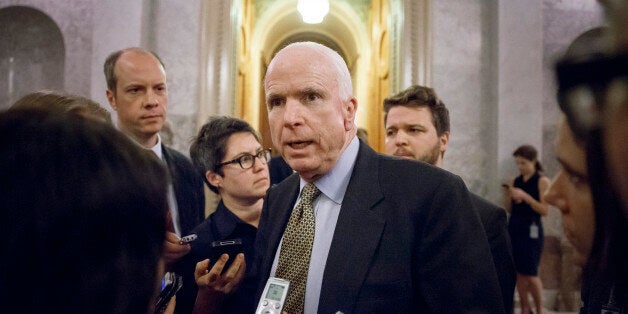 WASHINGTON -- Congress may use must-pass legislation in the next two weeks to slip through a controversial land deal that would help a company that jointly owns a uranium mine with Iran, sources told HuffPost.
The company, the international mining conglomerate Rio Tinto, has been trying for nearly a decade to acquire 2,400 acres of the federally protected Tonto National Forest in southeast Arizona -- land that sits atop a massive copper deposit.
Under legislation offered in the House and Senate, the company's subsidiary, Resolution Copper -- which Rio Tinto co-owns with another international mining giant, BHP Billiton -- would get land originally set aside during the Eisenhower administration to conserve the environment and protect sacred Native American sites.
The deal foundered in the mid-2000s when then-Rep. Rick Renzi (R-Ariz.), who was convicted in 2013 on charges of conspiracy, racketeering and a number of other felonies, tried to use it to score his own real estate windfall. It has since run into opposition from Native Americans, conservationists and people concerned about the company's ties to Iran.
The Iran link comes from Rio Tinto's Rossing uranium mine in Namibia, in which Tehran owns a 15 percent stake. That connection hasn't bothered many members of Congress, but the linkage has become more important in recent years as legislators have ratcheted up their rhetoric against Iran and called for even tighter sanctions to stop the Islamic Republic from becoming a nuclear power.
But Rio Tinto and Resolution Copper have spent millions lobbying Congress and donating to lawmakers, according to data from federal election records and the Center for Responsive Politics. And according to opponents of the deal, Sen. John McCain (R-Ariz.) and backers in the House are trying to attach the deal to must-pass legislation -- most likely the National Defense Authorization Act, which comes from the Armed Services Committee that McCain will chair starting in January.
The NDAA is expected to be dealt with in the House as early as this week, and a Democratic aide told The Huffington Post that McCain has been working with Senate Armed Services Committee Chairman Carl Levin (D-Mich.) to draft a new version of the NDAA that brings the Senate and House versions into alignment. The Rio Tinto deal could also be attached to legislation to fund the government, or to a package of land deals that also includes preservation measures favored by Democrats.
"I'm worried that it's going to get a wink and nod in the Senate, and become part of a package at the behest of Sen. McCain, who wields considerable influence there, and it'll come to the floor where it will be part of an entire package, and we won't have the ability to pull that out and separate it," Rep. Raul Grijalva (D-Ariz.) told The Huffington Post. "It will be an up or down vote only. I think at that point it would pass because it would be tucked into bills that both Democrats and Republicans want to get done."
A spokesman for McCain declined to say what avenue he is pursuing, but said the senator stands behind the deal despite the Iran association, and despite the fact that China owns nearly 10 percent of Rio Tinto and would -- according to opponents of the deal -- get most of the copper.
"The idea that John McCain would be doing anything to benefit the regimes in Iran or China is laughable," said McCain spokesman Brian Rogers in an emailed statement.
"The history here is that before the fall of the Shah, Iran purchased a share of a Rio Tinto mine in Namibia. Today, Iran receives no uranium or revenue from the mine, and all dividend payments have been frozen," Rogers added. "Rio Tinto is fully complying with all sanctions and other international laws that prevent Iran from getting anything related to the mine. Rio Tinto would like to kick Iran out but doing so would require them buying out Iran's ownership interest, which would mean transferring money to Iran, which they won't do. It's a total red herring."
Similarly, Illtud Harri, a spokesman for Rio Tinto, insisted that the company has been scrupulous in excluding Iran from any benefits.
"Rio Tinto has had regular meetings with relevant U.S. government officials to discuss our shareholding in Rossing, a Namibian company with a number of shareholders," Harri said in a statement, adding that the Shah's successors "receive no economic benefit or rights due to actions to isolate the shareholding by the Government of Namibia and Rossing."
"U.S. officials have not indicated that Rio Tinto should take any action in regard to its shareholding in Rossing," he added.
The State Department did not immediately comment on Rogers' or Harri's assertions. But the discussion could be moot if Secretary of State John Kerry finalizes a deal with Iran in the next seven months to end sanctions. At that point, Tehran would presumably be entitled to tap its mine in Namibia.
To opponents of the deal, however, the Iran and China connections are only one reason to block its progress.
Opponents also argue that federal land should not be given away -- especially land that was preserved on behalf of Native Americans who maintain burial and ceremonial grounds in the area. The land in question also contains a site known as the Apache Leap, where trapped Apaches once jumped to their deaths rather than being killed or captured in an attack by settlers.
"We didn't think this kind of stuff happened anymore. We didn't think we were taking land that belongs to Native Americans and giving it to other people anymore," said Athan Manuel, who is lobbying Congress against the deal for the Sierra Club. "We should not be privatizing federal land." The main argument for the bill is that it would create some jobs -- as many as 4,000, according to McCain. But Grijalva notes that Rio Tinto has repeatedly spoken about switching over to robotic mining methods that require fewer workers. The House even voted down an amendment that would have required Rio Tinto to put its remote operations center nearby, Grijalva said.
Grijalva and others also argued that they are not opposed to mining the copper, but that they want it done in a way that respects the local tribes and the environment, and that ideally ensures U.S. taxpayers get the full benefit of the deal.
A Rio Tinto official said that Resolution Copper has already filed a mining plan with the Forest Service and the Bureau of Land Management, starting an environmental review under the National Environmental Policy Act.
A BLM official was not immediately able to determine the status of that review, but agreed with Grijalva that if the land is transferred to Resolution Copper, the NEPA review would no longer apply, since the land would become private. Under the land-swap bill, the transfer must be done within a year.
"The bill restricts environmental reviews to applicable federal laws, which rarely apply to private lands," Grijalva said. "Even if we find that there's going to be effects on the watershed, effects on groundwater, effects on sacred sites, that there is not an equitable trade in terms of net value, then there's no remedy or mitigation that we can ask for because it's on private land."
Rio Tinto noted that the bill contains provisions for appraising and adjusting the amount Resolution Copper pays to the government, but Grijalva said there's no way to ensure it would be adequate.
"Information regarding what the net value is is proprietary," Grijalva said. "How much is this federal asset worth? Is this a fair trade or not? We don't know."
On top of that, he and others noted that the holders of hard-rock mining rights pay no royalties to the federal government, as they do with oil leases. And if the bulk of the copper winds up being shipped to China, the world's top consumer of the metal, Grijalva sees very little benefit to American taxpayers.
"This is a prime example of an earmark for a foreign company," Grijalva said.
He also complained that the transfer disrespects Native Americans, who are lobbying against the deal, on multiple fronts.
Michael McAuliff covers Congress and politics for The Huffington Post. Talk to him on Facebook.
Before You Go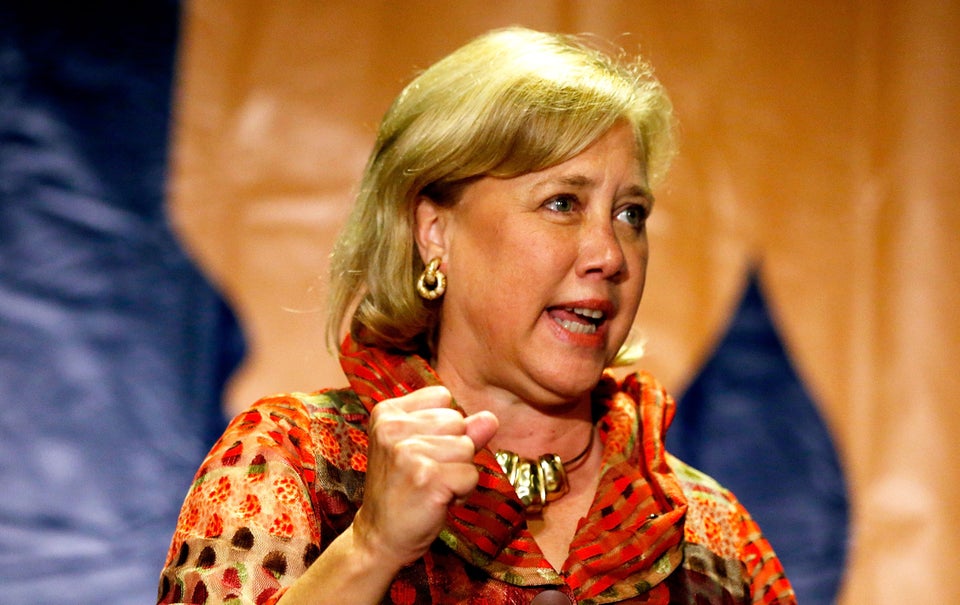 2014 Election Results: Winners & Losers
Popular in the Community