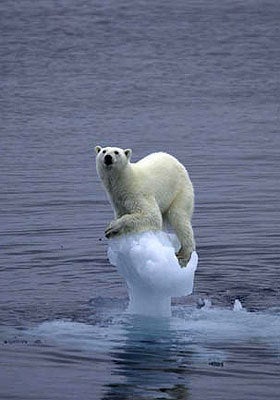 In less than a month, world leaders will gather in Rio de Janeiro for the United Nation's 2012 Earth Summit. At stake: a new global green deal that could pull our planet back from the brink of irreversible climate change.
Two months ago, the International Energy Agency (IEA) warned that the world is heading towards a 6°C temperature rise by the end of this century: "Energy-related CO2 emissions are at historic highs, we estimate that energy use and CO2 emissions would almost double by 2050."
A 6°C temperature rise would mark the end of most life here on earth. According to Australia's Climate Change Research Centre, it would create something "similar to the depths of the last ice age."
The clock is ticking. The IEA says that global warming will hit the point of no return in 5 years time. And according to leading NASA climate scientist Jim Hansen, "In the near term, things will be bad enough." He says that there will be widespread drought followed by floods: "Economic losses would be incalculable. Food prices will rise to unprecedented levels. If this sounds apocalyptic, it is."
According to a recent report from the World Wildlife Fund, there has already been a 30% decline in wildlife since 1970. "There would be panic if the FTSE index showed a decline like this," says Professor Tim Blackman from the UK's Institute of Zoology. "Nature is more important than money. Humanity can live without money, but we can't live without nature and the essential services it provides."
And it's not too late, not yet. But, "we need to address this with the same urgency and determination with which we tackled the systemic financial crisis," says David Nussbaum, CEO of WWF-UK.
97% of all climate scientists now see extreme weather as a "serious" risk to our planet. This is not some splinter view espoused by the fringes of society, this is the mainstream. In the words of Jim Hansen: "The science of the situation is clear -- it's time for the politics to follow."
So, why hasn't it? According to Helen Clark, the head of the UN's development program, it's because it's too politically risky and this is a problem if one is only in power for four years.
But, according to Nick Clegg, the UK's deputy prime minister, "Some say that we have to choose between boosting growth and being green. What a load of rubbish. Going for growth means going green. The race is on to lead the world in clean energy."
In other words, the rise of the green sector may herald the start of our next industrial revolution. And, as economist Lord Stern points out:
Industrial revolutions bring some dislocation. When the electric light came in, the whalers and the candle makers had to adjust. But, there are huge opportunities; it's a story of growth; a story of innovation; and going to the pioneers.
Lord Stern believes that fossil fuel subsidies need to be phased out and ploughed into the green economy instead. According to the IEA, over $400 billion was spent on the fossil fuel sector in 2010. In the same year, green energy received less than one fifth of that money.
British barrister Polly Higgins adopts a similar view. She believes that the "problem needs to be part of the solution." She says that we need to abolish subsidies for polluting industries; outlaw those sectors and then create financial incentives in the other direction so that those same companies can thrive in a world of clean energy. Essentially, we need to turn "the poacher into the gamekeeper."
Polly Higgins then takes another step forward. She believes that environmental destruction should be treated as an international peace crime just like genocide and other crimes against humanity:
We need to expand our circle of concern so that it's not just human life, but all life on earth. It's not just humanity that is sacred; all life is sacred. We need to put people and planet over and above profit. We are standing at the precipice of civilization where morally it is wrong to cause this damage. And, we can close this door much like we closed the door to slavery 200 hundred years ago.
She has asked the UN to accept "ecocide" as the 5th crime against peace and will present her case before world leaders in Rio next month: "Ecocide is in essence the very antithesis of life. It leads to resource depletion, and where there is an escalation of resource depletion, war comes chasing behind."
According to Sir David King, the UK's former head scientist, we are facing a century of 'resource wars.' But, as Ms Higgins points out, our global future need not be so bleak. We can put an end to this mindless destruction, and regain control of our destiny here on earth by protecting the planet that gives us home.
In the words of George Bernard Shaw, "We are made wise not by the recollection of our past, but by the responsibility of our future." It's time for us to act wise, otherwise we may forsake our future. Michelangelo once said, "I saw the angel in the marble, and carved until I set her free." We can all see our planetary angel and she's suffering; it's time to set her free.
Popular in the Community